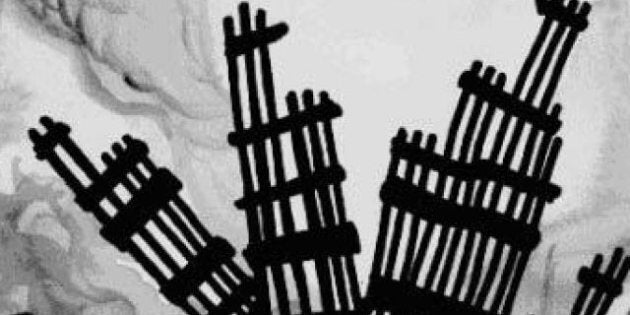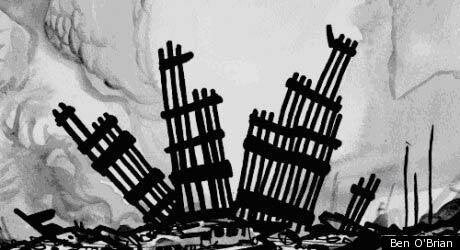 Shimon Perez once told our Canadian parliamentary delegation that the radical Islamists are actually "fighting against a modern world." The former Israeli Ambassador to Canada, Haim Divon explained that Israel's enemies saw Israel as 'little Satan' but that the U.S. was the 'big Satan' as it was the icon for the "modern Western world."
Ten years ago, the attack on the World Trade Center was the ultimate and deadly expression of the 'war against a modern world.'
On Sept. 15, 2001, Marcus Gee wrote in The Globe and Mail:
"Terrorism is a deliberate form of political or ideological warfare waged by fanatics with a disposition for unlimited violence. In the case of extreme religious terrorists, whether Islamic or Christian or Sikh, they are engaged in a holy war, a struggle for the fate of the world that justifies any amount of bloodshed."
Last Sunday, I attended the EMS 9/11 Ceremony at Toronto City Hall with my neighbour Rob Tyrie, who had been on the 40th floor of the North Tower of the World Trade Center when it was hit 10 years ago. He reminded me that when he returned to Toronto, he crossed the street and knocked on my door. He wanted to make sure that I would convey to all decision makers how real it was. He had experienced the horror first-hand. He was clear that what he wanted from his government was a solution for the next 100 years. He agreed with former Prime Minister Jean Chretien's opinion that "we must be guided by a commitment to do what works in the long run, not by what makes us feel better in the short run."
Rob was extraordinarily convincing in his argument that the perpetrators had spent years planning this assault on our civilized world. If it takes years to ensure that it can never happen again, he said that he would feel well served by our government and the coalition it is building. He wanted to make sure that we would do what works, not what makes us feel better for a minute. He wanted to tell the prime minister in person, as someone who had experienced that day in New York City that was 9/11.
Although Rob didn't get to speak to the prime minister directly, I hope I was able to convey Rob's urgent plea for long-term solutions in my speech in the House of Commons on Sept. 18, 2001, and forever after in every ensuing conversation on and off Parliament Hill.
Sunday morning, while we were waiting for the march past of the police, firefighters, EMS and war veterans in Nathan Phillips Square, Rob talked about the question everyone needed to ask: "Are we safer 10 years later ?" Rob had read and was impressed and moved by Michael Ignatieff's poignant piece in The Globe and Mail Friday Sept. 9. Rob, too, was worried that, billions of dollars for security later, laws that restrict our freedoms are about to re-introduced, while Parliament is unable to oversee the government of the day.
Are we closer to the long-term solution 10 years later, even with Osama bin Laden dead? Rob had sent me the piece he had written the day that Osama Bin Laden had been killed:
"I did not feel jubilation and pure happiness, like the faces I was seeing in Washington at the cheering mob quickly forming in front of the White House. Just calm relief. As the news unfolded, this didn't change. I wondered over the implications. The meaning to me, to the US, to New York, to all the families that lost sons and daughters, fathers and mothers, the people I was with and closest to on 9/11." At the end of his piece he commented on President Obama's speech "With that calm resolve, might come peace."
Optimism. Hope. Calm resolve. We have to believe that we can build a better world. A world free of hatred. A world at peace, with peace not being just the absence of war, but peace in the fullest sense -- the presence of a social justice.
Every year, I reread the words I spoke in the House of Commons on Sept. 18, 2001. I had spent a week listening to people in the riding. My father and father-in-law had profound observations on how the 'freedoms' they had fought for in World War II would now have to be 'fought' for differently.
I spent a lot of time that week talking to my friend, the inspiring scientist and pacifist, Ursula Franklin. Ursula had suggested that the 'injury' that was 9/11 should be looked upon as the result of an 'infection.' She wanted me as a physician to explain that we needed to help build up the' antibodies' against this 'infection' -- the antibodies of social justice and caring. Her goal was an effective' immune system' in every part of this tiny planet. She reminded me that hatred is virulent. That it is learned. Contagious. That it is like an acquired infection. She warned that it should not be compared to a cancer. That there is no gene for hatred. As of then, we had not found any 'immunization' against cancer. She wanted us to recommit to improving the caring, education and justice that could immunize the world against the collective weakness that allows terrorism to flourish. She believed that we must begin with our children, the children in Northern Ireland, in the Middle East, in Bosnia, here in Canada.
Ten years later, we need to redouble our efforts to seek, as Rob Tyrie said then, a solution that will last 100 years. We must work to support good government around the world which is fair, transparent and takes people seriously. We must use our brains and our technology to deal with this modern lack of justice. I'm afraid we must start again with a much broader and longer-term vision. Our sons and daughters and grandchildren and great-grandchildren are counting on us.
Ten years later my closing thoughts are the same as they were standing in the House of Commons on Sept. 18,2001: "My son put it best: 'We are all just earthlings and we have to learn how to share this rock.' It is now the time for all like-minded nations to work together to make a safe planet for all of us. We must urgently move forward to effect worldwide the presence of justice, a true peace."