Ontario is one of two Canadian provinces that does not maintain an official residence for its Lieutenant Governor. In 1937, the then Government House, called Chorley Park, was sold off as a cost-cutting measure by the government of the day.
In its place, a suite of rooms was provided in the northwest corner of the Legislature for the Lieutenant Governor to use as offices and for official hospitality purposes.
For over 75 years, the suite has provided a dignified setting for the province's major ceremonies and government functions. As a result, the Lieutenant Governor's Suite has become synonymous with the Crown in Ontario and is a popular destination for public tours and for school visits.
While Chorley Park was abandoned, some of its most impressive furnishings were moved to Queen's Park, including an almost complete portrait collection of Ontario's 42 Lieutenant Governors, a collection unique in all of Canada.
These include John Graves Simcoe, first Lieutenant Governor, and Sir Isaac Brock, fallen hero in the War of 1812 Battle of Queenston Heights. More recent portraits include Pauline McGibbon, who became first female Lieutenant Governor; Lincoln M. Alexander, the first black Lieutenant Governor; Hilary M. Weston; and my immediate predecessor, James K. Bartleman, a member of the Mnjikaning First Nation.
The portraits have been hung throughout the suite for over seven decades at one time or another in all of our main rooms and along the grand staircase. But while the Lieutenant Governor's Suite has always been a place of portraits, they have always been viceregal portraits.
The introduction to the exhibition catalogue has the words of John Ibbitson, chief political correspondent for the Globe and Mail, and Darrell Bricker, a leading pollster on public affairs:
"The pictures you are about to see prove that no place on earth holds within it people from more places, living together in peace and thriving in each other's company, than Ontario."
The response has been overwhelmingly positive, from everyday citizens to Her Royal Highness The Princess Royal, Princess Anne, who visited in October.
Article continues below video
Curated by my staff with the collaboration and generous support of Library and Archives Canada, the exhibition is a portfolio of the races, ethnicities, and genders, people young or old, that makes up the population of Ontario today. In short, visitors to the exhibition see themselves on the walls.
The first picture in the exhibition is a print of Alexander Graham Bell, taken sometime between 1914 and 1919. The last is of Annaleise Carr, who, at the mere age of 14, became the youngest person to swim across Lake Ontario in August 2012.
In between those two, there is a panoply of names and faces -- some household names, others not -- all celebrated for their very real contributions to Ontario and to Canada.
Here is just a small sample of the Ontarians whose portraits feature in the exhibition:
Tiger Jeet Singh, Canadian wrestling legend, humanitarian, and philanthropist, who had a school in Milton named for him in 2010.
Austin Clarke, celebrated Barbadian-Canadian novelist, essayist and short story writer, winner of numerous literary awards, including the Giller Prize, Canada's top award for fiction.
Kim Phuc Phan Ti became known worldwide in 1972 as the subject of the iconic Pulitzer Prize-winning photograph of a nine-year-old Vietnamese child running down a road near her village, severely burned in a napalm attack. A Canadian citizen today, her eponymous foundation provides medical and psychological assistance to child victims of war.
About Face runs in the Lieutenant Governor's Suite until the end of March 2014. The exhibition includes a display of Polaroid photos of Toronto's creative community, taken by the celebrated Canadian artist, Charles Pachter and entitled At My Table. A video documentary of the same name, by Nick de Pencier, explains the background behind the Polaroids, which were snapped in the period between 1976 and 1983, and includes commentary by Charles Pachter and several of the people featured in his photos.
Members of the public can view About Face on selected days during tours of the Legislative Assembly at Queen's Park. The exhibition, including the documentary and additional content is also available online at http://arts.lgontario.ca/aboutface/.
Finally, one of the pictures included in the exhibition is a photograph of Michael Budman and Don Green who, 40 years ago, founded Roots Canada, which has been described as "epitomizing Canuck style."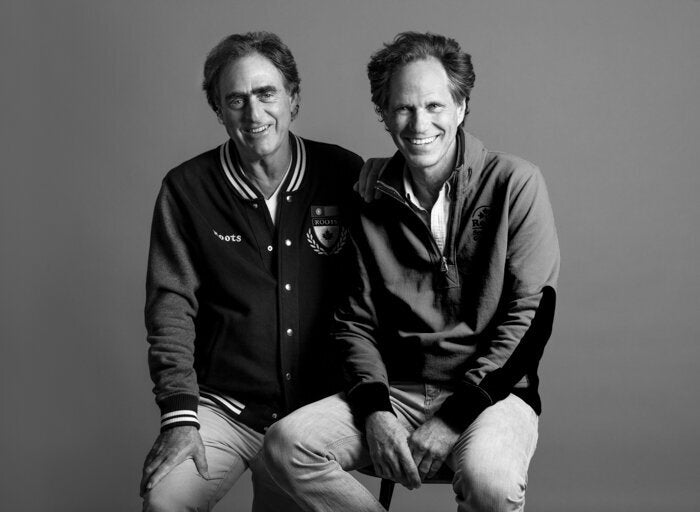 Despite the fact that they were not citizens of Canada, they helped Canadian design and workmanship to gain an international audience, through their Olympic and Paralympic team uniforms, proving that one need not have citizenship in order to make real contributions to Canada.
I use the phrase "were not citizens" advisedly; this week, Michael Budman and Don Green formally became Canadian citizens along with 12 other proud newcomers. On November 20, I presided at their citizenship ceremony in the Lieutenant Governor's Suite, during which they both took an oath of allegiance to Her Majesty Queen Elizabeth II, Queen of Canada.
Proud Ontarians one and all--the heart of what About Face invokes in all visitors who pass through the Lieutenant Governor's Suite.