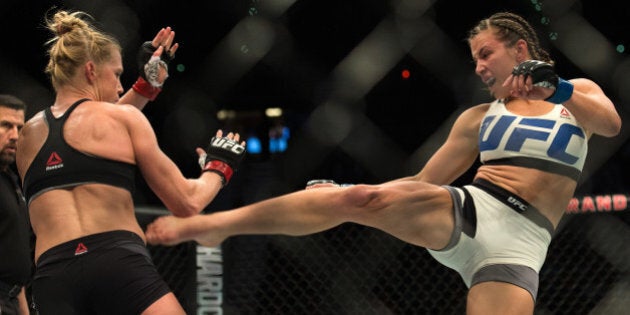 Dana White has stated that he believes Ronda Rousey will be the first challenger for new UFC Women's Bantamweight Champion Miesha Tate.
In speaking with ESPN the day after UFC 196 White stated that in all likelihood Rousey will get the first crack at Tate, whom she defeated in March of 2012 in Strikeforce and then again at UFC 168.
The pending 3rd bout between Miesha Tate and Ronda Rousey brings up some interesting points of discussion as it concerns how title shots are awarded in the UFC. The UFC will look to put on the best fight possible for them, meaning they will choose the fight that will garner the most fan interest/PPV buys, but the most marketable fight isn't necessarily the one that is the most appropriate from a pure sporting perspective. This has always been the case in professional combat sports, whereas amateur and Olympic boxing, wrestling, etc. operate from more of a pure sporting perspective.
In any sport, there are the purists who do not like the idea of "entertainment value" playing any kind of role in how titles and championships are decided, and those people have a very tough time with combat sports like MMA or Boxing, where quite often "entertainment value" plays a large role in how title shots are awarded.
An easy example of entertainment value trumping pure sporting competition values is Holly Holm receiving the title shot against Ronda Rousey in Australia instead of Miesha Tate. At the time of that fight Holm was the #9 ranked Women's Bantamweight, and Miesha Tate was coming off of what almost everyone believed was a fight for a title shot when she defeated Jessica Eye at UFC Fight Night last July.
"Yeah, she is (No. 1 contender). You know, Miesha is such a durable human being. She will stand in front of you and take what you've got. She did it again tonight. She has worked her way back to Ronda Rousey."
Only Miesha Tate wasn't given the next title shot, Holly Holm was.
The public interest in Tate vs. Rousey 3 was low, as nobody believed Rousey could be beaten at that time, so how could someone who has already failed twice beat her? Hence the Holly Holm fight with Rousey made the most sense from a business perspective and that is the fight they ultimately went with.
This is not to say that entertainment shouldn't play a role in who gets title shots, it's just to state that it can be a little annoying to some when it does.
Regarding Immediate Rematches For Defeated Champions
When should a fighter who lost a championship be given an immediate rematch?
From a pure entertainment perspective the answer to this is obvious: the ex-champion gets a rematch whenever the public is interested in seeing the fight. If the public believes there is no chance for the defeated fighter winning a second fight then no rematch is scheduled.
From a pure sporting perspective the question is more muddled, and numerous philosophies surrounding this have existed in MMA, Boxing, and even Pro-Wrestling:
- The defeated ex-champion receives a rematch for the title if they had a long-standing reign with numerous title defenses (generally UFC uses this)
- The defeated ex-champion receives a title shot only if the public wants to see the match
- The defeated ex-champion always receives an immediate rematch
- The defeated champion receives a title shot only if there was something unfair or controversial that happened in the bout
Whenever a UFC champion is defeated there is always debate over whether or not there should be an immediate rematch because there are only vague guidelines that exist regarding this, and no clear rules have ever been communicated by the UFC.
It's a hard scenario to find the answer to.
If you are Dana White and the UFC, you might not be happy about the results of the last two championship fights in this division, but if you are a fan who loves a wide-open division with multiple potential contenders then this is a great time to be following the UFC Women's Bantamweight division.
Follow HuffPost Canada Blogs on Facebook