Westend61 via Getty Images
I had always wanted to work in an office environment; to have something to wake up for every day, get professionally dressed for, and to attend meetings repeatedly. Leaving home Monday to Friday to go to work seemed like some magical wonderland that I would one day get to experience. After graduating from university, I had gotten a chance to do just that and I have been experiencing this wonderland for the last decade.
Recently I have had the pleasure to start working from the comfort of my home and while working in an office environment can be thrilling and stimulating, being able to stay in your pajamas and sweatpants with ketchup stains on them is much more exciting.
When venturing into the world of in-house career the toughest task was delegating space to do just that. I have started out working from the dining room and slowly moved my way to the kitchen bar table. As much as I loved listening to my partner watch television while I worked (definitely not distracting at all...), this set up was not going to last very long. A few fishing shows in and it was clear, I needed an office space.
As with most young couples, we live in a very small condo (the cost of living closer to the downtown core) and though it is great for cohabitation it does not allow for a lot of room to play with. Let's just say my dreams of having that walk in closet with a desk inside have long been shattered so turning the dining room into a work area was my only chance of keeping my sanity. I've learned a few things from the experience.
One, those two years of interior design studies did not prepare me for organizing an eight by ten room.
Two, no matter how many things you throw out, there will never be enough space. Three, crying does not make your den get bigger. Though I cannot share with you the emotional turmoil that I went through putting together a workable environment (let's just say that parts of my soul were tossed in the trash with every picture frame deemed unnecessary) I can give you some notes on what I've learned in the process.
Size matters. Whatever your style of furnishing will be get the smallest version of it possible. If you can squeeze yourself unto a chair fit for a child then get it. A room full of large pieces will make your office look like an episode of Storage Wars. The same sentiment goes for your tech pieces. If you can afford it, get wireless everything. Avoid hundreds of cords on the floor which not only looks messy but becomes a hazard in a small space.
Multitask your little heart out. Everything should serve at least two purposes and one of those purposes should always be storage. Just because this space is an office now doesn't mean everything you've moved out of this room just disappears. I highly recommend putting in wall to wall dressers without sacrificing desk space, you can store anything you need (even your clothing) and your office will still be work friendly.
Your butt is important. Get a comfortable chair. I currently use a dining room chair with a decorative pillow to make the space look more like the rest of our home and less like a cubicle.
Details, Devil, etc. Finishing touches are some of the more important parts of making a small space seem inviting. Narrow down the design details you have recently enjoyed seeing in magazines or on social media and work with that in mind. Keep anything you already own that meets the criteria and go ahead and toss everything else. It's alright to put a bit of money into this project and you can get some really great pieces for small costs at local off-price retailers and even dollar stores.
Get creative. Even if you don't work in a creative field, get yourself a creativity board. You don't need to fill it with paperwork but inspiring photographs and notes to self never hurt anyone. The one I have at home holds everything from personal photographs, to magazine covers, to random pictures of shoes I feel I need to own.
Whatever your profession working from home can become quite hectic, especially if you are working in a space that brings about stress. Turning a small space into a proper working area can be daunting at first but can definitely pay off in the long run. So get yourself set up in a corner somewhere, throw on your sweatpants and go to work!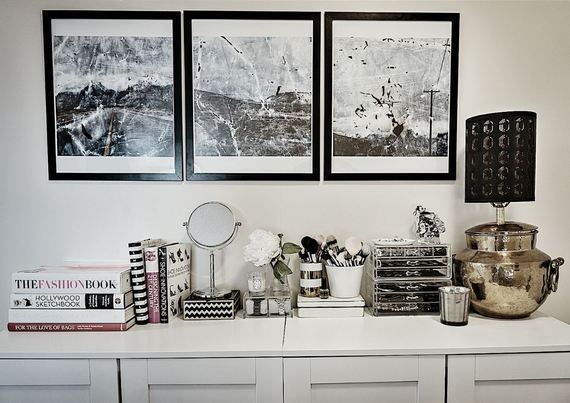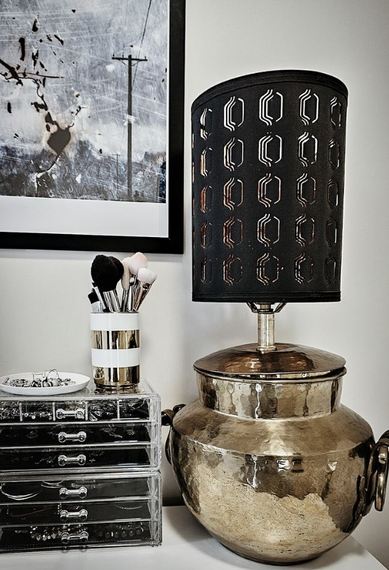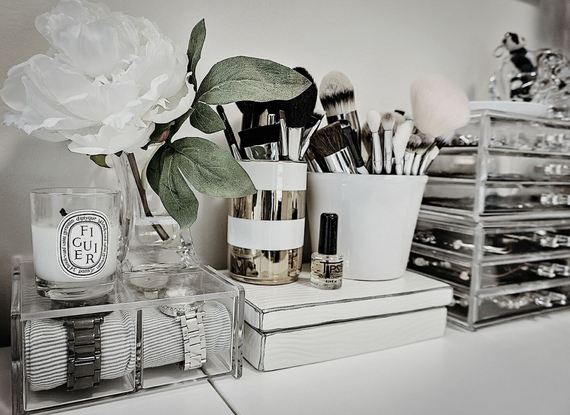 More from Inessa Radostin:
Website: www.inessaradostin.com
Instagram: @InessaRadostin
Facebook: Inessa Radostin
Twitter: @InessaRadostin
Pinterest: Inessa Radostin
YouTube: Inessa Radostin
Follow HuffPost Canada Blogs on Facebook