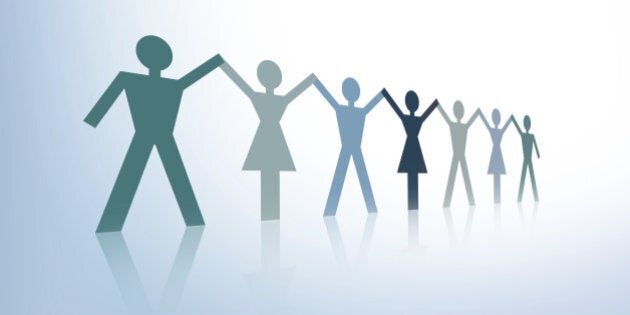 World AIDS day 2015: a time to think about what's been achieved and imagine how soon we might be able to triumphantly say "AIDS is over." The United Nations' Sustainable Development Goals include putting an end to AIDS by 2030, an ambitious goal to be sure. There is a lot to be said, and many, many things to be done before that time.
One of the key factors in achieving the end of AIDS is one of the most challenging -- gender equality, number 5 of the Sustainable Development Goals. Because of gender inequities, girls and women are denied and limited in education, are vulnerable to violence, have a lack of choices about sex, relationships, parenthood, and their overall health. All of this affects their susceptibility to HIV and other sexually transmitted infections. Women and girls are also limited in their economic clout and choices, making only a portion of men's wages; and bearing the brunt of unpaid work.
Gender inequality is a tough one to change. Gender bias is written into religious texts that are followed with passion, it is written into laws and policies in every nation, it is played out every single day across the world. It is so expected that people often don't see it at all.
"Why didn't she make him wear a condom? It's her own fault if she didn't." Apply that to pregnancy or HIV infection and you see similar issues. Women often don't have decision-making power about sex or condoms. Women, not men, are too frequently held accountable for men's behaviours, because men "can't help themselves" or see access to women as their right, and laws often support this. Consider that sexual assault within marriage was only criminalized in Canadian law in 1983 and is still not illegal in other countries. In cases of sexual assault women's stories are still questioned, because somehow, she must have given some kind of signal, right?
Wrong. To charge girls and women with the responsibility for everyone's sexual choices is unreasonable. It is not just or forward thinking for our future.
If we wish to see the end of AIDS ever, the world needs to take on gender inequality. We need to examine what opportunities girls and women have to be themselves- cisgender, transgender, gender-fluid, queer, parents, child free; from young ones to seniors, to all the variations that women can be.
"It's critical that we remember and act upon those principles that have carried us forward from the earliest and darkest days of the epidemic... Understanding and addressing the relevant social, economic and environmental circumstances of our client's lives is as important today as it was back in 1981."
I mean no discredit to scientists and doctors who have poured their hearts and lives into developing life-saving treatment. HIV treatments have changed the course of the virus for those who have access to them, and that is wonderful. There are still many who don't have access, and that needs our attention definitely and desperately as well. There's not only one path in the fight against AIDS.
One of the many things girls and women need is access to education and comprehensive sexuality education that gives solid science as well as insights into power-imbalance in relationships. It's not just girls who need this information; boys and men need to hear it and be willing to step up to change.
It would be lovely to think that comprehensive sex education is well on its way in Canada, but if the current situation in Ontario is any indication, we are still in the throes of denial. Ontario's updated school-based sex education program has received a lot of criticism and parents have pulled their kids from classes saying the information is too much too soon. Kids who aren't equipped with shame-free education (relationships should be pleasurable, after all) could be put into situations they aren't prepared to handle.
Will we reach "The end of AIDS" by 2030? In order to do it, the world will have to examine its very heart and turn it inside out. How girls and women are treated is fundamental to change. Someday it may be possible. In the meantime we have to keep fighting with sound compassion, science, progressive governmental policy and law, and most importantly, a keen awareness of the obstacles in our way.
This blog is part of a World AIDS Day series produced by the Interagency Coalition on AIDS and Development (ICAD) in recognition of World AIDS Day (Dec 1). The series runs from Dec. 1-7, 2015 and will feature a selection of blogs written by our member and partner organizations. Each day we will hear from a broad range of experiences in blogs written by ICAD members. Each provides their perspective and their insight on what must be done to achieve the UNAIDS campaign of "Getting to Zero" as we embark on the race to meet our 2030 Goals for Sustainable Development.
Disclaimer: The views and opinions expressed in this blog series are those of the authors and do not necessarily reflect those of ICAD.