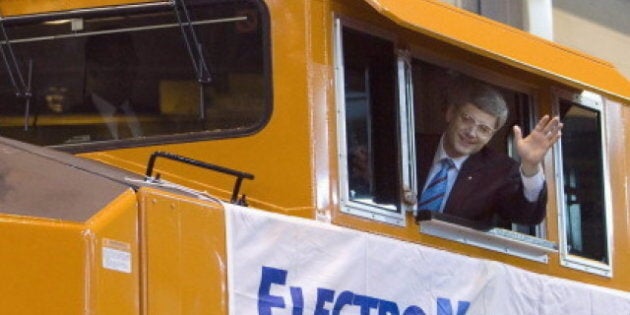 This past weekend thousands of people descended on downtown London in support of the locked out workers at Electro- Motive Diesel. People came in support of the workers from all walks of life. There were teachers, union leaders, people from the London community, people from across south western Ontario, and workers from General Electric in Erie, Pennsylvania and Muncie, Indiana.
The American workers encouraged EMD workers to continue to stand up for fair wages. NDP leader Nycole Turmel and several of my caucus colleagues joined me at the rally to show support. We all came together to defend the right of workers to have a decent wage and a decent pension from a company that boasts record profits.
Frustration is mounting at the EMD lockout. Workers are frustrated and Londoners are frustrated. This lockout falls after a series of plant closures and layoffs that have left a community gutted and desperate to keep good paying jobs here. I have received many emails from workers and their families just wanting a fair deal. They want to work and cannot afford a 50 per cent pay cut. The frustration of Londoners can be clearly seen in the comments made by the Mayor of London, Joe Fontana this weekend.
In case you missed it, he called for the Prime Minister to get his "ass" down to London. While his choice in words was inappropriate, the sentiment speaks to how Londoners are feeling. London is hurting and the Conservative government appears to merely scoff at the cries for help.
Today the Government announced that a mere $5 million in funding would be made available for manufacturing workers in all of Southern Ontario. This money will be for upgrading skills of employees and will have to be matched by the company. There is no guarantee that any or all the money allocated will be spent in London and will not help a single worker fighting for her or his job at EMD.
In the House of Commons I have been attacked by members on the government side. Some have suggested that I am not proud of the city of London because I have pointed out that we need to do something about the rising unemployment and the crisis in the manufacturing sector in the area. The government members seem disinterested in what is happening in this city and are unwilling to take the necessary steps to rebuild the London economy.
I call on the federal government to step up and start making real investments in jobs. Slashing taxes for corporations has done nothing to keep jobs in London. We need to work on new strategies and new ways of developing our manufacturing sector. We need to invest in green technologies and develop the green economy. That is the only way for London to turn itself around.