Meet me at the beginning of the red carpet.
That was the text that started my night, last night.
The beginning of the red carpet for "The Judge" opening the Toronto Film Festival. The text may as well have read : meet me at the Oscars.
I grew up on the mean streets of Toronto. North York to be exact. And as a young girl with an awkward mullet I often dreamed of living in Hollywood. What I didn't realize was that in the not so distant future Hollywood would be a streetcar ride away from my birthplace.
I moved to Los Angeles thinking that my dreams would keep me very far from home. And while in Los Angeles I met my friend who was now texting me.
I circled Roy Thomson Hall. There was a red carpet: surrounded by security, throngs of fans, and no entrance for people like me who'd had mullets when they were five and who now had no credentials and no ticket to the movie they were trying to get into.
A very handsome security person at TIFF explained to me calmly and politely (Canadians!) that no one is allowed into Roy Thomson without a ticket.
"But I have a text."
"Can you show it to me?"
I reached for my phone, pulled it out of my purse triumphantly, and then watched it die.
"Do you have a charger?"
He did not.
I ran into an Indian restaurant, nearly falling into the manager. He caught me, asking,
"How can I help you?" (Canadians!)
"Do you have a charger?"
He handed me one. I calmly sipped my water as precious bars of battery were ushered into my phone.
Another text: where r u?
I pulled myself together as best as somebody who struggles as much with identity as I do can, and I walked. I walked with the conviction of someone who knows how to hang in Hollywood (in Toronto) that I would find the beginning of the red carpet. I asked every gorgeous volunteer I could find: Where is the beginning of the red carpet? Until I saw it: an opening, an entrance across the street from The Ritz. Jeanette, a volunteer, let me know that I had arrived and that this was in fact the beginning of the red carpet. I showed her my text. She seemed interested in an adventure.
Jeanette and I marched past the fans, both of us putting our best "I'm too important to be bothered" faces on.
And on we marched- right onto the edge of the red carpet, where my friend was waiting.
My friend looked impressed, and I snapped pictures of the red carpet.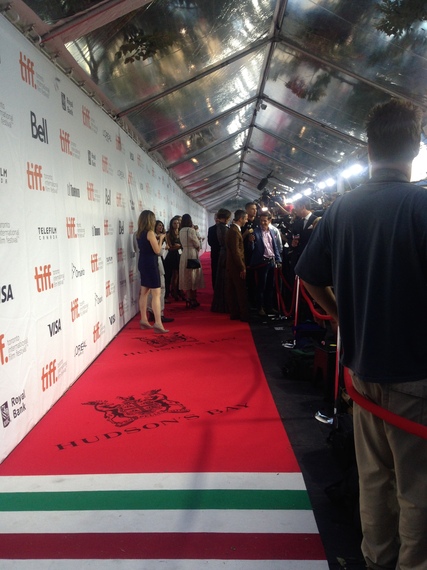 Then Robert Downy Jr's car drove up. I held up my phone excited to potentially win at Facebook the next day.
Then my phone died.
Again.
Me and the cast's family and friends were ushered into a greenroom. It was heaven-great candy, beautiful celebrities and an agent who had a battery pack and a charger. As my phone charged, Kristen Bell (who is radiantly pregnant) and I were eating jelly beans together and bemoaning the effect of sugar on our systems.
I spoke with the director David Dobkin who told me that he was honored to be opening the film festival. I believed him.
And then it was time to go into the movie.
The film was lead deftly by Robert Downy Jr. in a way that only a true movie star can lead. Robert Duvall is heartbreakingly nuanced. Vincent D'Onofrio's quiet performance sneaks up on you, and Jeremy Strong's open-hearted performance stands out amongst these heavy hitters. At it's core the film is about a troubled relationship between a father and son.
When the lights came up, Robert Duvall stood, and the audience stood up and clapped for him. In this ironic and cynical world -- where we are sold the idea of not caring -- and especially not caring about films- I loved standing and clapping for Robert Duvall and this film.
I thought about my own mother (who I have a complicated relationship with), who lives blocks away from where the film premiered.
I had been avoiding home and avoiding that relationship for years. It's a funny thing about big dreams. They often lead you home, as far in the opposite direction as you may be trying to go.