Newsy.com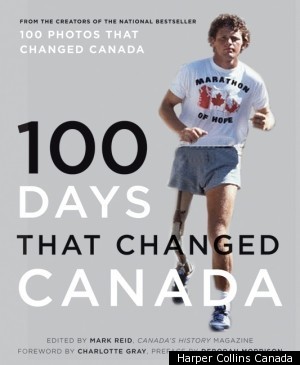 From the creators of 100 Photos That Changed Canada comes their newest work, 100 Days That Changed Canada -- a work that provides concise and compelling histories of turning points in Canadian history.
Charlotte Gray on the Gold Rush. Ken McGoogan on the claiming of the Northwest Passage. Adrienne Clarkson on the death of Norman Bethune. Peter Mansbridge on Jackie Robinson breaking baseball's colour barrier with the Montreal Royals. Lawrence Hill on Halifax's destruction of Africville -- and 95 other days that changed how Canadians live.
Our friends at Harper Collins Canada have shared excerpts with the Huffington Post Canada and the Indigo blog, telling the story of four of those 100 days. Today we have J. L. Granatstein on William Lyon Mackenzie King's divisive choice to enact conscription.
****
Crisis Averted

Nov. 22, 1944 -- Mackenzie King opts for conscription.

J. L. Granatstein
Canada's soldiers suffered heavy casualties in the second half of 1944 in Normandy, clearing the Scheldt estuary, and breaking the Gothic Line in northern Italy. Infantry units operated at half strength of less, their platoons frequently reduced to a dozen soldiers instead of the normal 30. And, the soldiers, grumbled, there were thousands of 'zombies,' or home defence conscripts, safe in Canada.
For Prime Minister William Lyon Mackenzie King this was a huge political problem. The war seemed to be almost over, and Canada had avoided imposing conscription for overseas service. Now, his defence minister, Colonel J. Layton Ralston, wanted to send the home defence men overseas to reinforce the front lines. The Quebec ministers and the French-language press bitterly, stubbornly resisted any such move. King certainly didn't want a repeat of the conscription crisis of 1917-1918, which saw rioting in the streets of Quebec. But Ralston, just back from an overseas visit, insisted that the men had to be sent now.
What could King do to avoid a great rift in the nation with victory almost assured? Moving with speed and brutality, he fired Ralston on Nov. 1, astonishing his cabinet and the country, and named General Andrew McNaughton in his place. Ralston had just a year earlier forced McNaughton out of command of the First Canadian Army. The general had his revenge, and as an anti-conscriptionist, he seemed the ideal man to find volunteers for the front.
The difficulty was that only the home defence conscripts were trained and available. McNaughton made his appeals, telling the soldiers that their countrymen at the front needed them. A few stepped forward, but many argued that if the government had to reinforce the army overseas, all it needed to do was tell them to go. Order us. Stop begging.
McNaughton soon began to realize that he could not find the men, and by now his generals, especially on the West Coast, were telling him so. Some were even violating orders and speaking to the newspapers. King's cabinet was on the verge of splitting apart under the strain. Then, on Nov. 22, McNaughton called on King with news that hit like a blow to the stomach: "The headquarters staff here had all advised him that the voluntary system would not get the men." Always a confident man, McNaughton was shaken to his core.
But King saw his moment. He recalled that in June 1942, he had told Parliament that his government would act if conscription became necessary. "Not necessarily conscription, but conscription if necessary," he had stated. "Now whatever the causes," he said in his diary, "whatever the errors, conscription was necessary and the Minister of National Defence said it was."
The prime minister had turned 180 degrees, and although one Quebec minister resigned, King persuaded the rest of his cabinet to stay together and to order sixteen thousand conscripts overseas. French Canada raged, but all in Quebec could grudgingly acknowledge that King had fought against conscription as long as he could. Bobbing and weaving, King survived, Canada remained relatively united, and the war overseas soon ended victoriously. In June, King's government even won re-election. Conscription had been effectively managed.
Thanks to our friends at Harper Collins Canada for providing this excerpt.
This post originally appeared on the Indigo Blog.