May I introduce you to "The Boys": Gabe and Archie.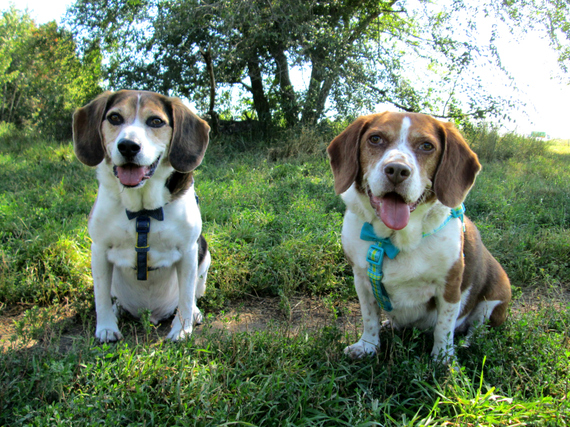 Gabe, the guy with the eyeliner, is now 10. He has always been an old soul, perennially fed up with everything, demanding, impatient. He adapted early on to my hearing disability, tapping me with his nose or a paw to get my attention. Archie, who is about nine, was found as a stray eight years ago: emaciated and heartbreakingly timid. He is an alumnus of Beagle Paws, a Canadian rescue based in Newfoundland. Arch is a whiz at the physics of tennis balls, a social butterfly at the dog park, and a cuddlebug. He gets my attention by standing in front of me and wagging so hard that his whole body wiggles.
Gabe and Arch bring me laughter, exercise, fresh air, and love on a daily basis. They have also shaped my opinion on some ethical issues. I support pet rescue by advocating for it, contributing financially, and fostering. As well, I choose cruelty-free personal care and household cleaning products.
The issue of animal testing is a murky minefield. I'm not here to preach. You can Google if you're interested in the issue. The lines I have drawn for myself will be questionable to some. But I believe that you don't have to be a radical protester to make a difference -- every small choice you make counts.
Cruelty-free is important to me because beagles are the dog breed most frequently used in lab testing. Beagles are chosen specifically because they are friendly, trusting, forgiving, and people-pleasing. How's that for cruel irony? The longer the breed is used in laboratories, the more valuable it becomes as a test subject, since testing creates a significant bank of data.
To give you some idea of the numbers involved, in 2002, 5,746 dogs were used in lab tests in the U.K.; of those 5,656 (98.4 per cent) were beagles. I wasn't able to find beagle stats for other countries, but in 2000, 69,516 dogs were used in lab tests in the USA, and 8,789 dogs were used for lab tests in Canada.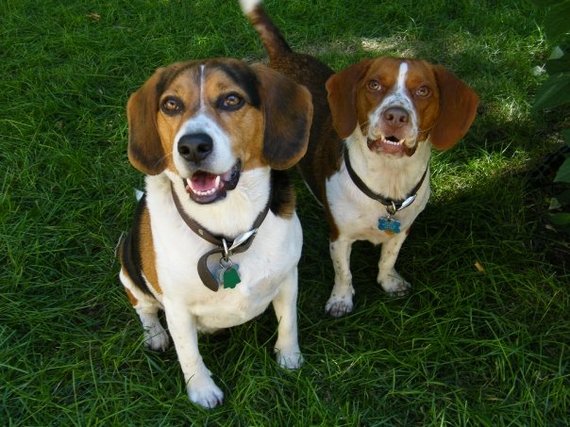 Despite all this animal testing (and frankly beagles are just the tip of an iceberg that includes cats, rabbits, mice, fish, and other animals) there is an enormous number of companies that are cruelty-free. Further, as of March 2013, the European Union has banned the sale of any cosmetic products that have been tested on animals. This begs the question of why animal testing even has to continue in the cosmetic industry.
It took me two to three years of research and trial and error to become (mostly) cruelty-free. Google has been my friend. The Leaping Bunny Logo, and its website (which has comprehensive lists and shopping guides) is incredibly helpful. There are also apps for that. The best of these is Cruelty Cutter, developed by the Beagle Freedom Project. It is available for both Apple and Android devices. You simply scan a product's UPC with your smartphone, and the app tells you if the product is cruelty-free or not.
Lists and apps are all fine and dandy, but where does one find all these cruelty-free products? I used to drive all over town, picking up things willy nilly: Seventh Generation laundry detergent at Canadian Tire; Kiss my Face body lotion at one specific Shopper's Drug Mart location; facial cleanser from Lush; yadda yadda ya. Then I discovered well.ca, a huge web store with competitive prices, excellent customer service, and free shipping to most locations within Canada on orders of $25 or more. If you know which brands and products you want to try, start by looking for them at well.ca.
To help you get started, my favourite brands are reviewed briefly below. As a disclaimer, I have not received any samples, products, or financial incentives directly from any of the companies below (although well.ca, mentioned above, is often generous with samples).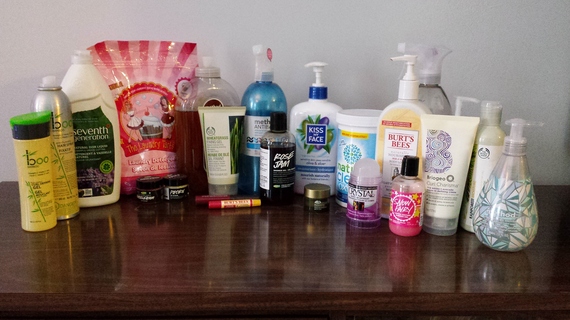 Hair care: Paul Mitchell, a legendary advocate for cruelty-free products, has terrific, competitively-priced products available in salons. I also use Boo Bamboo and Briogeo.
Facial care: I am all over the map when it comes to facial care, using Lush (exfoliator), Boo Bamboo (face cream), Origins (eye cream), and Burt's Bees (lips).
Bath and Body: My favourites are Lush and The Body Shop for soaps and shower gels; Kiss my Face for body lotion and hand soap; and Method for hand soap.
Deodorant: This was the hardest switchover for me. I tried many different deodorants, including The Body Shop, Toms of Maine, Kiss my Face, Green Beaver, EarthWear, and different crystal deodorants. I am happy with Crystal brand deodorant in the winter. In the summer, I use Nivea, which is not cruelty-free. Nivea's parent company, Beiersdorf (like Origins, mentioned above) believes that animal testing is unnecessary, but they do it where required by law -- primarily in China. This is one line many will not agree with me on. However, after spending well over $100 testing deodorants, and not finding one that worked for me, I am sticking with Nivea.
Laundry: I recently discovered The Laundry Tarts, which is a Canadian company. Their dryer balls are amazing, cutting down on drying time and allowing you to match your dryer scent to your detergent scent (I'm partial to Root Beer Float). I've used Ecover, Eco-Max, Nature Clean, Seventh Generation, and Method, and all worked fine. However, I like the scents of The Laundry Tarts' products, and the dryer balls seal the deal.
Dish Detergent: Seventh Generation wins hands down. The price is more economical than some brands (such as Watkins, Upper Canada, and Mrs. Meyer's), and it makes more bubbles and cuts grease better than comparably-priced brands (such as Method). The one other contender for top spot is Ecover, which works well as long as you use a large squirt.
General Household Cleaning: I use Method and Seventh Generation for the most part, but I've also dabbled with CleanWell, and of course rely on the old standbys of vinegar and baking soda.
A few products that I have not yet found a viable cruelty-free alternative to are: toothpaste and feminine sanitary products. Seventh Generation manufactures tampons, but I haven't found them for sale in Canada yet. I'm sorry but I'm just uncomfortable with the concept of boiling the Diva Cup on my stove.
A word about Seventh Generation: I am aware of the controversy when Seventh Gen refused to sign a letter to the United States Congress in 2013, asking that animal testing only be used as a last resort. Without getting into the minutiae of the issue, Seventh Gen remains adamant that it is against animal testing, and it has retained its Leaping Bunny Logo, which is good enough for me.
If you would like to recommend a cruelty-free product, please comment below. Gabe and Arch promise to celebrate each cruelty-free purchase you make.