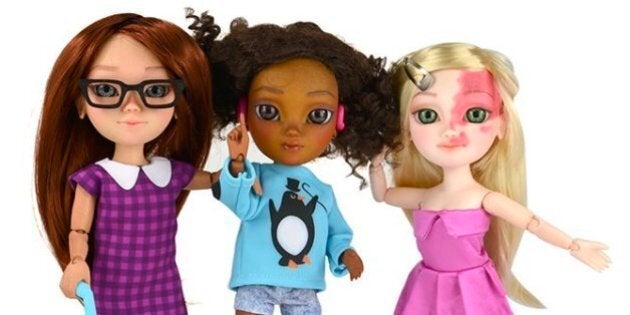 As a person with a disability, I've been following the recent buzz around fat-shaming and body acceptance quite keenly. While many people struggle with body acceptance, those who have obvious physical disabilities also deal with the stigmatization of disability; devalued bodies; exclusion from society's narrow definition of beauty; and the way beauty and disability are portrayed in the media and pop culture.
Unfortunately, people with disabilities are often judged as broken, incomplete, or lacking. Because of this, their bodies are not considered beautiful, and as stated in a paper on body image and physical disability, it's "likely that those people whose bodies are devalued by society may devalue themselves."
Another problem, as keenly observed in The Sexual Politics of Disability: Untold Desires, is one that we all encounter: the media, fashion industry and pop culture perpetuate a very limited definition of beauty. And, ergo, anyone who does not fit within that definition is not beautiful. There have been many scholarly papers written about this; it is not a personal opinion. As one such paper states: "mass media images create derogatory stereotypes that reinforce negative social attitudes and result in prejudice and discrimination."
Surrounded by these negative and dismissive attitudes towards the disabled body, it is a joy to watch fledgling movements take flight, which portray disabled bodies in more positive light.
The #toylikeme movement began earlier this year when three moms banded together over social media to rally for more inclusive toys. At first, they called for photos of existing toys with disabilities, but when only a paltry number of photos were posted, they encouraged people to give their existing toys a disability spin.
Their photo of a Barbie doll sporting a homemade hot pink cochlear implant went viral and clearly demonstrated that there was a demand for toys which positively represented disability. British toymaker Makie stepped up to the plate, offering accessories like cochlear implants and white canes for any of their dolls, as well as producing a doll with a facial birthmark.
Since then, other toymakers have gotten on board, including Playmobil. Seeing themselves reflected in their toys (rather than being totally absent from the toy landscape) gives children a stronger feeling of belonging and normality, instead of feeling different and invisible.
In addition to toys, television and movies have a big impact on how children view disabilities. If you scroll through a list of top animated movies, you'll be reminded of a handful of animated characters with disabilities: Captain Hook (Peter Pan), Quasimodo (The Hunchback of Notre Dame), Mater (Cars), Dumbo and the seven dwarves come to mind.
Finding Nemo, however, is an absolutely brilliant depiction of disability and inclusive society. I fell in love with the movie within the first few minutes of watching. Nemo's experiences closely mirrored my own as a child. My parents, like Marlin, were hugely overprotective. But, as the story unfolds, it becomes a parable about normalizing disability. When Nemo goes to school and explains away his "lucky fin," his classmates tell Nemo about their own differences, such as a lazy tentacle and H2O intolerance. And throughout the movie, disability doesn't hold characters back, but instead gives them special powers.
Nemo's disability is what drives his search for independence, and Dory's cognitive issues are ultimately what brings the story to a happy conclusion. It's been pointed out that many of the disability subplots in Finding Nemo may be overlooked, perhaps because the movie is so incredibly progressive that everyone is different in some way and none of those differences are belittled. But in my case, it was the disability issues that I most strongly identified with, and I hope little kids with disabilities feel that same sense of identification and belonging when they watch Finding Nemo.
Progress on the body acceptance front hasn't just been made for kids. Adults have reason to celebrate as well. In July, author and motivational speaker Rachel Friedman Chapman posted photos from her boudoir photo shoot. Chapman was paralyzed from the chest down after an accident in 2010. All of her photos include her catheter bag, which is quite visible as she is wearing only lingerie in her photos. She told The Huffington Post that she posted the photos "to show that we [people with disabilities] are capable, sexual beings and we are not to be overlooked ... [We] need to love [ourselves]." Following the photo shoot, Chapman started the #WhatMakesMeSexy campaign on twitter, encouraging people with disabilities to tweet what they love about themselves.
I started writing this piece because a friend posted a story about diversity at New York Fashion Week 2015, and it made me reflect on what body acceptance and diversity means to me. Designer Carrie Hammer is known for the diversity of the models in her shows. Hammer's September 10 show, titled "Role Models not Runway Models" saw bankers, CEOs and social activists on the runway -- as well as the comedian and disability rights advocate Maysoon Zayid, who has cerebral palsy. Madeline Stewart, an 18-year old Australian model with Down syndrome also walked the runway this week at FTL Moda's show.
What does this all mean? It's my hope that we find a way to extend body acceptance to all of us. As the conversation broadens and people become more aware of how restrictive our current definition of beauty is, hopefully we will start seeing the beauty in all people. Because we are all beautiful. Yes, even you. Even me.
"HOH Oh!" pieces by Jacki Andre explore living life with a disability, and especially issues related to being hard of hearing (HOH).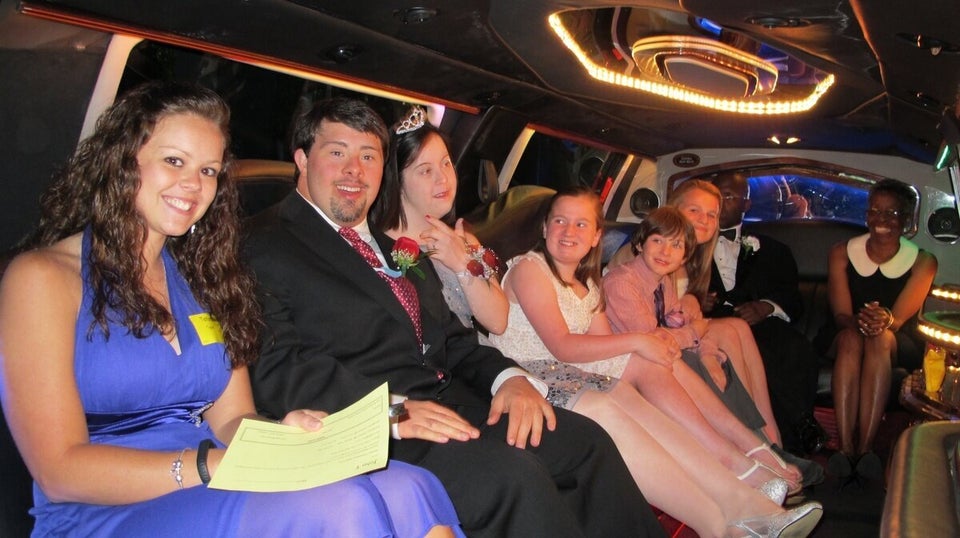 Teens With Disabilities Sparkle at Special Prom