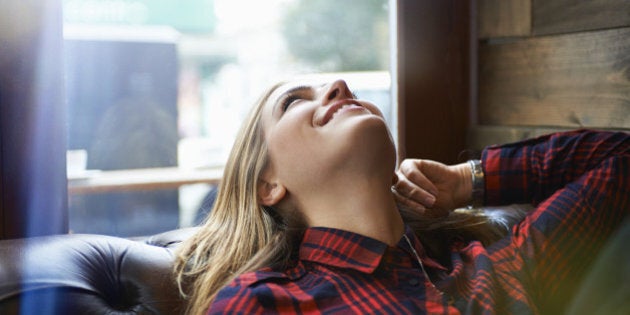 I think it might be time to start dreaming bigger.
Earlier this year, I read Jen Sincero's You Are a Badass: How to Stop Doubting Your Greatness and Start Living an Awesome Life. I had heard previously about the law of attraction, but this was the first time I read a book about it. (Yes, somehow I managed to miss out on all the hoopla that surrounded The Secret.)
Sincero stresses that the universe is bountiful, and to tap into that abundance all you need to do is ask. I decided to test this theory via a kijiji ad. My "In Search Of" (ISO) listing was for vinyl records by a specific musician. I stated that I was willing to pay a reasonable price. Within about a week, I got a reply from a guy who claimed to have 20,000 records in his garage. He said he was going through them in preparation for a garage sale, and would put the records I wanted aside. He asked how much I was willing to pay.
Based on the prices set by my local used record store, I offered $5 each, with the stipulation that I would pay more for any rare albums. He dickered me down to $2 per album. Yes, he dickered me down, and lost money in the process. Over the next couple of months, I ended up buying over 70 vinyl albums from him, all recorded by the same artist (many were duplicates of course, which I resold to fellow fans for $2 each).
Sure, it could be a coincidence. Lots of people have 20,000 records sitting in their garages, right? And those that do regularly look through the online ISO ads just in case they can offload some, natch. And they sell them for $2 each, instead of $5, because they wouldn't want to take advantage of anyone. Right?
Sarcasm notwithstanding, I honestly remain skeptical. But I'll tell you something else that's funny. I bought Sincero's book in early June while I was on vacation,and read it fairly quickly after I returned home. By mid-June, I started working on my gratitude journal and my visualization board (which, in my case, is a visualization binder so that I can dream bigger as the opportunities arise).
Since I wanted to lose weight, I decided to have a weight-loss themed page in my visualization binder. I pasted in some pictures of vegetables; a picture of a happy woman on a bike; and a picture of a road sign, which had numbers on it that corresponded to my goal weight. On June 24, right around the time I was snipping and pasting and channeling my inner Mr. Dressup, a friend asked me to join her DietBet group. I started that journey with her on July 5. I've lost 44 pounds in the intervening months. I need a new road sign picture to represent my new goal weight, because my last one has been left in the dust.
Record albums and weight loss are not the only wonderful things that have happened to me since I began to channel my inner badass. Is it time to dream bigger and further test Sincero's theories?
Dream bigger. Okay. Here goes. I always wanted to be a writer. Even when I was a tyke and my friends dreamed those little kid dreams of being rock stars and veterinarians and firemen, I wanted to be Laura Ingalls Wilder.
I struggled to write fiction for a long time and just could not master the mechanics of it. But you know what I realized right in this moment, as I blogged my thoughts here? I didn't want to be a novelist. I wanted to be Laura Ingalls Wilder. She wrote creative non-fiction. I can do creative non-fiction. I am doing creative non-fiction. Right. Here.
I love blogging for The Huffington Post. Why am I not blogging more seriously? Maybe, just maybe, I could earn money doing something I love. At home. In. My. Pajamas.
Listen up, Universe, because this is my plan:
I will decide on a niche. I am passionate about accessibility issues and disability rights. I am passionate about understanding our four-legged friends as best we can, and taking the best care of them that we are able. I am passionate about cruelty-free products. There are lots of things I want to share with the world. The hard thing will be narrowing it down to one topic.
I will choose a domain name so that I can set up an account with a paid web-hosting service. I have had free blogs before. I can find no trace of my first one, which was about herb gardening. Then about six to seven years ago, I set up two blogs at blogspot.ca: The School of Yard Knocks and Gabe n Arch: The Beagle Boys. Free blog-hosting platforms are great if you're sure blogging will always be a hobby. But if you have dreams of being a professional blogger, there are several solid arguments in support of a paid hosting service.
I will research my options for a web host. Like all technology, the cost of web hosting is getting lower all the time, and there is lots of great advice out there on how to choose a great but cheap hosting service.
I will start browsing blogs, looking not just at content like I usually do, but at their design to get design ideas for my own blog. I will take screen shots and make notes.
I will write my pillar blog post to kick things off.
I will get excited. I will get nervous. I will lose sleep. I will revel in the joy of creating something new from scratch.
I will do this. I am grateful that I have the means and ability to do this; I'm grateful I read You Are a Badass; and I'm grateful for the abundance in the Universe. I'm ready to dream bigger. Bring it.