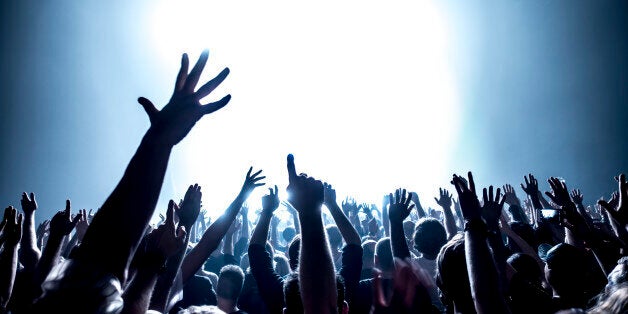 I blame Corey Hart. Before 2011, I was content to be a regular fan. I bought CDs and digital downloads. I went to concerts, sat wherever I was lucky enough to get a seat, and always (always!) scoped out the merch table. The musicians did their thing and I did mine.
When I went to a general-admission Loverboy show in 2011 I was thrilled to score a front row spot. During the concert -- right in the middle of a song -- Doug Johnson, the keyboardist, came and sat beside me. Dumbfounded, I was unsure what to do. So I did nothing. I acted like Doug was just a random guy who happened to sit beside me. Finally, the people around me started asking him for autographs, so I asked for one too. This story encapsulates the kind of fan I was before Corey schooled me. Polite. Shy. Butt firmly in seat. Not sure how to reach across the boundary that separates musicians and fans.
Right around that same time, I found Corey on Facebook. I was a big fan of his in the 80s and 90s, and still have the memorabilia I got from his fan club back then. In his early days on Facebook, Corey posted a lot. He's all about making connections through his music, and often spoke of the ways fans bring him joy. Through his stories, my subsequent experiences at his live shows, and his many kindnesses, I learned how to be a better fan--and, by extension, a better person.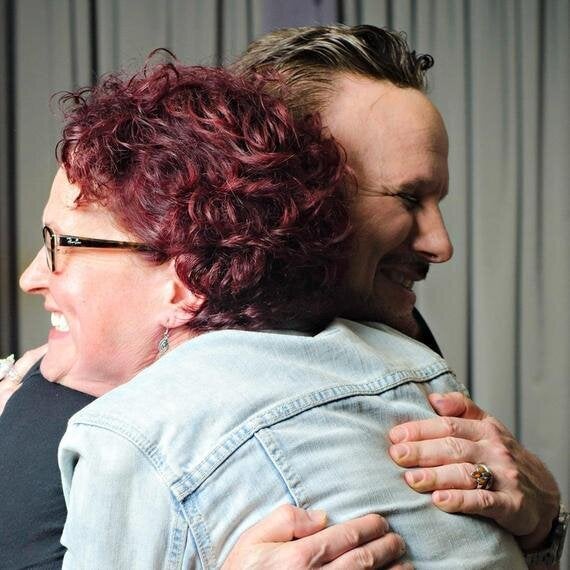 I love being a fan. There are a lot of reasons why and it all boils down to this: it simply makes me happy. I have no agenda. I'm not a badass superstar fan for any reason other than that it fills my world with joy. I'm not a groupie (i.e., my fandom isn't sexually driven). I have no illusions. Jim Cuddy may have joked about going for coffee with me and Corey Hart may have written me into a song, but I know those two -- and all the other artists I've met -- are not my buddies (of any kind). I'm just a fan revelling in the moment, the music, and the rockstar glow
If you're keen to become a badass superstar fan yourself and experience some extra joy, this is what you need to do:
1. Buy music, merchandise, and concert tickets
In this day and age of streaming music, it's more important than ever to support artists you love by buying their stuff. In order to continue making music, they need to get income from somewhere.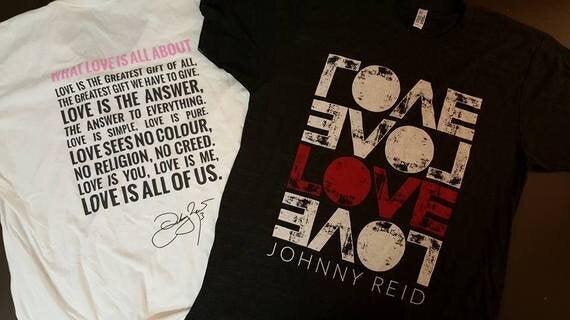 2. Make an effort to see artists who inspire you
I know that not everyone can travel to a concert. But, there is a meme out there with great advice: "Life is short. Buy the concert ticket." If seeing someone perform live is on your bucket list, make it happen. I personally made it happen a couple times by picking up a side job: poop scooping. Worth it.
The easiest way to find joy is to make someone else happy. As a fan, think about what would make the artist happy. What's meaningful to the musician?
When Tim Hicks' Shake These Walls album was released, he posted a photo on Facebook of the album in vinyl LP format. His caption explained that ever since he was a little kid, he had dreamed about recording a vinyl LP. When I attended his concert a few months later, I purchased an LP, knowing the sale of it would be meaningful to Tim. I would have been perfectly happy to just walk away with my record, but I also took a chance during his set and waved it around. Tim asked if I wanted him to sign it. Um. Hell yeah! He made a big deal of autographing it on stage with a flourish, holding it up for everyone to see. We both walked away feeling joy.
Respect the other fans around you, but when you're at a concert engage with the music as much as you can. Sing along. Dance (in your seat if you need to). Cheer. Keep your phone usage to a minimum. Show the band that you are paying attention and that you appreciate what they're doing up there.
Last year, I saw Blue Rodeo once, and Jim Cuddy independently once. Both times, my exuberance caught Jim's eye and he smiled at me. When I met him this year, I told him how much it meant to me that he noticed me in the audience. Being fully present and engaging with the music made me happy, which Jim picked up on, and made him happy in return. We just had a big old cycle of joy going on.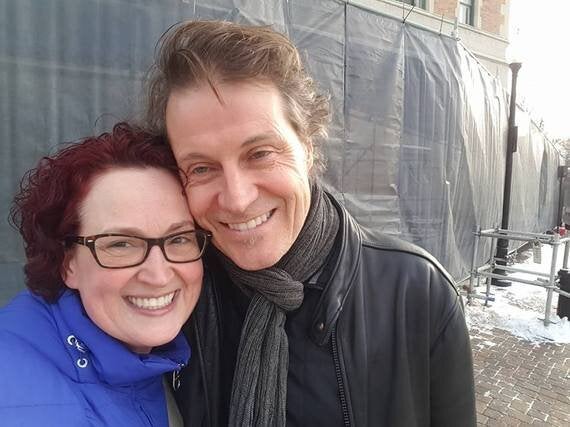 Everyone likes to know that they're appreciated. If you have the opportunity to talk to an artist you admire, tell him/her what you love about their music. Do you use a particular song to lift your spirits? Does a song resonate with you for a particular reason? Has the artist reached out to you on social media and made your day? Tell your story and say "thank you."
Being a fan--even a badass superstar fan--doesn't mean unconditionally loving everything an artist does, says, or sings. I adore Bif Naked, a beautiful human being who lives in gratitude and joy. I started following her on Facebook years ago because I admire her activism and her outlook on life. But, I am not a huge fan of her music. She knows this about me.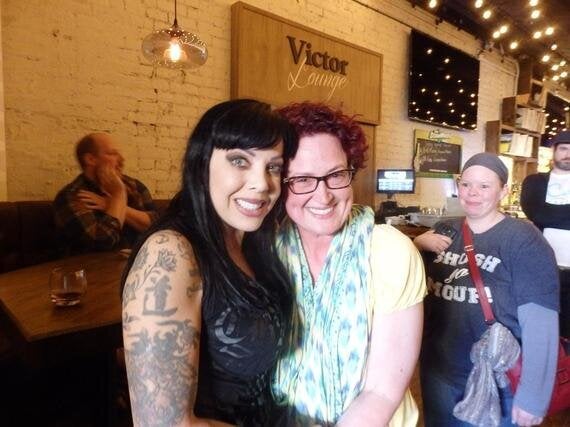 It's simply good customer service to keep fans happy, to give us a hug or an autograph, and to thank us for being fans. Kindness is simply that: kindness. It most likely is not the start of any kind of friendship/relationship. Sure, it can happen. There are rare instances where an artist and fan become friends. But most of us will always be a fan and nothing more. If you are actively pursuing your favourite artist because you want more than simple joy, you should rethink things.
The way you treat your favourite artists is absolutely transferable to other people in your life. Acknowledge them, engage with them, celebrate their achievements, express gratitude. Put your phone away and be present. And get over your embarrassment, and dance with them like nobody's watching. Embrace life. Be happy. Whether your joy is reflected off a rockstar or your next door neighbour, it always comes right back to you.
Follow HuffPost Canada Blogs on Facebook