GIUSEPPE CACACE via Getty Images
Confession time: I have been having a love affair with white truffles for the past seven years. It's an expensive relationship and my love is blind.
Friends who have never been seduced by the aroma of the rare mushroom from Italy often ask what it is that keeps me coming back for more. What could the unsightly fungi that has been known to fetch up to $10,000 a pound possibly have over me?
Like many Great Loves, words rarely do justice to the feelings they evoke, but let's put it this way. I'm starry-eyed and can't carry on a proper conversation until I have savoured my last delectable bite of white truffle; usually shaved on to a plate of butter cream pasta, eggs, beef carpaccio or risotto.
The fact that these truffles play hard to get is certainly part of the appeal as well; they're becoming more and more rare each year because of global warming and other environmental factors. And no one has been able to domesticate them; they're foraged in the forest by specially trained dogs.
I fell head over heels in the fall of 2008 when friends invited us to join them at a white truffle dinner in NYC. The season starts in mid-October and runs for up to three months during which time high-end restaurants around the world scramble to get their hands on enough supplies to satisfy their most devoted foodies. (A healthy serving of white truffle costs about $60 for each plate, in addition to the food it's decorating, so it's serious business.)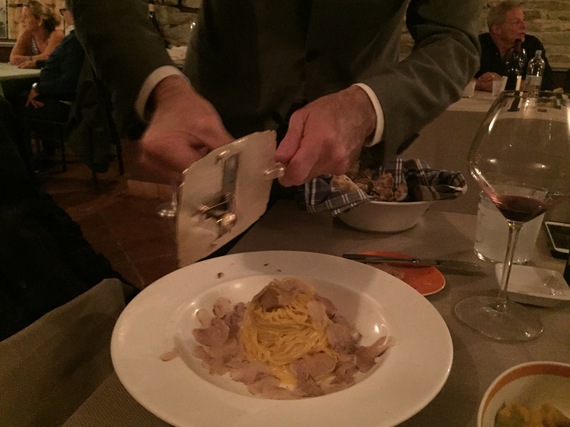 I hadn't been expecting to fall so hard since black truffles don't really get my mojo going, but with the lighter and more aromatic white truffle, it was love at first bite. I couldn't stay away, and the next November my husband and I were back in NYC for another white truffle marathon.
But after our family expanded to include two young children, it became harder to justify our wild white truffle weekends in NYC, so my husband and I decided it was time to bring the truffles closer to home where we could share the experience with our friends and family.
We enlisted the help of the Italian chef in our condo's restaurant who had contacts back home and soon enough we were awaiting a white truffle mule to deliver the special goods. He arrived off the plane with the sought-after stash in a Tupperware container in his backpack; our condo's restaurant was just one of a few stops he would hit on the Toronto restaurant circuit.
We were high on truffle fumes all weekend as we shared a series of dinners decorated by our prized white truffle; shaved onto every course from our cheese and honey starter to our vanilla ice cream dessert and the butter cream pasta and beef tenderloin in between.
As our 10th wedding anniversary approached this past October, my husband and I decided it was time to make the ultimate declaration of love by flying to the 85th annual white truffle festival in Alba, Italy.
Thousands of foodies and truffle aficionados make the pilgrimage to the northern Italian town in the Piedmont region each year to play homage to the diva of all truffles, which originate in Alba.
As my husband and I approached the famous white tent which plays host to the festival, there could be no mistaking we were in the right place. The aroma of white truffle almost knocked us over while I barreled towards to the entrance, leaving a puddle of drool in my wake. Inside truffles in various shapes and sizes were displayed in glass cases and fawned over like diamonds at Tiffany & Co.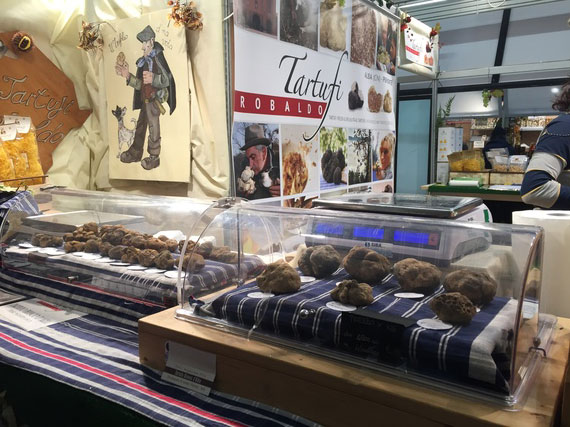 And with all the pomp and circumstance of a beauty pageant, a judge's station sat in the middle of it all, set to crown the best of the best white truffles.
The hype of the festival filters down to the local restaurants as well, which proudly display their truffles as you enter. Inside tourists and locals who may not speak the same language bond over their mutual love of their beloved mushroom.
But the truffle on the top of our visit to Alba this year? Hunting for the diamond in the rough! We were able to see first hand how our favourite treat got to our plate in the first place.
Oprah Winfrey and her best friend Gayle made headlines when they went truffle hunting last year so we were feeling extra glamorous as we set off into the forest with our local guide Oscar Bosio and his dog Dick. We were joined on the excursion by a couple from Switzerland who we met at a local winery and ended up breaking bread/truffles with together.
Oscar had been training Dick to sniff out truffles since he was a wee pup, rewarding him with little tastes of the delicacy when he was successful, so the dog was off to the truffle races as soon as he was let off the leash.
No more than ten minutes passed before Dick began barking and digging a hole beside an Oak tree (truffles grow among the roots of certain types of trees). We all gathered around as Oscar took over the reigns before Dick could eat the prize and viola... Our very own white truffle!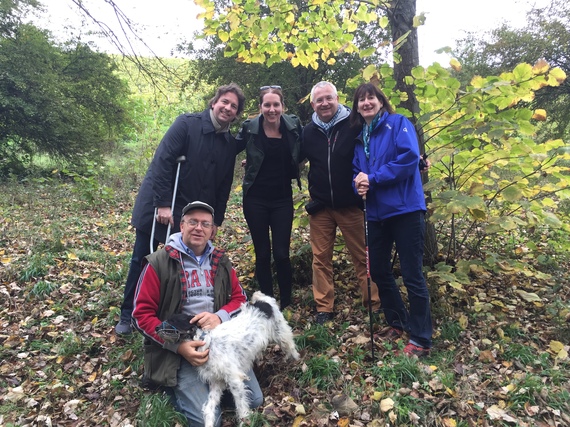 Dick dug up another white truffle -- and a black one -- before we called it a day with major smiles on our faces. While Oscar let us smell the truffles and take a few photos with our haul, unfortunately he got to keep them, and would sell them to local restaurants or private customers. He did invite us back to his winery in Asti for some sparkling wine though, so we didn't mope for too long.
After leaving Italy, I wasn't sure when I would have another white truffle rendezvous, but it turns out I won't have to pine for too much longer. My husband wants a white truffle for his 40th birthday next month, so I will be reunited with my love soon enough.