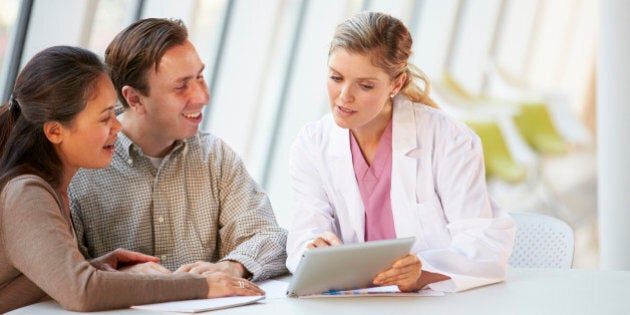 According to a 2016 GE Healthcare study, 81 per cent of patients are unsatisfied with their health care experience. While that is an American statistic, Canadian data show that we have work to do here as well.
Today, people don't tolerate bad experiences -- they gravitate towards companies that deliver outstanding ones. They've become accustomed to expect more, whether they're at the Apple store, Four Seasons Hotels and Resorts or the doctor's office. Whatever the service, people compare their service experience from all aspects of their lives.
Traditionally, our focus in health care is on procedure, paperwork, and hyper-efficiency. Of course, health care should be efficient; it must adhere to processes, rules, and regulations. But we have to keep in mind that health care is, at its heart, a service industry. Delivering truly meaningful service requires empathy and a deep understanding of what truly matters to patients. Without that, the experience suffers.
As the CEO of Hyatt said, "there's a huge difference between service and care. You can serve without caring but you can't care without serving. Ultimately the path (to this change) is empathy." This is especially true in the history of health care. We are experts at caring for the physical needs of our patients, but we often forget to focus on their overall experience -- whether that means alleviating anxiety or simply making it easier to book an appointment.
When Mayfair Diagnostics began exploring directions for our new clinic in Coventry Hills, we looked outside of health care for inspiration. We learned from hospitality and retail. We toured art galleries and even looked at Disney theme parks. Disney has designed its culture and innovation processes with the customer at the center, creating "wow" experiences that bring a bit of "magic" to every customer interaction.
Our organization now understands that the patient experience starts well before a patient enters our clinic.
These outside perspectives led us in directions we would never have thought to pursue. For example, our new clinic includes the roles of a host and guide, who work together to ensure the patient's arrival and entire visit are seamless. All clinic employees will receive as much customer service training as they have technical training. We also have a Knowledge Bar -- a hub for specialized knowledge that exists as a physical space in the clinic and online at radiology.ca, where patients have free access to resources carefully assembled to support their health journey.
Of course, we could not truly accomplish what we had set out to do without hearing from the people who matter most -- our patients. To do that, we partnered with global agency C Space and adopted a process called co-creation to reframe our approach, with patients as our focal point. In simple terms, co-creation can be thought of as techniques for collaborating and joint problem solving. Through a series of interviews, workshops and surveys, we mapped the patient journey in detail to understand the emotional highs and lows that occur. Executives, front-desk employees, radiologists, technologists, physicians, hospitality experts and, of course, patients, collaborated as equals to design experiences that work for patients as well as for the business.
This created a hub of insight, empathy, and innovative thinking that went beyond paperwork and the minutia of day-to-day operations. We all became connected to patients' needs on a more personal level. Instead of attempting to create an imaging clinic that provides outstanding patient experiences, we are creating outstanding patient experiences within our imaging clinics.
We learned, for example, that patients enter the clinic with an emotional need to "be received," while our team is focused on the business need to "check them in." We also learned that employees felt unfairly tethered to paperwork. They wanted to empathize with patients and to receive them warmly, but didn't have the time, support or permission to engage in more meaningful interactions. Our organization now understands that the patient experience starts well before a patient enters our clinic.
We have tried to reduce the anxiety associated with clinic directions, parking and the preparation prior to appointments. We translated these insights, and many others, into a training video that was shown during a "State of the Nation" meeting with leadership and employees. This tool helped align our people around the common goal of improving the patient experience.
In an increasingly competitive market, we are now providing a more tailored and caring patient experience and empowering employees to drive innovation from the bottom up. By bringing patients and stakeholders together, we are building products, services and experiences that solve our business challenges and put empathy for our patients at the center of everything we do.
Designing empathy into the patient experience requires a fundamental shift in organizational operation and mindset. Simply adding a few iPads to the waiting room won't accomplish this change. What will, is rethinking the role patients, front-desk employees, physicians and everyone involved in the continuum-of-care play in designing the very best customer experience.
Jackie McAtee is Vice President, Brand and Customer Experience at Mayfair. For more information, visit www.radiology.ca.
Follow HuffPost Canada Blogs on Facebook