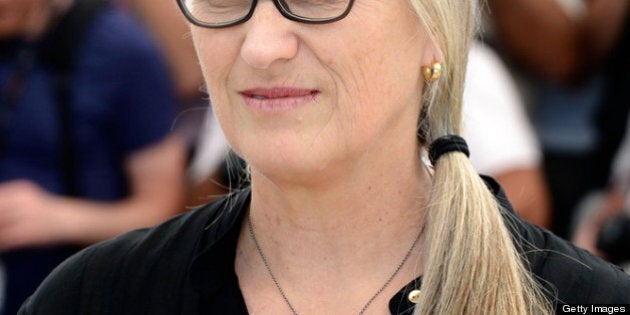 As part of Telefilm Canada's Not Short on Talent project, 40 short-film filmmakers from across Canada are travelling to the 2013 Cannes Film Festival, where their films will be highlighted in the market. The Huffington Post Canada is pleased to share diary entries from a selection of these filmmakers, who describe their experiences at Cannes as Canadians on the rise in the industry. Here is Jacquelyn Mills with the fourth entry in our Cannes Diary series. Also check out previous entries from KyleThomas and Moira Sauer.
May 17. The first day of Cannes, 2013.
I walk along the main strip of the festival, following La Croisette and the Mediterranean. It's my very first time in Cannes, in France and in Europe. At this moment, everything feels surreal. The houses scattered on surrounding hills. The warm sea air. Jasmine growing out of the cracks. I pass the Red Carpet, which is surprisingly not a mile-long and slim like I had always imagined; instead it's short, wide, and enclosed with baseball-bleacher like stands for photographers. Photos scroll on a screen above, Leonardo DiCaprio, Steven Spielberg, Toby Maguire. There they were, and here we are. Myself and my fellow Not Short on Talent participants start making plans for our own red carpet appearances in the coming days.
The first thing we need to do to make this, and anything else, happen is pick up our accreditations. This goes pretty smoothly; we get our badges, our bags, our programs, and immediately spread them all out before us in the Canadian Pavillion to make a strategy. There is this feeling in the air here, even on the first day, that everything is happening and you can't quite catch up. You are sure to always miss out on something, yet you are always trying to attend everything. It's a rush, it's exciting, it's easy to be swept from event to event, group to group.
So why attend the festival? In our case, we are part of a Telefilm program called Not Short on Talent, where 44 shorts films are screened as part of a Canadian market screening at Cannes. It's a filmmaker's dream to participate in the most prestigious and glamorous festival in the world, so when I found out about the acceptance of my short Leaves in NSOT, without question I began planning the trip. Although we are not "officially" selected in the festival, we are given the opportunity to go to industry events, parties, and exclusive world premieres and promote any project we may have on the go. Being in the post-production of my first feature length documentary Woman in the Waves, it's an invaluable opportunity that I certainly wasn't going to pass up.
We begin looking through the 11-day festival schedule. The first thing we eye in the program is a conversation with Jane Campion, my absolute favourite director. I am completely star-struck at the idea of seeing her speak. I remember watching her first movie Sweetie in film school, where I fell in love with her style and approach and her person. We stand in the line outside La Marriott, the whole time unsure if we'll get in -- which we do. Like a real fan, I take out my camera for some photos of her coming onto the stage. I'm trying to repress a bit of my enthusiasm, but that doesn't last long. Soon I'm taking notes on the back of my business cards in order to capture some of her words, which truly resonated with me, an emerging female director.
She seems calm and cool, sharing her candid thoughts on her film process and her development as an artist. She speaks about her early 20s as a painter: "To be honest I was a little lost and unsure if I had anything to offer." She thought, "Life is lonely, it's so awful, but I have to have one." She describes a personal transformation at 25, where she decided to put herself at risk, "expose myself completely, and even if I failed, that would be good." She began by making shorts, dreaming about one day getting a film in a festival. She didn't receive positive feedback immediately from her work, but this made her more focused: "You do what you do because that's what you are. Instead of becoming a pleasing machine".
What a relief it was to hear her talk about the time in her career when she was just starting out. My experience in these early years of filmmaking has fluctuated between blind determination, to fear and uncertainty for having chosen such a path. But there is that gut instinct, which you can listen to or not, that pushes you toward your dreams. Toward taking the risk of doing what you love. Opening your life to the challenges and real growth that come with such a choice.
Finally Campion addresses the audience, specifically female directors, with some advice. Being the first and only woman to win the Palm d'Or (The Piano, 1993) she says, "It's incredibly boring that it's still like this. We need Abe Lincoln to say, half the films should be made by women. If you're a female director in this room, put all your energy into making a good piece of work ... So ladies, make your movies."
For a first event at Cannes, I immediately feel truly grateful for the opportunity to be here. This festival is awakening, affirming, and inspiring. I really look forward to what the days to come will bring.