When our arrival to a destination is urgent, we often feel that we can't afford to be careful about how we get there. We might think we don't have time to grab our bike helmet on the way out the door or to buckle our seat belts.
But in truth, it's the opposite. The higher the stakes, the more responsible we have to be. It was with this in mind that I began to build my Green Economy and Climate Agenda.
It's no secret that there are people who would like to narrow our discussions on climate change to a debate about pipelines alone in an attempt to divide Canadians -- to pit workers against environmentalists. It doesn't have to be this way. We need a leader of the NDP who will take the time to ensure that our climate change plans unify and support Canadians.
It's also no secret that there are those attempting to use the pipeline issue to drive a wedge between two of the NDP's most admirable provincial party leaders. Both Rachel Notley and John Horgan should be commended by Canadians. Rachel Notley's Climate Leadership Plan is one of the most ambitious climate plans of any province in Canada and has been widely praised by environmentalists, industry and First Nations communities. John Horgan's Clean Growth Climate Action plan also works to meet climate targets, create jobs, and uses rebate cheques to make carbon taxes more equitable. John Horgan's commitment to the United Nations Declaration on the rights of Indigenous Peoples (UNDRIP) and protecting BC's waterways and environment is extremely important.
In formulating my Green Economy and Climate Agenda, I sought to create a thoughtful strategy (the most comprehensive released by any NDP leadership candidate to date) that reduces carbon emissions to better our communities and economy, as well as our environment.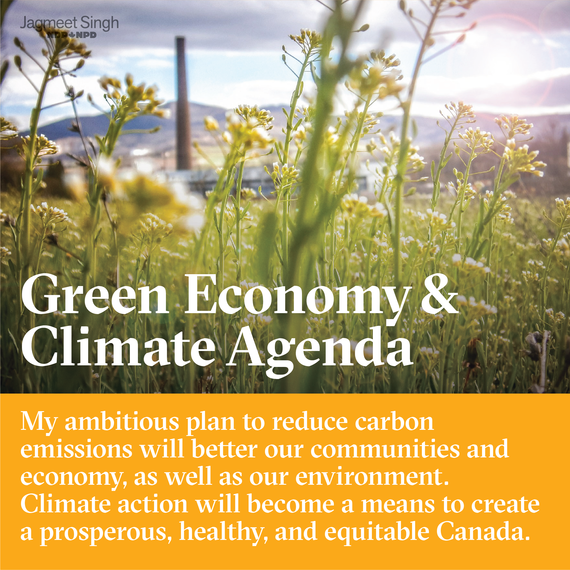 Through my plan, every climate action will be designed to generate tangible community benefits. Climate dollars mean lower emissions, good green jobs, better housing, reduced poverty, and making life more affordable for people. Climate action will become a means to create a prosperous, healthy and equitable Canada.
I will do this by ensuring actions are designed and implemented with those affected by them. Communities and workers should be partners at the table, not waiting on the sidelines while government and the fossil fuel industry dictate climate policy.
My Green Economy and Climate Agenda focuses on:
Setting much more ambitious emission reduction targets;
ensuring fairness for Indigenous peoples, workers, communities and low and middle-income families, and;
strengthening government accountability to meet our climate commitments.
Ambitious emission reduction targets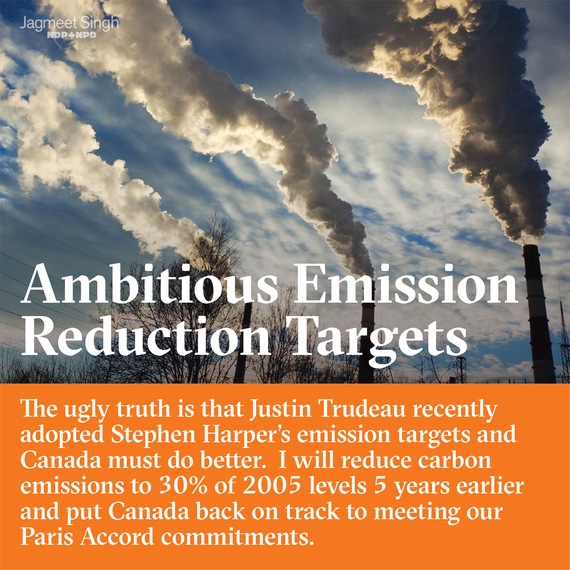 We must do better than Stephen Harper's emission target's recently adopted by Justin Trudeau.
Under my leadership, an NDP government will work to reduce carbon emissions to 30% of 2005 levels by 2025 rather than 2030, and to subsequently adopt a more ambitious 2030 target. This would put Canada on a firm path to a 90% reduction by 2050, which is in line with Canada's obligations under the Paris Agreement on climate change.
We will accomplish this through concrete measures like launching a National Public Transit Strategy, assisting provinces with a 2030 phaseout of coal, and implementing a Zero Emission Vehicle agenda.
Fairness to Indigenous peoples, workers, communities and families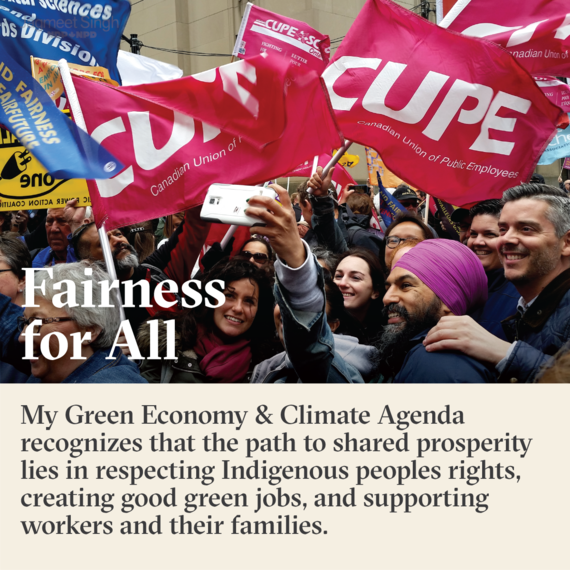 No climate plan can leave workers and communities behind nor trample the rights of Indigenous communities. Canadians must have opportunity and income security during economic transformation.
The United Nations Declaration on the Rights of Indigenous Peoples (UNDRIP), must be respected. This is why we must oppose the proposed expansion of the Kinder Morgan pipeline and the building of the Energy East pipeline. Not only does significantly increasing oil production and international oil exports through these pipeline projects undermine our efforts to reduce our emissions, but it conflicts with UNDRIP. We must also invest in First Nations renewable energy access, control, and independence.
We must also make sure low and middle-income Canadians are not put at risk by our efforts to reduce emissions. Carbon pricing, putting a cost on greenhouse gas emissions, is vital. It encourages both people and industry to reduce their reliance on fossil fuels and encourages the development of new and renewable energy sources. My plan will ensure that carbon pricing is twinned with rebates to make it more affordable and fair for low and middle-income Canadians.
My Green Economy and Climate Agenda will make investments for industries and regions undergoing change to ensure that no worker is left behind. Through my already-released Better Work Agenda and commitment to Community Benefit Agreements, I will also ensure federally funded infrastructure projects provide employment and career opportunities for those communities impacted by the transition to a low-carbon economy and individuals who face barriers to employment.
Long-term commitment and accountability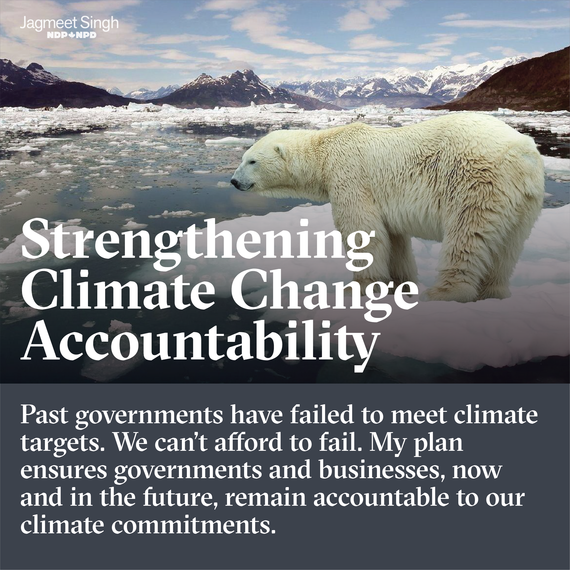 We've seen the failure of Conservatives and Liberal governments to meet Kyoto and Copenhagen targets with little accountability. We can't afford to fail our Paris targets. My Green Economy and Climate Agenda ensures governments and business, now and in the future, remain accountable to our climate commitments.
In the spirit of Jack Layton's Climate Accountability Act, under my leadership an NDP government will establish an independent Parliamentary officer -- the Climate Change Action Officer - who is mandated to report on emissions reduction progress. I will also create a Climate Change Action Advisory Group comprised of top experts, and I will protect Canadian pensions, savings and RRSP's through requiring major publicly traded Canadian companies to disclose climate-related risks to their businesses.
It's an unfortunate fact that most of the climate progress accomplished in Canada over the past few decades has occurred because of municipal and provincial action alone. It is past time the federal government stepped up its level of ambition too.
Under my leadership, the federal government and Canada will be a leader in fighting climate change.
To get involved with Jagmeet Singh's campaign, sign up here or email info@jagmeetsingh.ca if you have any questions or concerns.
Jagmeet Singh is a candidate for leader of Canada's New Democratic Party, he is the former deputy leader of the Ontario NDP and is currently the MPP for Bramalea-Gore-Malton.
Also on HuffPost: