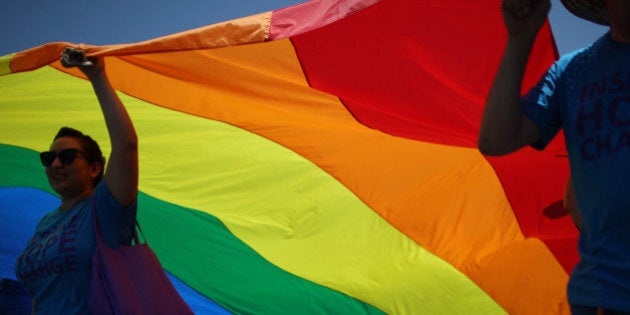 Between June 25-27 people who fight for queer human rights around the world will look to Toronto, Canada. So will millions of lesbians, gays, bisexual and transgender individuals who still have to hide their true identities, in fear of dreadful consequences if they express their feelings, due to the stance of cruel rulers and their followers. For during those three days, the WorldPride Human Rights Conference 2014 will take place in Toronto and that is an extremely significant event, just like all conferences about human rights on a global scale.
It is absolutely imperative that every human being's freedom and human rights are respected, all over the world. Freedom and human rights -- that is what the world needs most, that is what everyone longs for, and should be entitled to, in order to be able to live with dignity.
At the WorldPride conference in Toronto, we will have the unique opportunity of working towards the goal of ensuring that queer people's basic human rights are respected in every country on earth. Admittedly, that is a huge goal, but perhaps it is not as completely unreachable as it may seem today.
My wife, Jónína, and I are proud to have been asked to participate in WorldPride 2014 by sharing our views and our own personal story with the conference.
Our relationship spans almost three decades and the first fifteen years were very difficult. So, the story of our relationship is in many ways a tale of struggle, full of strong emotions, great conflict, self-accusations, guilt and great worries.
But our story is also a tale of triumph, because in the end love conquered all. Therefore, Jónína and I have reason to be thankful. Our time did come, finally. But our joy is mixed with sadness. For it is difficult to enjoy a life of freedom, tolerance and full human rights while hundreds of thousands, maybe even millions, of our brothers and sisters in other countries have to fear for their lives every single day.
When I became Prime Minister of Iceland, at the beginning of 2009, Icelandic society had changed enormously from the time Jónína and I first fell in love in 1985. So much so, that the fact that I had a same-sex spouse was absolutely no issue in Iceland. But the news of my relationship with Jónina immediately caused a lot of attention across the globe and the international media spread the word that the first openly homosexual Prime Minister in the world had come into power.
In an ideal world -- indeed, in the world the WorldPride human rights conference is working towards -- prominent people's sexuality should not raise a single eyebrow or be of any consequence to anyone. And the same should, of course, apply to people in any profession. Admittedly, we still have a long way to go to reach that goal. But Iceland is a prime example of a society where attitudes changed dramatically and full equality for queer people was attained. So, it can be done.
My wife and I are looking very much forward to WoldPride 2014 in Toronto, where I will discuss what I think world leaders must do to secure the freedom and human rights of queer people across the globe. Jónína will relate the story of our long and often dramatic relationship.