We love the holidays, can't wait to take time off to relax, spend time with family, hang around at home and we're dreaming of it all while we shop for gifts for our dear friends and family.
As students are working hard to wrap up exams and coursework shopping seems like a novel escape from the pressures of school. But is this a good thing?
The latest yconic research study has found that most millennials are struggling to manage their monthly budget and it hurts the hardest over the holidays.
During the 30 days leading up to Christmas students and youth aged 16 - 29 told us that they are spending more on holiday activities and gifts for others.
How do we make up this difference?
Fifty per cent of those we surveyed said they will dip into their savings. Thirty per cent say they plan to take on more shifts at work to make up the difference. Perhaps most important to you, 27 per cent say they will rely on their parents to help them out to afford these additional holiday expenses.
50 per cent dip into Savings
30 per cent take on more shifts at work
27 per cent ask their parents for cash
And it doesn't end there. Most troubling for many students will be paying tuition next semester.
Students who understand the realities of their budget and are budgeting for tuition and other early-term expenses are the ones who keep a strict budget around the holidays. The rest of us need a reality check.
Forty-four per cent say that they are likely or very likely to spend beyond their budget this holiday season. But still over half said that they expect they'll go a little overboard in spending on gifts over the holidays.
Tips from StudentAwards for how to beat the holiday spending crunch
1. Prepare a budget before the holidays
This is a great way to get excited for the holiday activities you love; (hot chocolate, tobogganing, Christmas movies) and to make sure you'll have enough left over for expenses in January. Being realistic with your budget will make sure that you get the help you need from family, taking on extra shifts at work or scaling back.
2. Create a shopping list and stick to it
It is easy to get carried away with spending on people you love. But they know you're a student and they get your situation, stick to your budget.
Try making gifts or being creative with gifts instead of over-spending. Sometimes buying expensive presents is the easy way out. If you think about what your friends and family really want, it may be as simple as time-in with that they miss. Catching up with friends over coffee instead of sharing gifts might be a great way to stay connected over the holidays.
4. Avoid buying gifts for yourself
It is easy to get distracted while hunting for gifts for others. Keep a list of things you like as you go. If you don't get everything on your wish list after the holidays you will have time to track down your items during January/Boxing Day sales.
For those of us who can't resist going a little overboard during the holidays, finding external resources to start the year off on a good foot will be crucial. StudentAwards.com, a yconic property, supports students and parents looking to find money to help pay next semester's tuition by matching students with scholarship opportunities and funding contests based on their profile. Your parents and your wallet will be happy to see you doing what you can to cover costs associated with the new semester.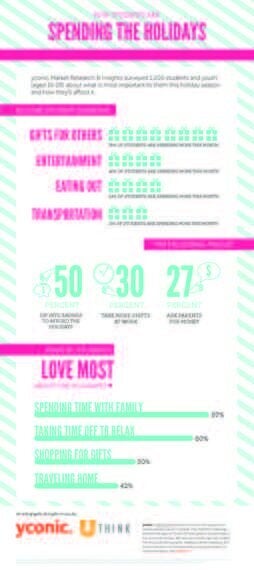 The study commissioned by yconic was conducted online with 1,200 English-speaking Canadians aged 16 to 29 sampled from a representative panel of over 549,000 Canadian residents. The survey was completed from November 27 to December 3, 2013. Since the online survey was not a random, probability based sample, a margin of error could not be calculated. The margin of error for a survey of 1,200 respondents using a probability sample is +/- 2.8%, 19 times out of 20.
For survey details check out yconic insights.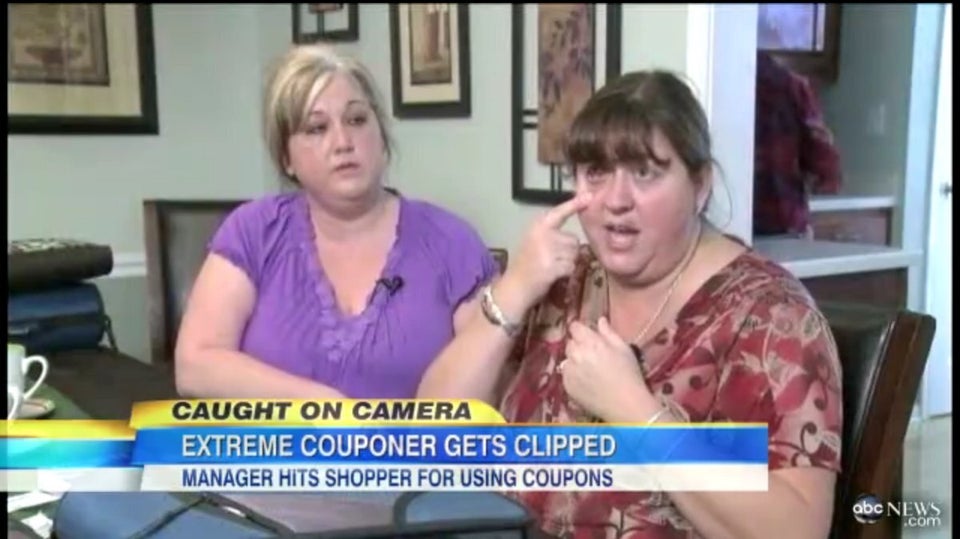 Holiday Shopping Nightmares 2012