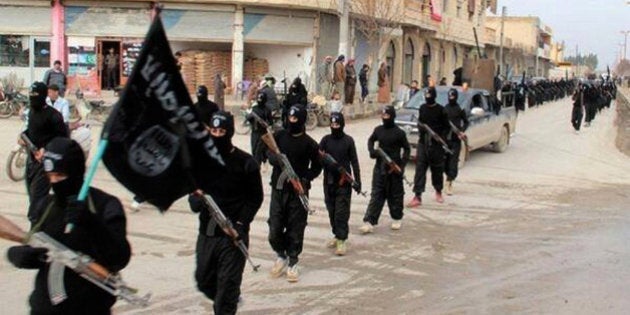 In the shadow of graphic and horrifying videos showing members of the radical terrorist group ISIS beheading two U.S. journalists, Canadians are galvanized and paying big attention to the crisis unfolding in the Middle East.
However, conflict and crisis isn't isolated to Iraq. For some time now Canadians have been anxiously watching Vladimir Putin's aggression in Ukraine. Unfortunately for Canadians, all that's known is what's unknown, and Canadians are searching for answers. What can be done to halt and reverse Putin's advance? What's the right response? What can Canada -- or the U.S., for that matter -- do that would make any meaningful difference?
As news breaks that, just off the coast of southern Ukraine, Russian military fighter jets buzzed the HMCS Toronto, a Canadian war ship currently taking part in a NATO exercise in the Black Sea, it's clear that Putin's belligerence dovetails with the crisis in Iraq. Indeed, as summer draws to a close, Canadians are almost exclusively focused on international conflicts: at 62 per cent this week, it is by far Canadians' leading issue on the Political Traction radar.
While it might sound bizarre to say so, the crises, both in Iraq and Ukraine, are playing to the strengths of Prime Minister Stephen Harper. Within all of the uncertainty, Canadians have been largely satisfied with Prime Minister Harper's response. Absent a clear understanding or point of view about what can be done, Canadians are looking to their political leaders for decisive action; as such, we can safely assume that they will welcome Minister of Foreign Affairs John Baird's remarks on Tuesday to the Standing Committee on Foreign Affairs and International Development that "inaction is not an option."
If the old saying holds true that all politics are local, Prime Minister Harper and John Baird will find domestic advantage to how they have handled Canada's response to international conflicts.
That said, Canadians have quickly built a fence around how far they'd like to see the government take Canada's military involvement. Canadians are firm in their belief that the crisis in Iraq is a U.S. issue and must be a U.S. fight. As far as Canadians are concerned, our country's soldiers have no place actively fighting on the battlefield.
As Canadian military advisors make their way to the Middle East and the crisis in Ukraine continues, one question sticks out as potentially troubling for the government: how will this all end? Answering incorrectly could bring about a different kind of crisis for the government here at home.