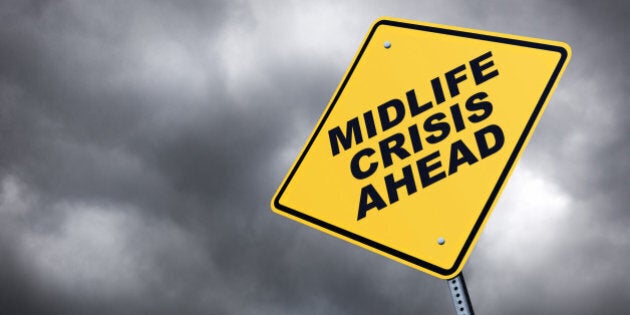 The older I get the more I start to believe in old adages.
Ever since my partner and I found out we were pregnant again, I've noticed a distinct spike in my typical, everyday anxiety. For the past nine months I have been squirrely, desperate to do actual things instead of contemplating what I could be doing while I watch political clips on YouTube.
I turned 40 years old last month, and if this was 1986 I would have probably bought myself a brown Camaro by now, my comb over flapping around in the wind as I made my way to the roller rink parking lot to pick up college girls who would mock me as I drove away after being shot down. And make no mistake, if I did that I would deserve to be shot down.
The thing is, people have never really figured out how to flip the script on the midlife crisis. They get twitchy, frantically trying to fulfill that missing piece inside with decorative pieces on the outside. It all seems so desperate, a process born out of material wants rather than a need to keep evolving as human beings.
As I write this I can't help but think of those people who post memes on social media. The best thing about social media is how it makes people vulnerable to psychoanalysis. They post quotes or stock images accompanied by moderately humorous jokes with the hope that their followers and friends will momentarily view them as keepers of modern wit. I've come to view many of these individuals -- not all, but many -- as lost, sad people who focus not on their clever memes but on the reaction their memes will garner, temporarily filling a hole dug by the addiction to a digital reality, propped up by Likes and comments.
This is not how life is supposed to be.
I'm part of Generation X, but I prefer to see myself as a member of Generation Cusp. Members of Generation Cusp are people who grew up in a non-digital world for their formative years only to end up living in a digital world once they entered college. This schizophrenic existence is completely unique among generational communities. We are not like millennials who grew up playing Xbox, or surfing porn while in grade school, and we are certainly not like baby boomers that still can't figure out how to cut and paste text, or how to attach photos of their grandkids to emails on their AOL accounts.
I guess part of midlife includes shaking a cane at the absurd.
We remember getting home from school -- where we used pencils and had no access to computers -- to computerless households where we watched The Simpsons on tube televisions and marveled at the call-waiting technology on our landlines. The world was a different place, and when the Internet arrived we transitioned quite seamlessly. It wasn't until social media arrived that the Internet got weird.
And so, my fellow Cuspers, here we are; stuck in a digital meme, "meme" being a word that didn't even exist in common language when we were children, as we scroll through our newsfeeds and enter midlife without a Camaro, a comb over, or even a roller rink.
Truth be told, even roller rinks sound dated to me. But the point is this; midlife doesn't have to be a crisis simply because we are not overly familiar with the modern world. Hell, our generation has feet firmly planted in the old and new worlds, so for us midlife should be a walk in the park, if you will. But most of us still treat midlife as a ceremony of emotional anguish. These days sufferers are prone to buying weekend trips to Vegas, ordering the latest gaming consoles, or just generally placing an emphasis on immediate fulfillment.
This is all so very wrong. It's not even a thing. In fact, that trend of saying "Is this even a thing?" is so bloody stupid that I can barely stop myself from telling people who speak like that how stupid they sound. Sorry. I guess part of midlife includes shaking a cane at the absurd. I'll try to work on that.
Obviously I am not saying I have the answer as to how to finagle a midlife crisis, but I have begun to act on a bucket list of activities that I feel have replaced the sports cars and hair plugs normally associated with midlife. Hell, my current stint at the Huffington Post is on that bucket list. After years of floating in the freelance world I buckled down and started submitting blogs on a regular basis. And you know something, it feels great. It feels like I've ripped out hair plugs and felt the wind on my scalp for the first time in ages.
I even went back to the studio. When I was in my teens and early 20s I was a pretty good hip hop artist, but as the years went by I realized I was not really marketable in that world, so I stopped writing and recording. Lucky for me I still have close friends who are younger and trying to break into the industry, so when I was offered a chance to go and record a track I did not hesitate. I'm still not marketable, but so what? I love the idea that my kids will one day find out that their old man was a pretty decent lyricist, but I really did it for me I think. No, I know I did it for me. And that's OK.
All of that anxiety about getting older is still there, but every time I find something new to experience it clips the wings of one of the butterflies deep inside. I have two kids now -- a toddler and a newborn -- so you'd think there would be no time for a midlife bucket list, but I've found the opposite is true. Give a person all the time in the world and they'll accomplish nothing, but give them a small piece of a day and watch them pull off miracles. I plan on spending the next chunk of my life not just tinkering in the garage, but assembling as many Camaros as I can. Writing scripts, creating personal projects, surprising my partner with romantic overtures, teaching my children how to cook -- all of these inspirations are born out of midlife.
This is hardly a new idea -- turning a crisis, even the midlife kind, into an opportunity -- but for me it is a new way of staying young at heart, old adages not withstanding.
Follow HuffPost Canada Blogs on Facebook