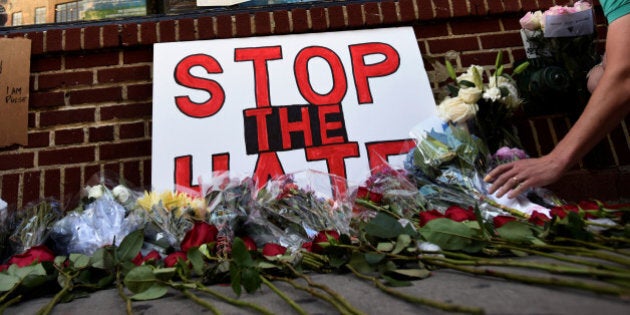 There is a strange avoidance many of us undertake when we hear about these types of shootings. Some of us feel like every mass shooting should be considered an act of terrorism. After all, what is more terrifying than someone opening fire on a crowded nightclub?
We really need to start talking about how Stone Age superstitions contribute to Stone Age violence.
Judaism and Christianity both had periods in their histories where violence was indiscriminate and motivated solely by their holy books. Islam is a younger religion, and it is still experiencing the tribulations their Abrahamic counterparts have mostly left behind. If Christian and Jewish fundamentalists in America were regularly killing innocent Americans with assault rifles or bombs, and if we learned the Bible or the Torah had motivated them, we would rightfully call them Christian or Jewish terrorists, without question.
But fear not, the Christians still have members who also subscribe to Stone Age beliefs. These beliefs manifest mostly in proclamations rather than tangible violence. After the killings the Christian extremists couldn't help themselves.
Indeed, one common thread that binds together Judaism, Christianity and Islam is that each religion at its core considers homosexuality to be an abomination.
Some who practice the faith try to dismiss the bigotry found inside the ancient texts as not part of the faith. They deflect by telling us that their religion contains a loving god, or that their god is merciful, or that their religion is a religion of peace.
At their cores, all Abrahamic religions hate homosexuals. All of them. And while it is a testament to the evolution of civilization that many believers have tried to water down the more heinous passages found in the holy books, forging a modernized version of acceptance onto those dusty pages of hate, it is not enough to absolve religion itself from fostering a climate of intolerance.
Make no mistake, the most righteous among us are those who stray farther and farther from the hatred found in the original texts. Those texts condone genocide, slavery, rape, murder and brutality against a cast of supposed villains, like gay people and atheists.
How many mass killings inspired by an outdated set of morals will we tolerate before we finally get to a place in our civilization where religion becomes cast aside, replaced with philosophy or a belief in science, or even a wonderment about a creator but without any of the historical texts polluting the minds of weaker men and women? When can we finally stop pretending that god wrote a book containing rules that we must blindly follow? Why are we still shackled to a belief system almost entirely at odds with how our species has evolved?
Our ancient institutions are in need of an overhaul, a modernization process where even the words of god himself are openly criticized and whose hateful messages are ultimately abandoned.
It should be mentioned that there are no peaceful theocratic states on this planet. Every last one of them -- from Saudi Arabia to the Vatican -- contains within them a level of oppression and cruelty unseen in your typical westernized democracy. Whether it is beheading women for witchcraft, or the systemic cover up of rampant pedophilia, theocracies are a nightmare. They are hell on earth, if you will.
Muslims get a rough ride from a lot of people these days, especially from radical Christians. I can't deny that there is an active hostility towards Islam. My neighbour is a Muslim. He has experienced hatred first hand that nobody should have to endure. He's a scientist, an environmentalist and a really kind, intelligent man. And while he is a believer in Islam, we share a common appreciation for the works of the late Christopher Hitchens and other academics that are notoriously hard on organized religion.
The truth is, even for some devout believers, there is an honest recognition that our ancient institutions are in need of an overhaul, a modernization process where even the words of god himself are openly criticized and whose hateful messages are ultimately abandoned. It is more than just hoping that religious moderates can help bend the belief systems of their more fundamentalist cousins. What is needed is a complete revamping of morals and ethics, an assimilation of righteousness for a world no longer under the boot of fascists and long lost prophets.
Because we can't keep waking up, the cable news heightening our anxiety, the blood of victims coating the corners of our minds as we pace in our living rooms, take a deep breath, and say to ourselves in unison, "Oh dear lord... not again."
Follow HuffPost Canada Blogs on Facebook