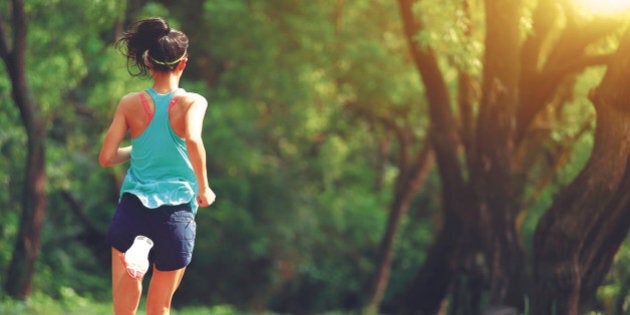 We are right into the swing of things with summer and many are underway with vacations and travelling. It's a good time to relax and explore but it doesn't mean you have to leave your fitness behind.
Whether you're on vacation or traveling these 5 tips can help you stay fit while doing so, in the summer or year round.
A pretty good place to start as even the lower quality hotels tend to include some form of fitness center. If you're in the process of booking a hotel find the one with the best fitness facility that fits your budget. Or at least find one with a pool as swimming is still one of the best full body and cardio workouts you can get.
2. Find Day/Week Passes At Local Gyms
Depending on which city you're going to, take a moment and look up gyms in the area where you are staying. Many gyms now offer a free week trial or day pass to prospective members. Sometimes you can get these set up before you even arrive to keep those workouts going full steam while you're on the move. I always do this wherever I travel and even use a few different gyms free guest passes if I was staying in the area for a longer period of time.
Another tip is to look for hotels that have connections to local gyms so that guests can use the gym facilities if the hotel is without their own fitness center.
3. Using Bodyweight Exercises In Your Room
I'm pretty sure the rooms you will be staying in will have a bed and chair, if not you may want to work on your booking skills.. With just these pieces of furniture, you can do bodyweight exercises like push-ups with your feet elevated on a chair or bodyweight dips using the chair and the bed to still get a good upper body workout in.
*Bonus tip: There are a lot of good apps that can give you a boot camp style, high-intensity workout right in your own room and you don't even need any equipment. My favorite are Tabata style workouts which are a 4-minute workout and you can find them in any app store for free.
You pick an exercise such as burpees or mountain climbers and perform them at a high intensity for 20 seconds followed by a 10-second rest and you repeat this 8 times. The app keeps you on track with the rest periods and it might not sound like much but is one of the best quick workouts you can do.
4. Using Playground Equipment & The Great Outdoors
Ask around to find local parks that may contain playground equipment. With things like monkey bars you can perform pull ups and chin ups and you can use the wide open space to run sprints. With sprints, you can follow a high-intensity interval protocol where you sprint/run and then follow that with a walking recovery period. You can perform this for 3-8 rounds
For a beginner: sprint/run for 15 seconds and walk/light jog for 30 seconds
For intermediate: sprint/run for 30 seconds and walk/light jog for 60 seconds
Advanced: sprint/run for 60 seconds and walk/light jog for 90-120 seconds
This form of high-intensity interval training increases aerobic and anaerobic capacity and also burns calories long after you are done exercising.
5. Renting Bikes To See The City Better & Exercise
From Citi Bikes to small companies that rent mountain bikes this is the best way to see the area you are in, cover some good ground and get a good workout while you're at it. I have traveled quite a lot of the world and this is my go to in every area I end up in. Look up bike companies online before you go so you know what's available whether you're in a big city or out in the country.
One of the best workouts I've ever had was in Italy where we rented bikes in Florence and went into the Tuscany region. There was no better way to see the amazing countryside and I was sweating more than Kim Kardashian having to compete in a spelling bee.
Between the long drives, sun burns and one too many frozen margaritas vacations and traveling can be fun and draining but you don't have to deprive yourself of fitness and exercise while you're away.
These 5 tips will help you get in at least a basic workout in before hitting the all you can eat pasta bar.
*Bonus tip: Don't eat at the all you can eat pasta bar...
Follow HuffPost Canada Blogs on Facebook