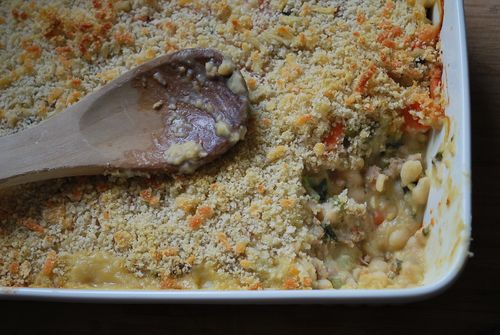 I knew a lady who taught me most of what I know about being efficient. Anne-Marie was French, of course, and I lived with her when I moved to the sunny south of France. She may not have been the most loving person I've ever known, but the woman knew how to put together a dinner, both effortlessly and productively. One of her secrets was to prepare a good meal well in advance of needing to eat it, and this method applied to both cooking for guests, as well as making food for her family.
She went to the market every Wednesday morning. She scheduled her outing into her planner, took two hours off work and did all of her shopping. When she returned home with her goods, she prepped them for the week; cleaned, trimmed, snipped, chopped and packaged. It took her a couple of hours mid-morning, but she was ready for any meal that would face her in the coming week. On Wednesday nights she would make a large pot of soup using whatever veggies she had purchased that morning. The soup, always a puree, was seasonal, and delicious, and perfect for the kids or last-minute dinner guests.
If she knew she was having company for a meal, she always cooked as much as possible the day prior. If she needed to make use of some cheese or meat in the fridge, on Sundays she would make a dish to serve to the family later in the week. She wasn't a Michelin-starred chef, or any kind of chef really, but she knew how to make simple food taste good. And she was never rushed or frazzled when she was required to feed anyone.
Over the years I've tried to become more like her. If I'm having guests for dinner I do as much in advance as possible. One possibly even two, days ahead. Then when it comes time to entertain it looks as though I've spent the day standing stove-side, when in reality I just tossed something in the oven to warm.
Family meals can also be made with the Anne-Marie method. Cook one or two things on Sunday, or make a casserole on Saturday night when the rest of your house in engaged in the 3,567th hockey game of the season. Tuck it away in the fridge, or freezer, and on Tuesday morning when your husband says, "What's for dinner tonight?" amaze him with the meal you put on the table after work. And remember, it doesn't have to be anything fancy. It just has to be effortless.
Sausage and White Bean Casserole
• 2 large carrots, peeled and diced
• 4 celery stalks, trimmed, sliced and diced
• 1 medium onion, peeled and diced
• 2 cups spinach, chard or kale
• 1 pound sweet Italian sausage, casings removed
• 4 cups white beans, drained and rinsed
• 2 cups chicken stock
• 1 1/2 cups grate parmesan or aged cheddar
• 1 cup panko or bread crumbs
• Salt and pepper to taste
In a large Dutch oven set over medium-high heat, warm the olive oil. Add the carrots, celery, onion and greens and stir until coated with the oil. Cook for approximately 10 minutes, stirring frequently, until the veggies are soft, translucent and slightly wilted.
Add the sausage and break it up with a wooden spoon, mixing it in well with the veggies. Cook until the meat is browned, another five or six minutes. Add the beans, chicken stock and 3/4 cup of the cheese and cook until the cheese has melted and the stock has thickened slightly.
Pour the bean and sausage mixture into a 9" x 13" casserole dish. In a small bowl combine the panko and cheese together and scatter over the top of the casserole. Cover with aluminum foil and refrigerate or freeze until ready to serve, at which time preheat the oven to 375 degrees and bake for 30-40 minutes or until the centre is hot.
Serve with a simple green salad and sliced baguette.