Jan Scott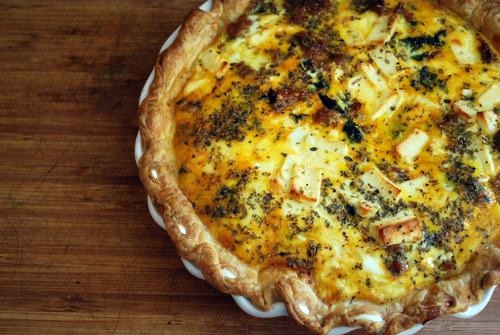 Happy April!
After the long winter that never actually arrived, but was cool enough to keep many of us tucked indoors in hibernation for a few months, I feel like spring has sprung and people are socializing again, which means we're slipping back into entertaining mode. For starters we had Easter, and following closely will be Mother's Day and Father's Day, not to mention the many birthdays, weddings, baby showers, wedding showers and graduations that sneak up on us. It's a fun season, and one that offers plenty of opportunity for family gatherings.
This year I'm smitten with the idea of brunch entertaining. In lieu of dinner and evening events, why not gather those you love for a fun mid-morning celebration? It's cost effective (no alcohol to purchase -- unless you're offering mimosas), family friendly, and fun and easy to put together.
Throughout the coming month I'm going to be offering recipes, party tips and helpful suggestions for pulling off the perfect brunch this spring. By the time your event comes around you'll be armed with everything you need for your sunrise soiree, and if you have nothing planned perhaps I'll inspire you to host your own morning affair. This is the perfect opportunity for me to don my party planner's hat and pass along what I've learned after four years of planning some of the city's most fun events.
One of my favourite brunch foods is quiche. Quiche is a baked tart usually filled with savoury items, and thickened with eggs. Easily put together, this is a hearty morning offering that can be made in advance and served at room temperature, leaving you more time to mingle with your guests and less time hovering stove-side watching your food.
Armed with a solid recipe, quiches can be made with a variety of fillings and any one of the following bases:
Puff pastry (use one roll of frozen dough per quiche)
Frozen pie crust (one per recipe)
Phyllo dough (four sheets, as per package directions)
Homemade pate brisee
Shredded potatoes
I like to offer at least two varieties of quiche when I'm entertaining: one vegetarian and one protein-based option, and encourage creativity when it comes to the fillings. The swiss chard, sausage and feta combination (recipe below) isn't common, but it's certainly a crowd pleaser.
I usually get six servings with a quiche, instead of the typical eight and like to estimate 1 1/2 slices per guest.
Swiss Chard, Sausage and Feta Quiche
1 quiche base (see above)
1 tablespoon olive oil
1 pound sweet Italian sausage, casings removed
1 bunch swiss chard, trimmed and chopped
2/3 cup feta cheese, crumbled
4 eggs
1 1/3 cup cream or milk
1/2 teaspoon fresh ground nutmeg
1/2 teaspoon kosher salt
1/2 teaspoon fresh ground pepper
Preheat the oven to 400 F.
Line your pie plate with your quiche base of choice. Set aside.
Place a skillet over medium-high heat, add the olive oil, and cook the sausage until browned. Add the Swiss chard and sauté until wilted. Remove from the heat and scatter over the base of the quiche. Set aside.
Whisk together the eggs, milk/cream, nutmeg, salt and pepper. Pour the egg mixture over the sausage and chard. Top with the crumbled feta and place the pie plate on a baking sheet.
Bake for 35-45 minutes, or until golden brown on the top and the egg mixture has set. Remove from the oven and allow it to rest for at least 10 minutes before serving.