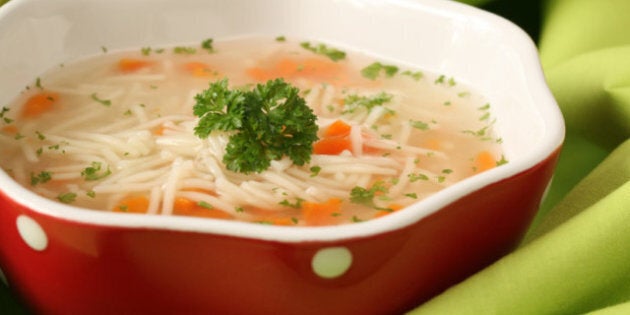 I think I should write a book.
The title of my book would be The Magic of Soup, and it's the tale of a persnickety young boy who seemingly detests the beautiful, seasonal vegetables his mother places before him each night at dinner.
He wriggles and whines, complains and cajoles and takes far too long to finish all of his meals.
One day his brilliant mother decides that instead of fighting him about his vegetables, she's going to turn each of the ground-grown foods he bellyaches about into a pureed soup. She will entice him to try it by adding a few toasted croutons or some crumbled cheese to the top of the bowl, and he will be wooed to at least sample what's she offering because it looks too good to pass up.
He will sip and slurp, and decide that this new food she's making is some of the best he's tasted. And he will ask her to prepare foods like this for every meal. She feigns surprise at his sudden approval of her provisions, all the while giggling inside because she knows she's actually been giving him even more veggies than he was originally eating. They've just been disguised in a bowl of the creamy goodness she's placed before him.
Of course, this sweet story has a happy ending. The mother decides to take the opportunity to feed her boy as many soups as she can, especially since he's enjoying them so much. And the boy? Well, he feels strong and full, and very grateful that his mother has decided to stop feeding him those horrid veggies.
Roasted Root Vegetable Soup
5 carrots, peeled and roughly chopped
5 parsnips, peeled and roughly chopped
1 small butternut swash, peeled, seeded and roughly chopped
2 leeks, washed and sliced (white and light green parts only)
1 medium onion, peeled and sliced
2 whole heads of garlic, tops removed and skins left on
¼ cup olive or canola oil
4 cups chicken or veggie stock
Preheat the oven to 400 degrees F.
Place the carrots, parsnips, butternut squash, leeks, onions and garlic on a large unlined baking sheet.
Drizzle the olive oil over the vegetables, sprinkle on the salt and a few grinds of pepper, and toss everything together ensuring the veggies are evenly coated with oil and spices, and laying flat on the tray.
Bake for 35 to 45 minutes, or until the leeks and onions are golden brown and the root vegetables are fork-tender.
Remove the vegetables from the oven and transfer them to a stock pot or dutch oven. Cover the soup with the chicken stock and puree using an immersion blender. Alternately, puree the roasted vegetables and stock in a blender, and transfer to the pot.
Add the cream and warm the soup, lightly seasoning if needed. Serve warm with fresh bread or topped with crumbled feta.