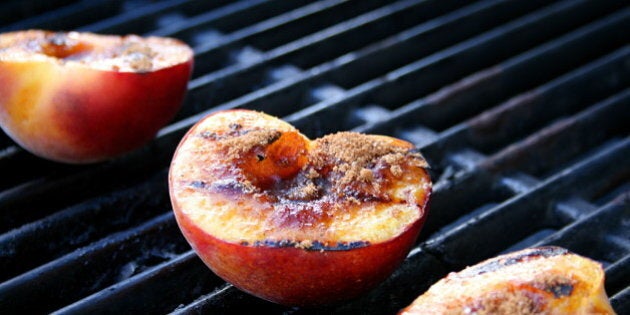 One of my first and fondest food memories was on a very hot day in July. I was about four years old and my mother and I were at our local farmer's market. When I told my mom I was thirsty, she handed me a ripe peach from her basket. I bit into it. The peach's natural sweetness quickly quenched my thirst and I remember the juice running over my hand and down the front of my t-shirt. I still recall how refreshing it was and how much better I felt after eating it on that hot summer's day.
Peaches remain a seasonal favourite of mine. I was wondering how things were shaping up with this year's crop, so I contacted Sarah Marshall, Manager of Ontario Tender Fruit Growers and Ontario Fresh Grape Growers' Marketing Board. Marshall explains, "The Ontario peach crop is excellent this season. It's a good size crop in the main producing area of Niagara. We have just started to harvest in the early areas. We should have peaches in widespread distribution by the end of this week. Keep an eye out for display bins at retail, recipe cards and other in-store sampling and product information."
Heat and Spice make Peaches Nice
With a bounty of beautiful, ripe peaches available, often people think of desserts and jam recipes. Each season I make peach melba and peach cobbler. However, peaches offer an interesting texture, colour and flavour that go beyond desserts, making smoothies, sangria, appetizers, entrees and snacks delicious.
Summer is the perfect time to fire up the heat on the BBQ. Grilling vegetables has become very popular, but have you ever grilled peaches? Simply adding the grill heat to peaches changes the flavour, colour and texture for a tantalizing taste experience. First I halve and pit the peaches. Then I brush both sides with canola oil. The natural sugars in the peach start to caramelize as soon it hits the grill creating an intense sweetness. Grill each side for two to three minutes, just until grill marks appear. They are the perfect warm complement to a spinach salad and are delicious as a side with pork chops and chicken breasts. For another meal idea from the BBQ, try these scallop and Ontario peach brochettes from OntarioTenderFruit.ca. They are delicious to enjoy on a summer's evening relaxing on the deck.
I also enjoy making different salsas when fruits and berries are in season. A favourite local restaurant of mine serves quesadillas with caramelized onions, hot peppers and peaches which inspired me to create a peach salsa with some spice. It is quick and easy to create and is more exciting than store-bought salsa. I use firm, just-ripe peaches. I peel and cut them into bite-size cubes, then add them to diced red onion, minced ginger, lime juice, rice vinegar, cilantro and a pinch of cayenne pepper. This peach salsa is perfect with fish tacos.
From salsa to hot sauce, peaches are just the ingredient Carlos Flores was looking for to sweeten his latest seasonal hot sauce. Flores and his wife Sandra DaSilva are food entrepreneurs and owners of No. 7 Mexican Hot Sauce. I first met Flores last November at a food event in Toronto when I tried some of their hot sauces. They are very good and are available at their shop, Cafe Con Leche, and other locations in and around Toronto, including Fiesta Farms. After developing a papaya habanero hot sauce earlier this year as a tribute to his Dad, it made sense to also create a peach habanero hot sauce.
Flores, a lover of peaches explains, "Our sauces are clean and simple and use only fresh ingredients. This allows us to fully choose and bring all those flavours into the sauce. If you have frozen or picked-too-soon vegetables, you are compromising the flavour. Who wants to eat a peach without all those juices and sweet tones coming through? The peach habanero is a sauce that appeals to most just because of its beautiful bright colour, plus it has a punch of heat."
I look forward to trying the small batch of No. 7 peach habanero sauce on grilled chicken and on vanilla ice cream with fresh blueberries for a dessert with a kick. With fresh, delicious peaches on roadside stands, at farmers' markets and in supermarkets, I invite you to spice things up and experiment with a variety of delicious peach recipes this summer. Because what is summer without reliving the tastes of your childhood and transforming them into new memories?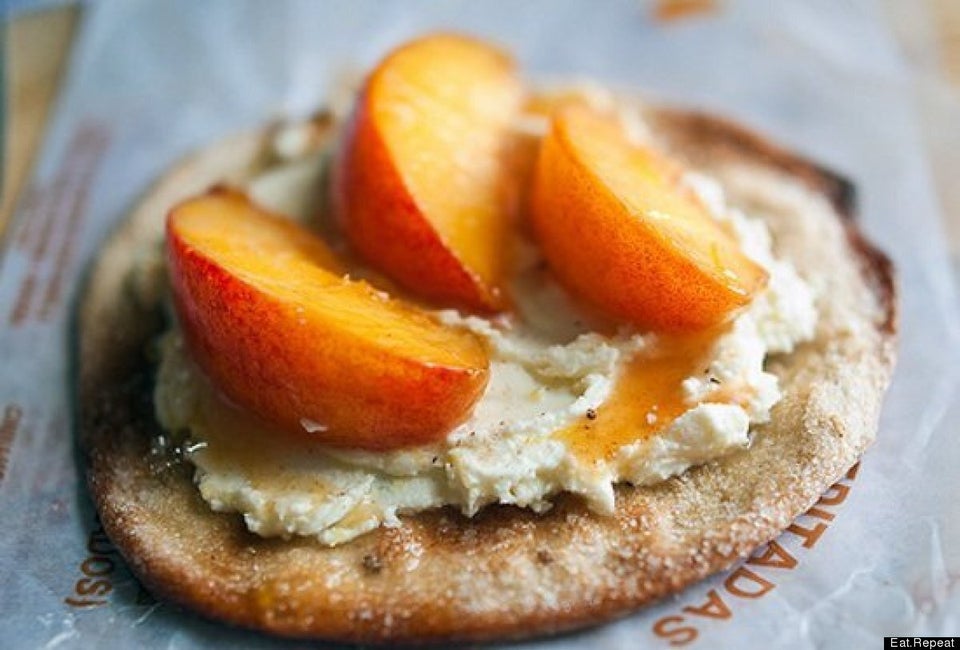 Peaches And Cream Recipes