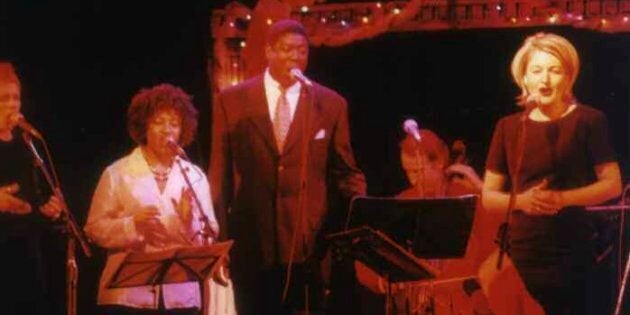 Monday is Easter's "money note."
I was raised on pop music. Anything classical ran together in a complicated blur. However, I came to know the following hymn as a "song" when I was performing the "Downtown Messiah" at Alan Pepper's (now-closed) Bottom Line Club in New York, 1996. Peter Kiesewalter (who is now finishing the fourth recording of my Three Queens trilogy, I know, I know, FOUR?) was the inspired musical director. Catherine Russell sang this particular song, and hers will always be my favourite version. As I began to wait each night for the song with greater and greater anticipation, I recalled how thrilling it is to have a song you LOVE -- a lesser known luxury these days with most common music portals being so limited. We can put songs on "repeat" in our iPods, but, like watching a movie in a theatre, it is really FUN enjoying something with other people.
When I recorded my own collection of Christmas hymns on Shushan the Palace, I included this song. My strength was not the high "money note" (does that sound crass? Perhaps, but do you know what I mean?) that Catherine sang so movingly. Instead, I did another thing that is differently thrilling. I repeated a phrase at the end of the song three times, each time with upward-tipping chord changes that built in tension, releasing finally into "home." The beautiful, deeply satisfying major chord.
One more thing I want to say: when I performed this song on tour something happened one night. I was singing the words, "The first fruits of them that sleep." I have always loved those words, but never really understood them. I was looking out into the dark room and felt a chill go up my spine. "The first fruits of them that sleep." And as I felt the awareness, sweetness and sturdy-heartedness of the audience, I realized that the song was (for me) about all of us "waking up" from the long, dark, suffering-inducing sleep of "unconsciousness." Not so much about saviours and other religiously distracting things. Real hope. True hope. And I believe the times are now. I love the third day of Easter. What the waiting is for. The "money note."
I Know That My Redeemer Liveth

I know that my Redeemer liveth

And that He shall stand

At the latter day upon the earth

And though worms destroy this body

Yet in my flesh shall I see God

Yet in my flesh shall I see God

I know that my Redeemer liveth

For now is Christ risen from the dead

The first fruits of them that sleep

Of them that sleep

From Messiah, Part3, no. 45, Air, 1742

Lyrics: Charles Jennens (1700--1773),

based on Job 19:25-26 and 1 Corinthians 15:20

Music: George Frideric Handel (1685--1759)