There is a tart and nutritious berry available to us from the nordic forests of Sweden. The lingonberry. You can walk into any Ikea and buy all sorts of products made from this small, dark, imported red fruit, such as sparkling water, jam, and drinking boxes. You can eat it with meat and when you drink it, it can cure urinary system ailments.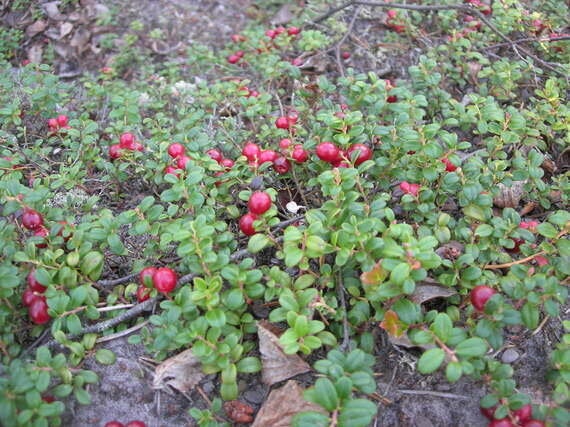 The irony is that the exact same berry grows wild in abundance in Canada. We call it the cranberry. Vaccinium vitis-idaea for the scientists. It's circumpolar and circumboreal, but grows quite far south into the Canadian provinces. We call it "mountain cranberry" where I grew up, since it grows on the eastern slopes of the Rockies.
I have the fortune to work on a project (funded by the Wood Buffalo Environmental Association) with Fort McKay, a Cree, Dene and Metis community in northern Alberta where they use their traditional knowledge to monitor some of their berry patches for effects from nearby oil sands operations. The cranberry is one of many species of edible and medicinal berries that grow in Fort McKay's territory. Several of their berry patches have been lost to industrial development and people no longer trust remaining patches that are close to Fort McKay and industrial development. However, there are remote berry patches that people travel long distances to with their friends and family in the late summer to fill their buckets. They bring cranberries back to their community and share them with the elderly and with people who have illnesses that cranberries can cure. The cranberries are eaten, frozen, canned, and made into juice.
Many Canadians pick berries, but more eat farmed cranberries (Vaccinium macrocarpon) from a can or plastic bag at Thanksgiving or Christmas, and some drink them mixed with copious amount sugar from a plastic jug, but why aren't wild cranberries a part of Canadian cultural identity? Why don't many people pick them and why can't we readily buy products made from wild harvested Canadian cranberries?
Canadians are in denial. The majority of our population lives along the southern border. We dread winter and always pretend like the summer lasts longer than it does. We tell foreigners to only visit us in the summer months. Unlike our Scandinavian friends we do not self-identify as a northern people and we certainly don't embrace the winter. We lack heated sidewalks, year-round outdoor cafes, skiing to work, and fashionable winter wear. The boreal forest and the north are thought of as barren frontiers, with few people, only useful for natural resource extraction. The wild cranberry is a symbol of our northern blind spot.
As I listen to loons call and write this from Fort McKay's fly-in northern reserve at Moose Lake, I can see that the boreal forest is a beautiful and bountiful place. Red cranberries blanket the forest floor. Wild mint scents the air along the banks of lakes and makes delicious and refreshing tea. Monstrous fish are delicious when freshly caught and smoked. People have lived off of the land here for centuries and they continue to do so with respect and reciprocity. It's time for all of us to appreciate and embrace the landscape that sustains us. Perhaps we can begin with a small red berry.