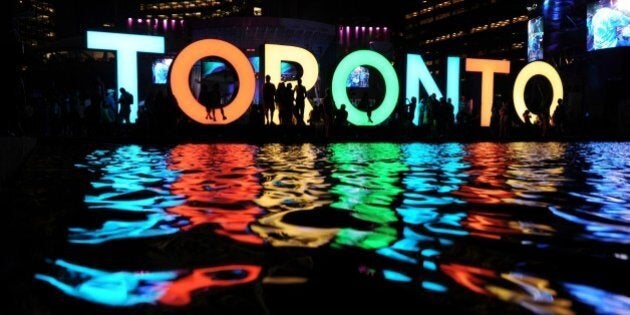 By now you know that Mayor John Tory has decided not to enter Toronto in the 2024 Olympic bid competition. He made this proud announcement standing atop the Snack Bar at Nathan Phillips Square on the morning of Sept. 15. He said he had done his due diligence, explored all avenues of support for the Games, and decided, in Toronto's best interest, to save the bid for another time. We're not sure when that might be, but he's forming a committee to look into the matter.
Toronto, beware. Tory's bid for the 2024 Games might be over, but what happened in that short span of time -- from July to September 2015 -- speaks to the larger problems inherent in mega-event hosting that you will have to address again, should another bid come your way.
What problems are those exactly?
First is the problem of transparency.
The silence from the Toronto bid team was unrivalled for a Canadian city, or any democratic region for that matter. Usually there is some indication of what the bid might look like to generate interest and ideas, along with names being floated in the media. But not so in Toronto, where boosters repeatedly denied anyone being at the helm, as if a bid happens naturally, like the turning of the seasons.
Many questions remain. We may never know which sponsors were approached for funding, which Olympic experts were consulted for information about the Games, or even who constitutes the "public" that Tory kept referring to in media as part of his in-depth consultative process.
Other basic details were a complete mystery until the very end. For instance, immediately after Tory finished explaining that now was not the time for an Olympic bid, a pressure situation that he helped to cultivate, Mississauga Mayor Bonnie Crombie explained in a follow-up interview that a business case for the Games did not exist. That is why Mississauga City Council voted against the bid on Sept.10. That sounds reasonable. Why stumble into a multi-billion dollar deal without a plan? Why put the taxpayers on the hook for billions of dollars so that private industry can benefit from the windfall?
Mayor Crombie and the Mississauga council should be commended for their clear thinking. As for Tory, he could have said "no" right from the start. After all, there was no business case nor any time to build one; there were too many unknowns with the IOC's Agenda 2020; and the economics of hosting are known widely to be a bad deal for the public -- that is why the number of bid cities for the Summer Games have dwindled over the years.
Torontonians had a right to be alarmed about the secrecy surrounding the 2024 bid, a process that is controlled by the International Olympic Committee, a private organization ruled by oligarchs and autocrats who only know what transparency is because they avoid it at all costs. Remember Agenda 2020 and its promises for a more affordable Olympics? Well, part of the reason the 2024 bid process has been such a red herring is that the IOC changed the rules for bidding on Aug. 2 and withheld information about the new bidding process until after cities declared their commitment to bid on Sept. 15. Does that sound like transparency to you?
The issue with transparency raises a second, related problem. This one concerns the way Olympic boosters sidestep normal democratic processes to secure the Games.
Before all of this fuss over the bid materialized this summer, Toronto's economic development committee had killed any talk of a 2024 Games back in January 2014 -- a decision that was never reversed. But that was during Mayor Rob Ford's term. A new group of power brokers entered the scene when Tory took office in October 2014, creating a whole new set of favourable conditions for private investors to plunder the city. The Pan Am Games (which are definitely over budget, no matter how the executives spin the numbers to get their bonuses) were part of the equation, but so was the change in government. Someone had to allow the 2024 bid discussion to be revived and take root.
What is clear is that Tory did not involve his council in an official process, claiming the right to decide for himself. Mississauga council even debated the matter before the Toronto councillors could get their wits about them. It's not clear what information about the Games, if any, Tory provided to his elected leaders.
What is worse, Tory ignored the group that mattered the most in this crazy, chaotic story -- the people, you and me. We were left to register our votes through paid-for polls administered by the media, waiting for online news items to roll out so that we could offer more substantive feedback, and gather and share information on Twitter and blogs. The "No Olympics" movement even lent Toronto support, setting up a new website -- NoTO2024.ca -- just so we could be heard. The arguments as to why Toronto should not bid for and host an Olympics were logical and convincing. Not once did Tory reference any of these arguments or acknowledge the growing public resistance to his campaign. Not once did boosters talk about adjusting the Host City Contract to protect the public. Not. Once. Is this democracy as you envision it? Not to me.
If there's one thing to be learned from this experience, it is that transparency and respect for normal democratic processes are two fundamental rights that we all need to protect with vigilance. As Andrew Zimbalist, an Olympics economic expert, explained on AM740 Radio shortly after Tory made his public announcement, these rights are especially at risk when it comes to mega-event hosting.