On May 1, Agincourt Collegiate Institute (ACI), one of Toronto's oldest high schools, celebrated its 100th birthday.
While this article is meant to chronicle the evening for those who attended, it should also offer a bit of context to the slew of photos, "likes," and comments that are clogging up the Facebook news feeds of the ACI Alumni who were not able to attend.
I also believe that this piece might appeal to anyone who has an upcoming high school reunion or anniversary, but is still on the fence about whether or not to attend. You may be pleasantly surprised, not by how much everything has changed, but instead what has remained the same.
Before the event, a small group of us met at a local bar and grill. As we ate, we all discussed our expectations and apprehensions. Would there be old friends we might not recognize? Might we have trouble getting into the event, period? Unlike traditional high school reunions, that typically only involve participants from one graduating year, this was a celebration of our school's 100 year history. If everyone who ever attended Agincourt Collegiate in the last 50 years decided to show up, it meant a potential guest list in the tens of thousands.
Thankfully, 10,000 people didn't show up -- maybe 700 or 800 people if I had to ballpark a number, along with several former teachers. (I will let one of the organizers of the event comment below if they have a more accurate number.)
So how was it? I think it was exactly what you hoped it to be like, but somehow better.
Maybe it was the comfort of seeing how little everything had changed within the school walls. The cozy student council office was still nestled comfortably outside the cafeteria. Still the familiar backdrop for organizers and volunteers to set up shop, selling T-shirts and tickets for the latest event. The only real difference was that these tickets were for beer and wine instead of water and pop like they might have been for a high school dance.
When we first entered the cafeteria, the theme of familiarity continued. The kitchen entrance was were it had always been. I almost had to resist the urge to go in search of a beef patty or fries and gravy. The real only difference I noticed was a small video surveillance camera, mounted high above the crowd. But in this day and age, I am sure this technology exists in every high school across North America.
How was the vibe? When you looked around, you immediately recognized that former teenage alliances had all but melted away. The former cliques of cool kids, jocks, and nerds were now all reminiscing together.
They did hire a DJ but I can honestly say, however, that I don't remember hearing a single song the whole evening. The DJ booth had been set up in the northwest corner of the cafeteria, and on the opposite side of the room to where the makeshift bar was positioned, and of course where most people were congregated. So the loud chorus of engaging chatter acted like white noise that was easily able to drown most of whatever music was playing.
Since we were all instructed to include our graduation year on our name tags, I am happy to report I saw dates ranging from the '70s, right up until the early 2010s. No matter your generation, you were well represented. I even had the opportunity to catch up with a couple of friends who flew in from the West Coast. Well done!
What I hope others got to experience, and what I am offering as advice to anyone else who has an upcoming reunion, is take the opportunity to roam the halls of your old stomping grounds. Even though we were not technically permitted to do so, once it became obvious that the event was going to go off without any trouble, volunteer security staff seemed less concerned about why you needed to leave the designated event area.
And even though the the classrooms and gymnasium were locked, simply walking the hallways with an old friend was something I will remember as one of my favourite parts of the evening. We chatted about where our old lockers where, while we tried to remember the name of our grade nine homeroom teacher.
As we were finally ushered out around midnight, it was clear that most people left were still ready to stay another hour or two. Yours truly included.
On our way back downtown our group briefly talked about finding a bar for a one more drink before retiring for the night. Instead, it quickly became clear that there was only one more spot that everyone wanted to visit; one more thing to make the night complete. A late night spot that is probably very familiar for anyone who went to high school in Scarborough over the past 30 years, Johnny's Hamburgers. It was the perfect way to reminisce a little longer about the good ol' days.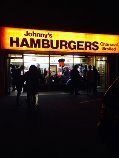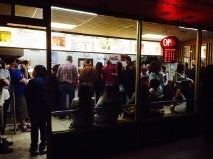 As you can see by the picture when we arrived, we were not the only group from our reunion heading home who thought the same thing. A fitting ending to a great night.