As the Major League Baseball season nears the end of its first month, Toronto Blue Jays pitcher Marcus Stroman is getting set to focus his attention on subject matter that has little to do with playing baseball this summer. Instead, this week, Stroman will be returning to Duke University to complete his degree, after tearing his left ACL during Spring Training earlier this year.
I have come across several short pieces of late, making reference to this story, but in my opinion they are not giving it its due attention. Sports journalists are usually quick to write about steroid scandals and other controversies. This story however, is one that I feel deserves a little bit of coverage beyond the immediate baseball circles.
You see, Stroman didn't injure his knee diving for a ground ball, while he extended himself beyond his physical limits, during game action. Nor did it happen goofing off in a night club, on the wrong side of midnight. The injury occurred during routine fielding practice. For many, this would have left them devastated and bitter. Stroman had even more reason to be angry. He had just come off a highly successful rookie season, and was being looked to by the Blue Jays to help lead their next generation of talented, young pitchers. However, because of a freak injury, a few weeks before the season was set to start, his season was essentially lost.
Instead of moping and feeling sorry for himself, Stroman is going about things the only way he seems to know how -- with a positive attitude and mindset that he will be a better person when he gets conquers his latest obstacle. Anyone who follows Stroman on Twitter has come to realize he has a lot more to say than the average 23-year-old professional athlete.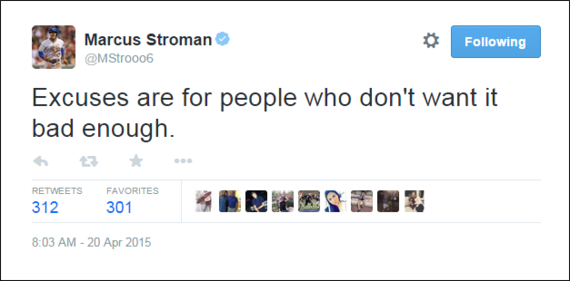 To put his decision to return to school into context, earlier this month, it was reported that the average salary in Major League Baseball is going to top $4M per season in 2015. So given the promise Stroman showed with the Blue Jays last season, and the raw talent and ingrained work ethic he possesses, money will not be a problem when he retires from baseball. Ever. And yet, despite the fact he won't ever need to rely on his education in his post-baseball life, Stroman is still putting his degree at the top of his priority list.
He credits his parents' influence growing up, as one of the leading factors for his continued focus on education.
"My parents pushed me from a very early age to make sure that it was all academics first," Stroman said, via MLB.com. "That's something I always try to preach to everyone I'm around, even high school students now, I always try to gear them towards college."
As Stroman completes his studies this summer, he will also be dedicating much of his free time to an aggressive rehab schedule, as he tries to get his knee back to 100 per cent. There have even been rumours that Stroman is targeting a return to the Blue Jays line up this September, ahead of schedule of course, in time to help his club this season.
Given the level of determination he consistently shows on and off the playing field, I don't doubt he makes a comeback in 2015.
Classes begin this Friday for Marcus. Blue Jays fan everywhere are cheering for him.