In the coming month, the Huffington Post will run weekly blogs from a diarist launched on a most extraordinary journey. A crew of 24 people, including scientists, artists, and humanitarians, are aboard the "Hanse Explorer," a motor yacht, venturing to the most remote southern islands, on an itinerary that has never been done by any ship before. You can read more here.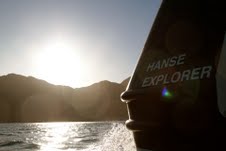 We've been gone about a week now but time has taken on a whole different kind of meaning. The Hanse Explorer really is an incredible vessel. Life on board is as good as it gets in this type of weather, which has actually been better than expected. We're very few people on board -- 24 -- so we've gotten to know everyone rather quickly and I must say that this journey seems blessed on every level.
The weather has been so exceptionally good, for example, that I've barely been sea sick. We were doubtful that we could reach Cape Horn so we left before sunrise to reach the southern most part of South America. We landed and climbed up to this place that is so famously known as the end of the world. It was a strange feeling, as if there was something in the wind pushing from the past.
Bienvenido al Fin del Mundo - Ushuaia from The NOMADS on Vimeo.
This Cape has claimed the lives of so many sailors, but it was the aspirations of humanity that I could feel pushing behind me. By the time they'd reached Cape Horn, humans had travelled around the world and could go no further. They could only dream of Antarctica because logically they imagined this land balancing the Earth, not because they had any other concrete reason for the existence of another continent further south.
That's interesting to me -- it's as if we manifested Antarctica just by imagining it. The wind was strong at the Cape, and as I stood looking out toward the horizon I would soon travel beyond, I did sense that I was not alone, as if ghosts were carried by the wind.
Departure for the Future from The NOMADS on Vimeo.
We left Cape Horn for our first four consecutive days out at sea. Our captain, Jens, is a wonderful human being. He seems like a boy, as excited as anyone else about our unique voyage. I guess he realizes better than any of us how meaningful it is. We encountered some amazing wildlife on our way to South Georgia. An unusual amount of albatross surrounded the ship.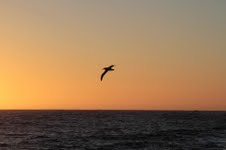 These birds are said to be the souls of dead sailors, so this seemed to further fit my feeling that ghosts were pushing me beyond the horizon. Then there were the hourglass dolphins, reminding us of the beauty of nature and time.
It's the whale we saw that struck our imagination the most as Captain Jens shared his deep passion for these wise beings with whom he had been swimming only weeks prior. This expedition for the future is making symbols come to life.
We have left from the end of the world, and are now reaching South Georgia. From here, it looks like a prehistoric land, reminiscent of King Kong with it's jagged cliffs and abundant wildlife. We're visiting an old whaling station, the final resting place of the boss himself, Shackleton. What comes after the end of the world?
Cape Horn - The End of Exploration from The NOMADS on Vimeo.