"Going Gluten Free" is a must for those suffering from celiac disease, a genetically linked condition that affects one out of 133 people. However, this diet choice has also become a slogan for health conscious dieters and experts. While many may believe that these healthy eaters are in the minority, their numbers have exploded over the last few years. Just this week, a new report focusing on gluten-free choices in America revealed that nearly 25% of people purchase products that contain no wheat or gluten. Close to 10.5 billion dollars were spent on such products this year alone.
The reasons for going gluten-free are numerous; however, a closer look at the impact of gluten on the body suggests that consideration of germs should play a significant role in making that decision.
To get a better perspective on the role of gluten, germs and gut health, I spoke with Dr. William Davis, author of the book Wheat Belly and an advocate for a gluten-free diet. As he points out, the link between wheat and germs has existed for over 10,000 years.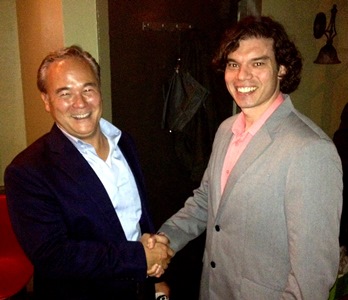 William Davis and The Germ Guy
"If you look back at civilizations that consumed wheat, you find evidence of problems. If you look at the bones of Ancient civilizations, there were explosively greater levels of tooth decay, facial malformations, misaligned teeth, evidence for iron deficiency, and even changes in the composition of oral flora. A more telling example comes from a comparative study of a 16th Century population: Those who ate wheat had further changes in oral flora, enriched in species associated with tooth decay - a sign of an improper microbiome - as well as iron deficiency anemia. That problem with wheat continues today: tooth decay is just the tip of the iceberg."
The link between gluten and health was not taken seriously until World War II when experts tried to determine why there was a sudden health improvement in children during a bread shortage. This began a decades-long search for the cause of symptoms, eventually leading to the identification of rye and wheat, and their glutens. A group of researchers spent the decade learning how glutens also affected the ability to ward off pathogens.
Using mice, researchers learned that wheat and glutens somehow weakened the immune system, making way for pathogens such as foodborne Salmonella and Klebsiella, and respiratory pathogens tuberculosis and pneumonia. Although they originally believed that the glutens were causing a deficiency in the immune system, in 1962, a team of researchers from the Rockefeller Institute showed that the actual problem was related to the microbiome. Their studies revealed that the lack of a healthy gut microbiota allowed pathogens and other bad bacteria to thrive in the gut. The mechanism, however, was not understood.
According to Dr. Davis, until recently, no one had a proper understanding of the link.
"When I wrote Wheat Belly in 2011, I knew that there was a link between the germs in your gut and the problems associated with wheat. But there was simply not enough evidence to support the claim. But as we've learned in the last two years, that link is almost 100% certain."
Since publication of his book, researchers have examined the impact of celiac disease and gluten on the microbiome. The findings have shown that both in children and adults; the nature of the gut microbes in celiac patients is quite different from those who don't suffer from the disease. What is more fascinating is that there may be a link between the microbiome and the timing of gluten introduction.
The study was conducted last year by the University of Maryland and involved children with a genetic predisposition for celiac disease. The study revealed that delaying the introduction of glutens from 4-6 months of age to at least 12 months delayed the onset of disease and potentially may have prevented it.
The link was shown to be the microbiome. Children with delayed gluten exposure developed a naturally healthy microbial population and a balanced immune system. In the children who were given glutens early, there were significant changes in the microbiome, specifically a loss of Lactobacillus, better known as a probiotic. This lack of good bacteria - dysbiosis - led to immune imbalance and a higher risk for the onset of celiac disease.
With the data revealing the impact of gluten on the microbiome, there may be the potential for resolution of both celiac and other problems using probiotics. While Davis is supportive, he also suggests that it may be too early to rely on them. "The use of probiotics makes sense and there already is data from studies both in mice and humans," he says. But he points out that while probiotics might be beneficial, they won't do much good without adherence to a proper diet: "Even if you take probiotics religiously, a continual exposure to glutens may end up causing problems in the long term."
While Davis continues to highlight the links between gluten and health problems, there will no doubt be more studies to reveal more how gluten exposure may affect the microbiome and potential associations with chronic illnesses associated with dysbiosis, such as other irritable bowel diseases, cardiovascular disease, diabetes and psychological disorders. The data may be years away, but Davis stresses that heeding the advice already gained may save troubles in the future.
"We've had decades of research on wheat and gluten's effects on the body and we know the microbiome is involved. Although we may not know all of the links at the cellular and molecular level, we can still improve our lives now. By avoiding wheat, people can keep their germs happy, their immune systems balanced and improve the quality of their lives. I think it's worth the effort."
Based on the popularity of gluten-free eating, it seems that millions would agree.
To see Dr William Davis on his tour across Canada check out www.ideasfestival.ca
ALSO ON HUFFPOST:
Celebs With Food Allergies And Sensitivities