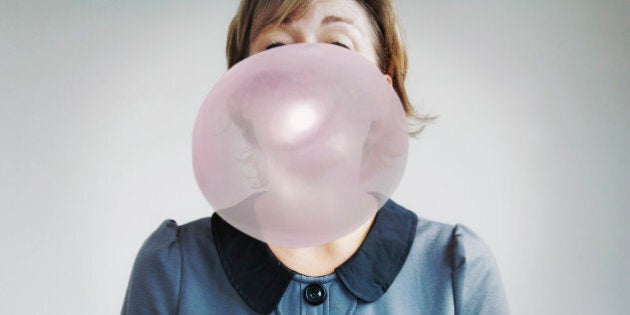 It's amazing what we do to maintain oral health. We brush our teeth, floss those gums, swirl mouthwash, endure whitening strips, and even suck on myriad different breath fresheners. All the while we hope to keep our dentists happy with our efforts. Now another option to help keep our teeth white and our breath pleasant has emerged: probiotic gum.
The concept may seem oxymoronic. Most of these options are found in the candy aisle and offer only a quick blast of flavour and a short-lived change in our breath's odour. But last week, Health Canada approved the first health claim for what is normally thought to be a chewing candy. This recognition has raised the bar for any product hoping to improve oral health through a relatively common activity.
The basis of this claim is due to the active ingredient, a bacterium called Streptococcus salivarius. Although known for decades as a regular component of the oral microbial makeup, the last 80 years have revealed how this particular species works in a symbiotic manner with our bodies. One of the first studies to determine the importance of this bacterium in good oral health came in 1981 when researchers attempted to identify the good and bad microbes in the mouth. They examined the plaques from individuals who were susceptible to cavities as well as those who were free of them. The results revealed S. salivarius as well as a few others were in higher populations in those who did not have cavities. This suggested a different microbial ecology in the mouth could lead to different outcomes.
These results prompted further investigation into how S. salivarius might contribute to a healthier mouth. In 1985, the bacterium was observed to be territorial in nature. It fought and usually won against species and strains known to cause tooth decay. Even when teeth were fully covered in pathogenic species, S. salivarius would come in and displace these unwanted guests. Though there was every indication the bacterium did this by itself, a symbiosis with the human immune system was a distinct possibility.
The search took nearly 20 years but in 2004, a true symbiosis between the body and the bug was confirmed. A comparison of the immune response between the pathogenic yeast, Candida albicans and S. salivarius revealed the latter did little to cause inflammation or even a significant immune response. In contrast, Candida all but sent the immune system into overdrive. A few years later, in 2008, a study not only confirmed the results but also revealed the bacterium was anti-inflammatory in nature. When introduced into the oral cavity, the body would be sent calm signals to take it easy.
With this good news in place, it was only a matter of time before researchers began to investigate the potential of S. salivarius as a probiotic. Studies focused on the administration of the bacterium to prevent throat infections, help maintain the health of cystic fibrosis patients, provide a basis for new antimicrobials, and of course, prevent tooth decay.
While the majority of these aims continued to move slowly in the laboratory, the latter appeared to be relatively simple to fulfill through the development of a gum. People could easily pop a piece in the mouth and chew away. Millions of bacteria would then be released into the mouth and head to all the hidden nooks and crevices where cavity-forming bacteria reside. There, a microscopic war would take place as S. salivarius would beat up on the unwanted guests and either force them out, starve them or kill them outright.
The most fascinating part of this would be the impact on the body. While this battle ensued, the immune system would receive signals suggesting everything was copacetic and there was no need for inflammation. Over time, as the ecology of the mouth changed, the person would be left completely unaware until they noticed fewer cavities and the absence of bad breath.
Subsequent research increased dramatically after this revelation and experimental and clinical results were always incredibly positive. There was little doubt Health Canada would approve of the claim. Yet, when it was given this week, it marked a rare achievement for probiotic companies. This type of government recognition is the apex of evidence-based efforts. In fact, only a few have reached this pinnacle including one to fight Clostridium difficile infection and another to improve heart health.
The introduction of a probiotic gum into the oral health market is a novel and excellent means to maintain oral health. What makes this even more impressive is the process is entirely passive. All one needs to do is pop a piece in the mouth and then let the bacteria do all the work. While this will never be a replacement for a good flossing or brushing, it will increase the likelihood of healthier gums and fresher breath. It may also increase the chances you'll receive a welcome nod of approval from the dentist at your next appointment.