 The zenith of popularity of any given human activity is the creation of a reality television series based on the practice. This week, tattooing took centre stage as the show Ink Master began its second season.
The show pits a number of tattoo artists against one another in the hopes of winning a $100,000 prize. What makes this show so different from others is the elimination round in which the contestants are required to design and apply a tattoo on a willing volunteer. The tattoos are then judged by an expert panel that not only praise the work of excellent artists but also criticize the poor execution and obvious mistakes of the ones worthy of elimination.
While Ink Master is both captivating and entertaining, it also offers only a limited view of the tattoo world and leaves out any impacts on health. According to the Mayo Clinic, there are a number of possible side effects associated with acquiring a tattoo other than perhaps a poorly made creation. Allergic reactions can occur from the individual tattoo dyes, the skin may become colonized and lead to problems and worst of all, a bloodborne infection such as hepatitis C could result.
The risk was so great that in 1999, the Canadian government published a set of infection control guidelines for tattooing and other personal services.
But with the glorification of the tattoo process on one hand and the concerns and advisories on the other, the question of tattoo safety for the public appears to remain unanswered. To give a better understanding of the reality of the tattoo world, I reached out to tattoo artist Lizzie Renaud, who owns the Toronto-based Speakeasy Tattoo and asked her perspective on the concept of safety in the Tattoo Shop. I was amazed not only at her passion for safety but the business sense associated with it.
"Safety is a primary concern for me not because it's a mandatory part of the business but that it actually helps me to keep customers coming in! I'm actually proud to be a sweetheart of the health board and know that there is a buzz out in the community that I'm good and I'm safe."
The assurance of safety is not an easy one though. Based on the guidelines, there are a number of costly precautions such as single use needles, inks and skin barriers; the continual availability of distilled water, and the need for a sterilizing device known as an autoclave -- for the record, Lizzie has two. "Everything has to be sterile," Lizzie adds. "If there is even a remote chance that any piece might be contaminated, I simply will not use it, even the water!" Yet despite these efforts, infections still happen in the tattooing public although as Lizzie explains, the risks have less to do with getting a tattoo and more about showing it off:
"Most people take the advice to heart but I know that there are some eager beavers who rip the bandage off as soon as they leave the shop and continue on with their Friday night plans. The tattoo isn't washed, their friends are touching it, clothes rub on it, and suddenly the prevention of a potential infection is completely out of my hands."
Lizzie's advice is justified as the incidence of skin-related infections is always higher in the presence of a wound. While the likelihood of a serious infection such as flesh-eating disease is infinitesimal, there are other bacteria that can cause problems. The most likely source of infection is Staphylcoccus aureus, which is a part of the skin microflora but can cause problem if allowed under the skin.
The bacterium can cause impetigo and boils but can also cause significantly worse problems if it finds its way into the bloodstream. The threat of this microbe is even greater with the increasing presence of MRSA in the community. Apart from S. aureus, there are a number of other bacteria that can get under the skin to cause problems such as those that cause acne and a recently described bacterium known as Mycobacterium abscessus, which as the name implies, causes abscesses under the skin. The bacterium is also antibiotic resistant and can lead to long term complications of the skin.
Lizzie also points out that because of the number of potential problems outside her shop, she needs to be as vigilant as possible to save not only her reputation but her business. "The majority of people with infections -- which I need to point out is a rare situation -- come in asking how something happened to their tattoo. Almost always, the discontinuation of aftercare salves or ointments is the reason. By being able to spot the difference between a serious infection, a reaction caused by aftercare products, an ink reaction, etc., tattooers make their clients more comfortable. As long as I know I'm taking care of my end of things, I can sleep at night."
Due to these problems, there is an initiative from the City of Toronto to require licenses for tattoo parlours and spas. The move is to ensure safety for the customer and also implement a tracking system for complaints to Toronto Public Health. While this may seem like another governmental burden, Lizzie is more than happy to take part.
"A license for me is much more than a piece of paper saying I can legally do this job; it's a mark of credibility. A lot of shops have opened over the last few years, and some tattooers think that licensing shops will force those less committed to the trade to pack up shop. Tattoos are permanent, and meant to be safe and fun. I have no problem jumping through the hoops of licensing. The industry seemed to have been changing long before I was lucky enough to become a part of it and so change should be nothing I judge or resist now. It's just another day-in day-out part of being a business owner."
The move towards regulation is ultimately good for the public as it moves the personal services industry closer to the health industry. All health institutions and staff are registered with the government and many professionals are regulated under the Regulated Health Professions Act . The stringent requirements listed in the Act may be too severe for tattoo artists but underline the reality that tattooing is in many ways a practice that can impact health. No matter what industry is involved, increased safety - especially against germs - is good for everyone.
As for whether or not there is a tattoo for the Germ Guy in her shop, Lizzie has only one thing to say: "If I find anything that's germy worthy, I'll let you know." Somehow I think even a tattoo expert might find the challenge just a little too much to handle.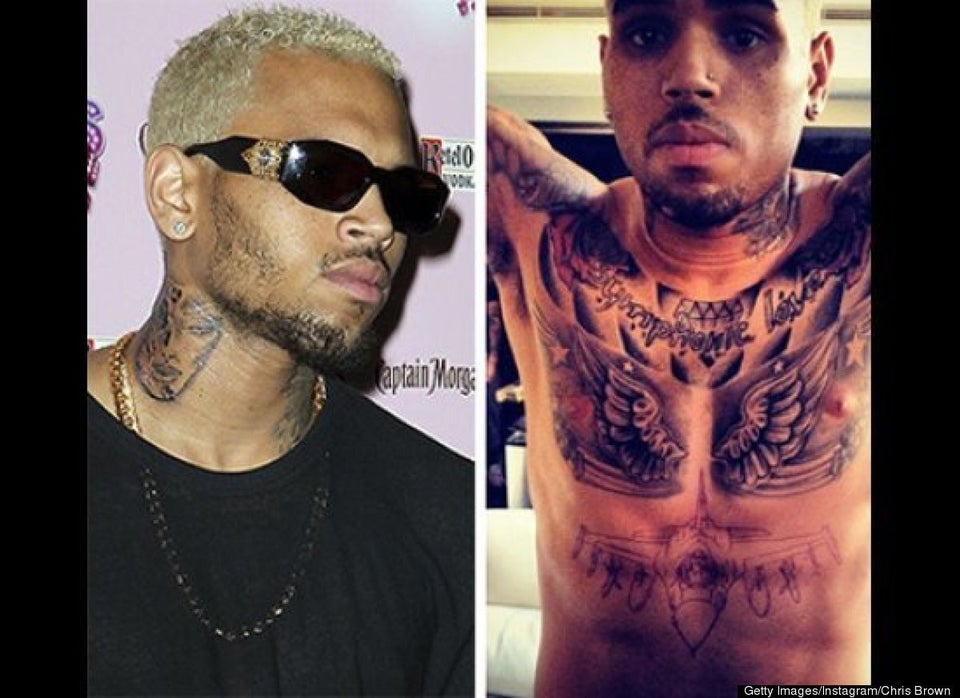 The 20 Worst Celebrity Tattoos