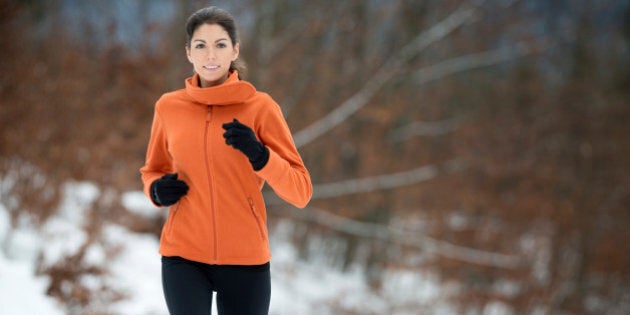 It's getting dark and cold here in Canada. Cold weather and less sunlight changes your body in a few different ways.
Research has shown that a change in cold weather changes your immune system -- making you more likely to catch a cold. It can also affect your mood, making you feel like hibernating for the winter.
Here are five tips that can help you conquer the cold weather and stay on track with your fitness goals:
1. Building up your immune system with with vitamin A and D
First off, when it comes to nutrition, sugar and refined carbohydrates both lower your immune response. Try to avoid these as much as possible.
Certain vitamins are crucial for strong immunity. As we get less sunlight it's a good idea to eat foods higher in both vitamin A and D. Liver or cod liver oil happens to have the perfect combination of the two vitamins we need. If you don't like liver, you can find cod liver oil at almost any health food store. Lucky for both of us, they sell it in capsule form to avoid the taste.
2. Double your pre-exercise warm-up time
The cold weather makes us feel stiff. Instead of doing a five minute warm-up, bump it up to 10. A good warm-up should involve most of the big muscle groups in your body like your legs, back and shoulders. A warm-up is also a good time to gain flexibility by moving your limbs in full range of motion. This will help you avoid injuries and improve your performance.
3. Work out from home if you don't feel like going out
Sometimes you don't feel like going out for a run or heading to the gym. Maybe you don't have time. Don't let that stop you. Try a bodyweight workout at home. Push-ups, squats and lunges are great exercises you can do anywhere.
Campfires are great for your health. One study from the University of Alabama showed that staring at fire helped lower blood pressure which will in turn boost your immune system. If you don't have the ability to start a campfire, that's okay. There's many forms of light therapy gadgets available these days. A simple Google search and you will find a whole bunch. As hunter-gatherers, we used to sit by the fire every night. It was a time for social relaxation. If you have a fireplace, it's time to turn it on.
5. Load up on soups and stews
With the change in weather, regulating body temperature takes number one priority, meaning digestion drops down the list. What better way to help your digestion than to sip on a nice warm soup. Soups made from real bone broth are one of the healthiest foods you can have for your digestive tract. Crock pot meals also help break down meats slowly, making them easier to digest.
No matter what your excuses may be, there's always a solution. Put these tips to the test and you will see a big difference in your health this season.