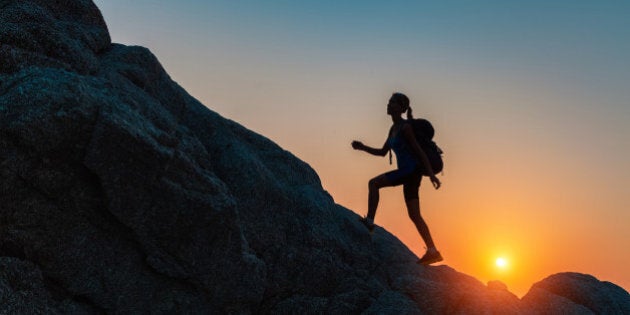 I am an elite athlete, and I'm known for running insanely long distances, and for brushing up against the limits of human endurance. But over the past 4 years, I've quite literally run myself into the ground, and the thought of stopping terrifies me.
I run to escape the woman who gave birth to me... a woman who beat the shit out of me until she walked out... the woman I vowed never to speak to again, that same woman I so desperately want back in my life.
I run because I've simply replaced a 'healthier' addiction for the drugs and alcohol that tore a hole in my stomach and brought me to the darkest void of suicide.
I run because it washes away that corrosive sense of worthlessness I've carried with me since being sexual abused as kid.
But most of all, I run for that other kid out there who still feels he's worthless... for that other addict who continues to sacrifice her future for the numbing oblivion of today. I run because I pray that the ache I feel inside just might be the resilience so many others see in me.
For the past 6 months, I've been working on a book about resilience, and that has involved interviewing people from around the world to hear how they have continued to move forward in life despite tremendous trauma, adversity, and loss. In well over 200 hours of interviews, I've sat with parents who have lost children to suicide and tragic accidents, and I've listened to the trembling voices as people describe what it is like to witness loved ones killed in genocide.
I've seen first-hand the immutable will of former sex workers, and heard stories of people ravaged by addiction and eating disorders--those who live on the margins of society. I've listened in on the resilience found at the end life, and heard its echoes in countless voices as they attempted to describe what it is like being draped in hope even while living on the precipice of constant uncertainty.
As I'm nearing the end of the interview phase of this book, there most certainly are overriding themes that weave the ephemeral fabric of resilience. It is next to impossible to articulate something that lies beyond our own understanding. I would go so far as to suggest that resilience is something we only recognize in others, yet it is that very quality of recognizing it in others that allows us to entertain the idea that it may exist within us.
If I had to sum up one word that described all the amazing 'resilient' people I've interviewed, it would be--But. People who are able to move through trauma, adversity, and loss are those who actively choose to be superior to their circumstance -- those who continually decide to live on the other side of 'but'.
Yes, I became a quadriplegic in the accident, but I'm not going to let it stop me from living a full life. Yes, I lost my daughter to suicide, but I've got two other kids who need me right now and a lot of other children I've yet to meet who need me to advocate for them too. Yes, I carry the trauma of my childhood with me to this day, but I choose to move towards the vulnerability of discovering how that past still haunts me today.
In my interview with the former Canadian Olympic sprinter, Ben Johnson, I asked him why he is still widely beloved by his fans while Lance Armstrong appears to be denied that same redemption. Through Ben I learned that an important part of resilience involves creating strong and authentic connection with others so that when adversity arrives, you have a safe place to land.
In the words of Ben: "When the ship sinks, there will be nobody there to help you because they will remember the way you've treated them. And that's where [Lance and I] are different... generally people don't say anything bad about me because of the way I treat people with respect, and in the way I interact with them. People saw that in me when I was running... Even when I was very successful and doing well, I would go back to my roots where I came from and talk to people. I would sit down and talk to people who didn't have very much, and they would remember when I was a young boy. It's important to never forget where you came from and the people who were there for you when you were growing up... These are the people who believe in you."
One of the most beautiful conversations I had was with a young man named Dean Wardak. A few years ago, Dean was drinking with his high school friends at a party, and he made the fateful decision to get behind the wheel of his car. Dean wrapped his car around a tree, and the force of the impact left him paralyzed and in a wheelchair.
It's a tragic story that could end there, but Dean has chosen to find a 'blessing' in that story, and it's a lesson he shares with other young adults. "When I give talks at high schools, that's actually one of the main points I make.
Even though I was in an accident, I am actually 'blessed' because I didn't harm another life. I'm a very emotional type of person, so I know that had my actions affected another family, that overwhelming guilt would have changed my life forever. Let's be honest, if you destroy another life, impact another family, that's a horrible thing, so this is why I consider myself lucky, or blessed. This is the main message I share with high school kids... If you drink and drive, you may not be as lucky as I am... Your actions might destroy another family."
As the interviews for my book are drawing to a close, I feel at times as though I'm struggling under the weight of responsibility that comes with carrying the wisdom and beauty of these stories of resilience. I'm also left with an overwhelming sense of gratitude, from a faith that resilience lies within each and every one of us. In the words of Bruce Barton: "Nothing splendid has ever been achieved except by those who dared believe that something inside them was superior to circumstance."
Follow HuffPost Canada Blogs on Facebook