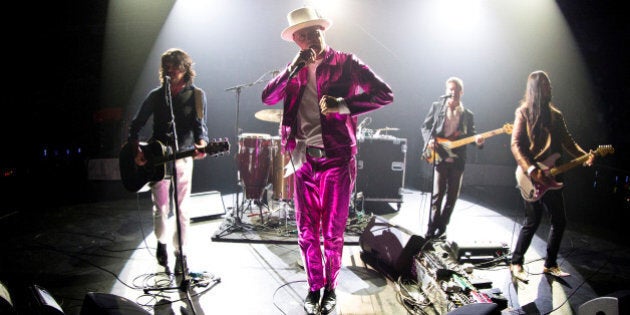 There aren't many bands in the world that could bring together an entire country to the degree that The Tragically Hip did on the final stop of its Man Machine Poem Tour.
Certainly, there are bands that are more famous, have sold more albums and put on bigger shows, but you'd be hard-pressed to find one that captured a country's attention -- at least 11.7 million of us, according to CBC -- like The Hip did that night in Kingston.
It was a special night and it truly was a national celebration. It's the kind of thing that makes you feel proud to be Canadian.
The night of The Hip's final tour stop also proved their legacy is bigger than Canada.
Indeed, they are the definition of what it means to be Canadian. Their lyrics reference issues, historic events, landmarks, people and pastimes that touch nearly every province and territory. Downie's on-stage rants often do so as well, as evidenced in his First Nations commentary during the CBC broadcast.
They've influenced many of today's great Canadian artists and musicians. They've touched the lives of many and their fanbase has spanned generations. Whether you're into indie rock, punk rock, metal, pop, hip-hop or country, you like or at the very least have an appreciation for their music and what they've done for Canada. Hell, Stats Canada says 46 per cent of Canadians have learned more about our country's history from The Hip than they have in school.
While this is all true, the night of The Hip's final tour stop also proved their legacy is bigger than Canada. It showed the world how powerful music can be and how entrenched The Tragically Hip are in Canadian culture. Pearl Jam's Eddie Vedder mentioned Gord and The Hip during their set the very same night. U.S. outlets like the New York Times, the New Yorker, BBC, Pitchfork and Rolling Stone all wrote about it.
If it wasn't already, The Hip's legacy as the most influential band in Canadian history is now firmly cemented.
Watching the concert on CBC on a big screen in Toronto's Distillery District, I couldn't help but feel emotional about the whole thing. The realization set in the moment Gord Downie walked on stage with his feathered hat, metallic suit and Jaws T-shirt, that this could be the final time we get to see The Hip play live.
Throughout the show, I was on many occasions overcome by sadness, happiness, anger and energy all at once. It was one of the most intense moments I've ever experienced in music -- and I wasn't even there in person. It was the first time a concert drew me to tears. At many times, others around me were wiping theirs away, too. It was a beautiful experience, and it speaks volumes to how meaningful the band and their music are to Canadians.
Gord's words between songs and sets, his apparent attempt at holding back tears as the band played Grace, Too, and the final bow the band gave the crowd after its third encore were all emotional moments I'm sure anyone who watched the show will never forget. But for me, the most difficult point was during the rendition of Scared, when Gord belted out lyrics that align all too familiarly with his current situation:
You made me scared, you did what you set out to do.

And I'm not prepared, you really had me going there for a minute or two.

He said, you made me scared too, I wasn't sure I was getting through.

I got to go, it's been a pleasure doing business with you.
Whether or not the Kingston show was indeed the last we'll ever see the band play, there's no doubt they will always have a special place in the hearts of Canadians. Luckily for us, through their music, they will live forever.
Follow HuffPost Canada Blogs on Facebook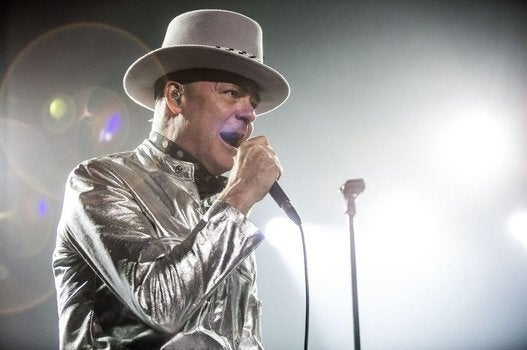 Tragically Hip "Man Machine Poem" Tour