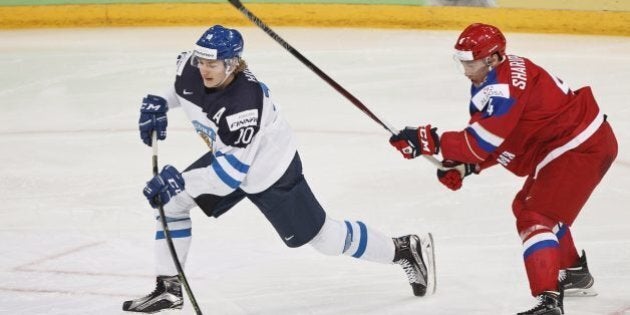 Aside from the first Canada-U.S. gold medal matchup since 2010, one of the biggest stories coming out of the 2017 IIHF World Junior Hockey Championship has been the lack of attendance at this year's tournament.
As someone who's religiously watched the world juniors -- and junior hockey in general -- for as long as I can remember, it's disappointing to witness what was at one time one of the most anticipated hockey events of the year losing its appeal.
I live in Toronto and half the tournament was played here, but not once did I have an urge to purchase a ticket and take a quick subway ride to see my country play. I've even missed a game or two on TV, which historically is out of my character (in the past, I've passed on plans with friends and maintained unhealthy sleeping patterns just to catch Canada play.)
So why is this year different?
Some have suggested the level of talent and star power hasn't been as strong as it has in the past. This may be true, but to me, it's not reason enough to lose interest completely. An underdog team can be fun to watch and cheer on every now and then.
To me, it comes down to the following factors:
1. Ticket Prices - The last time I went to see Canada play was in Buffalo in 2011 and I believe I paid $50-60 per ticket to a game against the Czech Republic. This year, tickets are minimum $80, but often upwards of $100 per game.
I recently went to see my favourite NHL team, the San Jose Sharks, play the Toronto Maple Leafs at the Air Canada Centre for less than what I would have paid to see the Canadian juniors. If I went to see the Sharks play in San Jose, tickets start at $25. There are a number of my favourite bands I could go see for half the price of a world junior game. Paying equal or more for junior hockey than a pro sports game or concert? No thanks. It's become too corporate and high-priced for what it really is.
2. Over-Saturation - In Toronto this year alone we've had the World Hockey Championships, the Grey Cup, the MLS Championships and the Centennial Classic, not to mention the Leafs, Sabres, Toronto Marlies and at least a dozen OHL teams within driving distance. How many live sports events can a person make time for (or afford, for that matter) in one year? And If I want to see future stars, I'll go to an OHL game for $15-$25. Montreal is in a similar situation.
These major markets are over-saturated with sports, and it doesn't help when the two cities have hosted the world juniors twice in recent years. To me, it's more effective when the it's held just as often in small European towns, up-and-coming U.S. hockey hubs or smaller Canadian cities. They get an economic boost and international exposure, you get to learn about their unique hockey history, and the major markets don't get worn out. It's a win-win for the hosts, the tournament and the game in general.
3. Canada Fatigue - Since 2010, the world juniors have been hosted in Saskatchewan, Alberta, Buffalo (across a river, literally, from Canada), Toronto and Montreal (twice) and is slated for Buffalo again in 2018 and Vancouver/Victoria in 2019. As much as it's nice to watch Canada play on home soil, there's a certain romanticism and mystique that comes when it's played elsewhere - waking up at all hours of the morning to catch a game, or having a two weeks of daytime hockey to watch. And because it's been hosted here so often recently, it's taken away from the excitement that comes with having to wait several years before you can see the tournament live at home. Spread it out a bit - every four years in Canada is enough.
By the time this article is published, I will have watched Canada play the U.S. for gold, and I will still continue to follow the tournament in years to come. But I can only hope that, after the dismal attendance and public frustration with the tournament this year, those in charge will take steps to return the world juniors to what it once was.
Follow HuffPost Canada Blogs on Facebook