The Hell's Angels had been in the area over the weekend for a national gathering. Ottawa police would announce there were "no incidents" involving the famed motorcycle club. But the next morning, July 24, 2016, would see an incident that would rock the capital to this day.
It was a typical dead-of-summer day, 28 degrees Celsius. Mix of sun and cloud, a mild breeze. Police arrived to answer a disturbance call at a Hintonburg coffee shop around 9:30 a.m. A pursuit of the fleeing suspect, Abdirahman Abdi, would leave him dead. And both Const. Daniel Montsion, one of the responding officers, and the Ottawa Police held under fire and tainted maybe for decades.
And now, a disgraceful action this week by the Ottawa Police Association could tarnish the union itself, perhaps for just as long.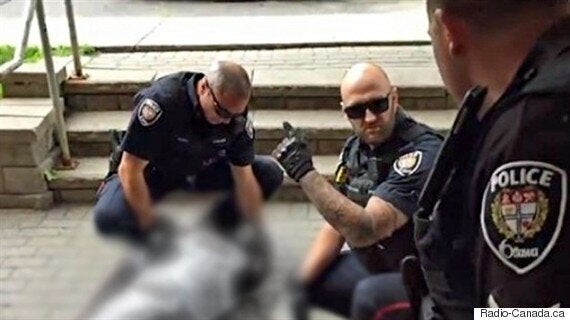 As reported this past week, officers of the nation have begun wearing and distributing bracelets in support of Montsion, one of the responding officers charged earlier this month with manslaughter after an SUI investigation. Inscribed are: "United we stand, Together we fall," as well as the badge number of the accused. And per the CBC, they are quite popular among members. They've sold 1,200 via their private Facebook group. Ottawa Police Association president Matt Skof is quoted saying that the $2 band is "just about expressing their support for a colleague. It's a very difficult environment that we're in, in policing."
That's understandable. Being an officer is dangerous and stressful work. And, across the U.S., stories of police brutality show up almost weekly on the news. Even in cities like Toronto and Montreal, stories involving brutality or corruption aren't earth-shattering. And they rub off on all other forces, whether they have their own incidents or not. But when they do, they become the story.
No longer can you say "Oh well, that only happens here or there." Ottawa Police have had a comparatively low amount of "issues" until last year. The death of Abdi spread across the world as another example of cops going too far and using excessive force. No matter if Montsion is convicted or not, this will be "that moment" for the city.
It's understandable if other officers feel lumped in with the ones who answered that July call. It makes everyone look bad. We all say that one does not equal all, but once things like this happen, no matter the result, it's hard to forget. It's also understandable if they feel as though Montsion is not the only one on trial and they need to stick together. I get why they want to show support for their co-worker, because if not him, then who next?
There could be an even split across the force as to whether or not he is guilty. Maybe officers feel pressured to purchase one in a "you're either with us or against us" kind of way. Maybe they all do wish him luck. We know from history that places like police stations can be very fraternal.
Regardless, there are countless other ways that they could have shown their unity. Or at least not do it so publicly. This gives off the notion that you believe and justify Montsion's alleged actions. I'm sure the story has been passed around Elgin headquarters a million times, and there are still more rumours than facts. I'm sure even pieces, if not all parts of the SUI investigation, have been rehashed.
Still, just as the police and judicial system should know -- innocent until proven guilty. We all know there are instances where this isn't true, and we know that sometimes, as in Jian Ghomeshi's case, that the courtrooms can surprise us. But we have to trust, blindly or not, in the justice system and hold back judgement until it plays out. We need to believe in everyone involved from the police, all the way up to the judges, are unbiased and out to do their jobs with integrity and strong character. This band, this in-your-face alliance around Montsion, doesn't do that.
A lazy metaphor -- if your co-worker were charged with murdering a customer and you rallied around them publicly, that would be bizarre, right? Let alone cops who should not prioritize loyalty to their "brotherhood" at the expense of others, especially not people like Abdi or others they engage with on a daily basis.
What was probably a $100 box of wristbands has created a headache for the police that no money can resolve.
Daniel Montsion's incident will bring him to a court of law where each side seeks resolution and truth. The incident of the Ottawa Police Association drawing a polarizing line in the sand will have its own trial. They will have to face the court of public opinion. Those who pay for their jobs and bloated overtime bills. They'll be afforded the benefit of the doubt by some, sure. But what about Abdi's family and loved ones? The Somalian community with which Chief Charles Bordeleau has been trying to rebuild relationships since last year?
For many, this incredibly gross and half-brained PR disaster will act as that confirmation-bias moment. What was probably a $100 box of wristbands has created a headache for the police that no money can resolve. Moving forward, their only saving grace is to be more like the Hell's Angels, leaving the media with no incidents to report.
Follow HuffPost Canada Blogs on Facebook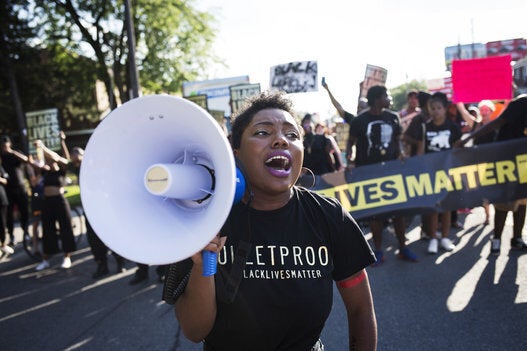 Black Lives Matter Toronto