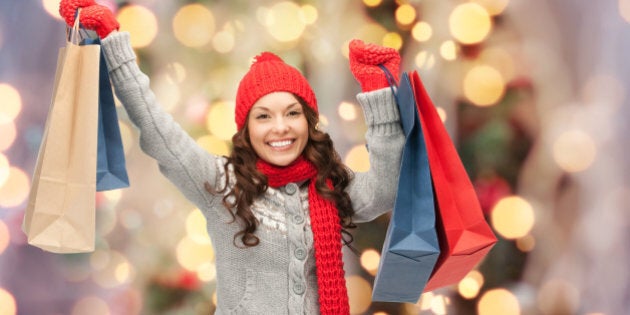 Now is a busy time of year in Canada. There are so many events to look forward to. There's Thanksgiving, Halloween, Black Friday, Cyber Monday, Hanukkah, Kwanzaa and Christmas etc. It's definitely an expensive time of year for most Canadians.
How expensive? The average Canadian spent $1,164 last year shopping in store for holiday gifts while those who took their shopping online, broke shopping records with average online purchases of $1,103. Just because so many Canadians accept the holidays as a high spending season doesn't mean that it has to be that way.
Instead of drawing a forgone conclusion that you'll spend hundreds to thousands of dollars just because it's the holidays -- let's find another way. No one likes the impending debt emergency in the new year. To avoid spending beyond your means, now is the perfect time to get your financial house in order and save for the holidays.
How can you do this? You can achieve this in four simple steps. I promise you, there's no rocket science involved. And if you are like most Canadians who live paycheque to paycheque, the thought of saving for the holidays may seem impossible. However a little planning with your money management will help you save your money and avoid a debt emergency once the holidays are over:
1. Invest in yourself! One of the best investments you can ever have is a savings account. Create a savings account dedicated to holiday gifts. Put as much money as you can afford on a monthly basis. Every little bit helps -- it doesn't matter how big or small your deposits are. What matters is you are creating a healthy savings habit. Come December, you'll be shocked at the amount of money you saved. And better yet, you can pay for your gifts in cash rather than adding on to your debt for all of your purchases.
2. Pinch your nickels and dimes. Another money-saving tip to help you stay in the black this holiday season is to get in the habit of saving all of your loose change. It's common for some to ignore their loose change as just dollars and cents however -- if you took all of your loose change and placed it in a jar -- it will all add up. So start saving your nickels and dimes today. Before you know it, you'd save a huge chunk of change you could easily use for your holiday shopping fund.
3. Drop bad spending habits. It's time to spend less money than you earn. Simple stuff right? Wrong. When you're used to spending a certain way, it can be hard to break the cycle. However it can be done. So if you need to, take baby steps and set short term realistic goals. Remember to measure your success and watch your bad habits disappear. Before you know it, you will have complete control of your spending and you'll be living within your means.
4. Brown bag it. A little meal preparation will go a long way especially when you are trying to save your money. So go ahead and plan your meals throughout the week. And to ensure you find the best deals on your favourite foods, use comparison apps to make finding the best deals easier.
I know this time of year can be tough for a lot of Canadians. There are so many events you have to attend; which means you'll be spending money. Whether you have to buy new clothes for a formal holiday party or simply have to buy gifts for family and friends. Nevertheless, if you plan to save some money leading up to the holidays -- you will be ahead of the crowd. So do yourself a favour and save your hard earned cash from now and you will skip a massive debt hangover in January.
Follow HuffPost Canada Blogs on Facebook