I'm a professional family photographer and I have one beautiful son. But I've been pregnant three times.
Last year I endured two miscarriages in the span of 10 months.
My weariness was palpable. It lay on me like a thick heavy blanket.
So many questions arose. So much soul-searching. It felt like a crisis of my spirit.
Back when I got pregnant with our son, I was 34 and I had an amazingly smooth experience. I peed on the stick, told all my friends, and continued to have a glorious and healthy and empowering pregnancy. So, I naively thought this would be our experience again.
But the miscarriages taught me that there's an opposite side to this. A feeling of isolation wove itself into my life on so many levels. As such a personal loss and recovery process, by nature I just felt alone. It was my physical body that began to transform, and my sense of motherhood that was already making room for another baby to love the way only I can. And though I have an incredible husband and an extremely supportive group of friends and family, at the end of the day, it's me that carries the weight of this heavy load. And I'm supposed to do it quietly.
After my miscarriages I felt disconnected from feeling like "I'm a mother too."
How much time is enough time? A friend told me that "one day the veil will lift, and you'll feel like yourself again." It's been almost a year since my second miscarriage and it feels like the 'veil' has lifted many times over, as this is something that I'll never stop going through.
Professionally, I had always taken pride in communicating about being a family photographer. Feeling that "I'm a mother too" has been my connection, my way of relating. All of my jobs had been guided by this feeling I have of a shared experience, a common ground, an identity.
MOTHER.
After my miscarriages I felt disconnected from feeling like "I'm a mother too." And it wasn't only happening with my clients, it was also happening with my friends, the other moms in my life.
Our vision of our family looked like a big bold question mark.
My identity as a mother felt out of focus. I couldn't quite see the whole picture anymore. I was untethered somehow. I wasn't prepared for this river flow.
After the first miscarriage, I became fixated on getting pregnant again. I talked at length with friends near and far who'd experienced losses and went on to have more children. I was relentless. My ovulation cycle was imprinted in my day-to-day. My whole life quietly began to revolve around getting pregnant again and righting this wrong. I think I felt like if I could just have another baby, it would somehow take away all the hurt I was feeling from this horrible time.
So when we lost the second baby, I grieved hard. I kept feeling like a horrible mother, because I kept looking at my family, looking at my son, and thinking about what "was missing." Our vision of our family looked like a big bold question mark.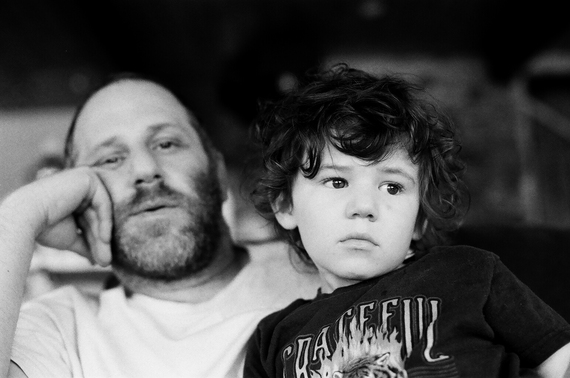 At this point, my husband presented the idea that we already have this incredible kid. We already know we won "the prize." We got a great child on our very first shot. What if we gave this one kid, the one we already love and adore -- what if we poured all that we have and all the we are into him? We could give him 'all the things', and wouldn't that be amazing in itself? I have to admit, I liked the sound of that. I liked the perspective of "already having" versus the shaky prospect of not knowing whether we could "have more." But I couldn't admit it out loud. I was too rocked with grief. I was too raw.
I decided to take a real step back and see if I could live in this uncertainty. I wanted to feel like a good mom again. I wanted to strengthen my connection with my son. I wanted to be able to look at my family and see what I have right here in front of me.
I started taking pictures of our family life again. I went back to my roots and shot black + white film.
My camera lens has always given me a clearer vision of my personal life. It's always shown me the truth in what's around me.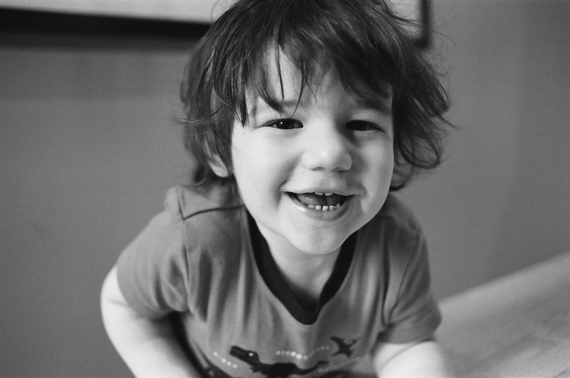 Somehow I've been able to allow an honest interpretation of our family to emerge in my photographs. And what I see is who we are. I see how strong my husband is. I see how bright and beautiful my son is. I see the fun we have. I see how hard we work to grow together. I see us as we are.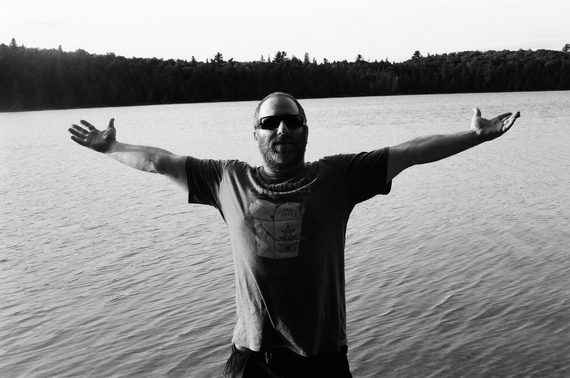 I feel connected to my experience as a Mom again. It's not where I thought I'd be, it's not a projection of anyone else's expectations. I just feel like where I am right now, is right for now.
Author's note: Pregnancy loss is very sad and many women experience it without an outlet to cope. If you are going through a miscarriage, I am so sorry. I am here for you. I urge you to talk about it even if it feels too hard. You are not alone, you are loved.
Follow HuffPost Canada Blogs on Facebook
Also on HuffPost:
Woman Shares Touching Miscarriage Photo Series