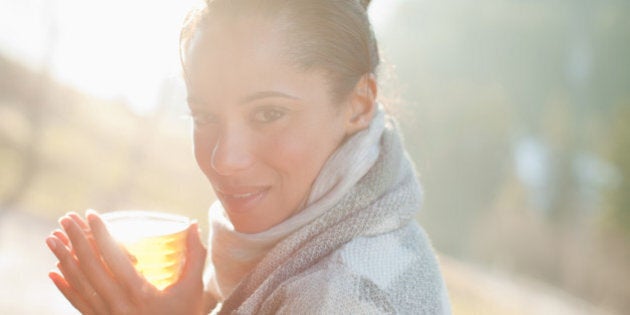 We are smack dab in the middle of winter, when the days are still short, the weather can be dreary, and the holiday bills are rolling in fast. Even if you started off the year with a heart full of good intentions, it can be hard to maintain your enthusiasm. To celebrate the fact that there are still 11 months left to make this your best year ever, here are 11 ways to give yourself a mid-winter boost:
Write down your goals ... again. Even if you wrote a list of New Year's resolutions, it can be helpful to write your goals again now that the year is underway. Make a list of three things you'd like to accomplish this year and post it somewhere you will see it every day, such as your car dashboard, your bathroom mirror, or the fridge. Every time you go to work, brush your teeth, or grab a snack, you can remind yourself what you want to do this year and make sure you are taking steps toward your goals.
Make a vision board. I'm a huge fan of visual reminders of what I want to achieve. Take an hour or two with a couple of magazines and cut out pictures that reflect how you'd like this year to look. Post the board where you can see it regularly (for a while, I had mine taped to the outside of my glass shower door.) Alternatively, you can make a board in Pinterest and view it on your phone. When you have a bad day, your vision board will remind you why you are doing what you are doing, or serve as a powerful reminder that you need to be doing something else.
Find a tribe. It's essential that you surround yourself with other motivated people, such as friends, co-workers, a local business association, or a mastermind group, to help you keep on track. I love the Female Entrepreneur Association for camaraderie and inspiration. It's like having a personal cheerleading squad.
Use a paper planner. Even if you use the calendar on your computer or phone to track your meetings, there is something powerful about using a paper calendar for your To Do lists and goals. At this time of year, you can pick up a dated paper calendar at deep discount and use it to plan out your week. I adore The Happiness Planner's 100-Day Planner since the undated format allows for unproductive days without the judgment of an empty page.
Book some fun activities. It's a tempting time to hibernate, so put a few fun things in your calendar to get you out of the house. This time of year, a lot of restaurants offer discounted meals to coax would-be diners from their homes. Get tickets for a local theatre production or ask some friends to an open-mike night. When you are out having fun instead of settling in for yet another Netflix marathon, you'll be happy you overcame inertia and made some plans.
Listen to something motivating while you drive. Bad weather and lack of sunlight can make for a miserable commute, so I like to listen to something motivating as I drive. Right now, I'm quite obsessed with the work of Pema Chödrön and I'm listening to her backlist in the car. I like having somebody talk about learning patience from a traffic jam, while I'm stuck in a traffic jam. It's making for a much calmer year.
Clean out a drawer or two. There is nothing more satisfying than getting your external world under control through de-cluttering. If you don't know where to start, pick up Marie Kondo's newest book, Spark Joy. At the very least, she'll motivate you to tidy up that drawer filled with nothing but old elastic bands and pennies.
Use apps to help build a habit. I made a New Year's resolution to drink more water (there is nothing more powerful than hearing the story of someone else's kidney stones to motivate one to hydrate!) In January, I set up an app on my phone to remind me to drink some water every 90 minutes throughout the day. I don't always drink water when my alarm sounds, but at least I think about drinking water. I've discovered that thinking about water on a regular basis makes me more thirsty, which has increased my water consumption over the month. There is an app to help with just about anything you might wish to accomplish.
Exercise. I know a lot of us hate it, but exercise is essential if you want to feel good. I used to agree wholeheartedly with Joan Rivers when she said, "I don't exercise. If God had wanted me to bend over, he would have put diamonds on the floor." Then, I discovered endorphins. Besides, life is a lot more fun when you can eat cake on occasion and still fit into your jeans. Exercise makes that happen.
Get outside. At this time of year, a lot of us become a bit vampire-ish in nature, rarely seeing the sun. Make sure to ski, skate, or go for a walk outside a couple of times a week. I hate being cold, so I invested in some really great down mittens and a blush pink toque to motivate me to go outside more often. I've also found some walking buddies who encourage me to get outside for a weekly walk.
Seek out some eye candy. When the weather outside is grey, I run to Pinterest or Instagram for an instant hit of colour. My current Instagram favourites are @studiodore, @southernlivingmag and @coastal_living as they remind me of brighter days.
Follow HuffPost Canada Blogs on Facebook