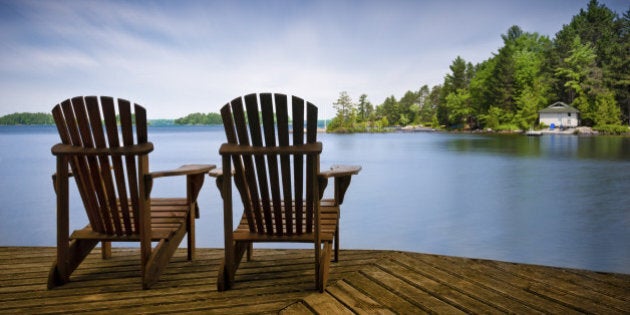 Scrolling through Facebook and singing the everybody-is-at-the-cottage-but-me blues? If for you, summer is a noun, not a verb, you may be feeling a bit deprived, but here are 14 ways to get the cottage experience without having access to a cottage.
Find an ice cream parlour. One of the best things about the cottage is the constant flow of ice cream. Find a local ice cream parlour (the best ones have the longest lines) and try a flavour you've never tried before.
Read a book. Being at a cottage gives you permission to do nothing but read on the dock. If you are at home, give yourself the same permission to read books and magazines for a good chunk of the day. There is no reason why weekend idleness should be reserved for the cottage-goer.
Find an outdoor pool in a tony part of town. One of the nicest things about the cottage is swimming in uncrowded conditions. Outdoor pools are often packed on hot weekends (a friend refers to them as "people soup") unless they are in areas where most people are out of town. I've noticed when driving around that the bigger the houses, the more likely there is to be a community pool that is much less crowded. If you play your cards right, for about five dollars each, you get a day at a lifeguarded pool in the leafy part of town.
Get a portable badminton net or lawn bowling set. One of the most fun things about a cottage is playing silly outdoor games like lawn darts, Frisbee, horseshoes, and croquet. Buy some inexpensive outdoor summer toys for your yard (or to use in a public park.) We have a cheap travel badminton net strung across our front lawn and it's amazing how much fun we have with it.
Play board games. There is nothing more relaxing than sitting out a rainstorm at the cottage with Professor Plum in the Conservatory with a Candlestick. Replicate that same feeling at home by having a stash of old-school board games on hand to play when the weather is bad. Monopoly, Clue, and Scrabble are all classic choices.
Find a restaurant on the water. There is nothing quite as good as the taste of a burger when sitting beside a lake. I've located all of the waterside burger shacks within an hour of our house. When we have a hankering for dockside dining, we simply go to one of the places on the list.
Go for a walk in the woods. There is a concept known as Shinrin-yoku or "forest bathing," which speaks to the healing power of spending time in the woods. Seek out a conservation area near you and spend the morning going for a hike. There is something about being in the woods that is incredibly restorative.
Go fishing. There is nothing more restful than sitting on a dock with your hook in the water. Many communities have free fishing days where you don't need a fishing licence to fish recreationally. There are also commercial fishing holes where they provide you with a stocked pond and rental equipment for a fee.
Get out on the water. One of the best things about cottage life is the water toys. Many public beaches rent out kayaks or stand up paddleboards, which are easy to use for beginners. There is nothing like an hour or two on the water to scratch the cottage itch.
Wear cottage clothes. When in the city, I like to be dressed up so as not to scare the horses. When I'm at a cottage, I don't care. Give yourself a day to wear cozy sweatshirts, shorts, bare feet, and a ponytail.
Roast marshmallows. Just because you don't own property in Muskoka should not mean you are deprived from the heavenliness that is s'mores. If your yard size permits one, getting an outdoor wood-burning firepit over which you can roast marshmallows is a great way to bring a bit of the cottage experience home. Marshmallows can also be cooked over a charcoal barbecue, like the type you find in public picnic areas. Just make sure to adhere to local bylaws!
Wear suncreen that smells like suncreen. While I normally prefer an unscented sunscreen for daily use, in the summer, on the weekends, I like sunscreen to smell like sunscreen. I think it reminds me of the Coppertone days of childhood. Smell-test sunscreens until you find one you like. Bobbi Brown's Beach fragrance also provides the desired effect for me.
Buy some penny candy. My kids' favourite part of any cottage visit is buying penny candy at the marina. Find an old fashioned candy shop (they are often found in beachside towns) or simply go to a Bulk Barn and stock up on marshmallow strawberries and banana candy.
Most importantly, remember that cottage ownership is not all wakeboarding and beer on the dock. Even though you will rarely see evidence on Instagram, cottage life also involves driving garbage to the bear-proof dump, painting cedar siding with Sikkens, and doing barrelfuls of laundry in town. The ideal situation, of course, is to be invited to someone else's cottage and if you've followed the steps above, you will be an expert at having fun when the invitation is extended.
Follow HuffPost Canada Blogs on Facebook