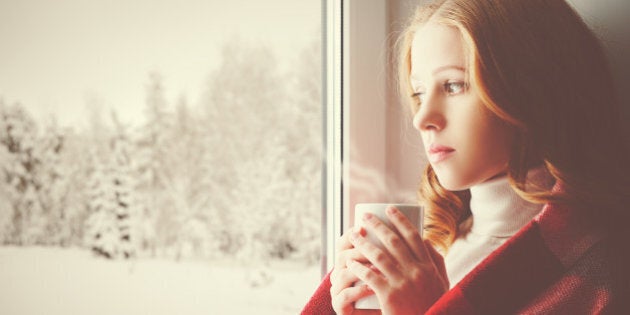 It's the most wonderful time of the year... for everybody else. At least that's how it can seem if this season you are dealing with less-than-perfect circumstances. Sickness, grief, and loss do not take a holiday and can be amplified during the hap-hap-happiest season of all. If you are expecting a tough holiday season, here are some ways to embrace peace and joy:
1. Ho ho ho-ld off spending time on social media. The constant flood of other people's filtered family photos can be hard to take at the best of times. When you are feeling low, it can become quite unbearable. Denmark's The Happiness Research Institute discovered that Facebook offers "a constant flow of edited lives which distort our perception of reality" and, as a result, "1 out of 3 [users] envy how happy other people seem". Social media tends to be quite fake and unless you can hold that in your mind as you scroll through other people's airbrushed lives, it's best to give it a holiday.
2. Shake your candy cane. Exercise releases feel-good hormones that are critical this time of year. Go for a walk to look at the lights, hit the local skating rink, or find a gym offering holiday-themed classes. (Four minutes of abs work goes much faster to the beat of All I Want for Christmas is You. Trust me on this...)
3. Don't funnel eggnog. It can be tempting at this time of year to self-medicate with holiday treats (I'm looking at you brandy beans...), but it won't help in the long run. While it's fine to indulge a little, diving headfirst into a barrel of shortbread will not make your problems go away. And things won't look brighter when you can't button up your pants in the new year.
4. Be selective with your holiday playlist. There are lots of great holiday songs out there that acknowledge this time of year can be tough. My Grown Up Christmas List is one of the best and reminds us that not everyone is having a perfect holiday.
5. Watch feel-good movies. There are a million holiday movies that overwhelmingly reinforce the notion that even in less-than-ideal circumstances, you should have faith that things will work out. I love Little Women and It's a Wonderful Life. Lifetime and W Network are flooded with movies about second chances. They are great for a good, happy cry.
6. Do something nice for someone else. This time of year, there are lots of simple opportunities to give. Whether it's putting some money in Santa's kettle, letting someone in front of you in the checkout line, or helping out at the local toy drive, helping others is an instant route to feeling better.
7. Compliment strangers. During the holidays, a lot of people are very stressed. Tell that overwhelmed cashier she is doing a great job. Tell the mom of the screaming child in the Santa line that her baby is dressed adorably (and if you are a mom or dad, tell her we've all been there!) Spread a little holiday cheer and make yourself feel better in the process.
9. Know that it's perfectly OK to feel rotten. The last thing you need is to feel guilty that you are not feeling merry. Some years just suck and it's OK to write off 2015 and look forward to a new year.
10. Take advantage of the down time. Whether you celebrate it or not, Christmas morning can provide a few hours of peace as even the most flagrantly commercial enterprises tend to remain closed for the morning and people stop texting for an hour or two. If you are not surrounded by hustle and bustle, take the opportunity to read, to meditate, or to go for a quiet walk. It may be one of the few times that nobody is expecting you to do anything. Take advantage of the peace.
11. Take in all of the prettiness. The holiday season is great for eye candy: Christmas lights, elaborate shop windows, and reindeer antlers on passing cars. If you are lucky enough to live in an area with snow, admire how it makes the whole world look new.
12. Maintain perspective. Remember that Mary and Joseph did not spend that first Christmas stuffing their faces with organic turkey while smug-posting photos of the whole fam-damily in ironic Christmas sweaters on Instagram. That first Christmas was one of hardship and strain. You aren't alone, my friend.