It was announced last week that Queen -- well, Brian May and Roger Taylor -- are going on a world tour. Possibly the last of their career. If it wasn't for the gaping hole left by Freddie Mercury, this would have the word "epic" written all over it.
But what is an epic gig anyway?
As a teenager growing up in the 1990s, I desperately wanted to have seen The Beatles play New York's Shea Stadium on Aug. 15, 1965. And now, I sit whiling away another rainy day in Vancouver, wishing I had been at London's Wembley Stadium in 1985, when Queen gave the world's greatest live performance in the history of rock for Live Aid.
It's tempting to think it's all been downhill since then. But I refuse to believe we need rockers to die young and audiences exceeding 100,000 to qualify a gig as epic. Nor, as Live 8 proved, does global poverty alone an epic performance make. With that in mind, I've narrowed down my own top three epic gigs:
Foo Fighters at Hammerstein Ballroom, New York 2003
Basement Jaxx at The Other Stage, Glastonbury 2004.
Mumford & Sons at The Gorge Amphitheatre, Sasquatch! 2013
So what made these gigs epic?
Loud noises
The music has to thrash through me. I want to be rocked, literally. At Mumford & Sons, I danced my feet off to bluegrass banjos. The Foo Fighters had me headbanging so much I had whiplash for a week. At Basement Jaxx, we jumped around like maniacs to Where's Your Head At.
Location, location, location
The venue must be special. This is a given at Glastonbury, which always feels unique, presumably because of all those ley lines, and at Sasquatch, which is situated in a spectacular river gorge that takes your breath away at sunset. But the venue can also be more intimate. Seeing the Foo Fighters at the Hammerstein Ballroom meant I was headbanging only a few feet from Dave Grohl -- how cool is that?

The Gorge in Washington, site of Sasquatch!
A one-off
No one will ever see this gig again. Festivals are a perfect example. Basement Jaxx and Mumford & Sons were only playing one night at Glastonbury and Sasquatch. The Foo Fighters did play the Ballroom a couple of nights -- but I had no idea until now. It doesn't matter -- to me, it felt like a one-off and that's what counts.
Twist of fate
On the day of the Foo Fighters gig, I had no idea who they were and didn't have a ticket. We were visiting a friend in New York, who thought it might be fun. Miraculously, we procured tickets from a tout outside. He got in trouble for selling them too cheaply. We got into the gig. The rest is history.
At Glastonbury 2004, Basement Jaxx were scheduled to play at the same time as Paul McCartney. And everyone went to see McCartney. Except us. Instead, we got right to the front of the Jaxx gig and danced like crazy, bonding as outcasts with others who had chosen electronic dance over Beatles classics. And McCartney? Apparently, he sucked.
Finally, to Mumford & Sons at Sasquatch and possibly the most meaningful gig of my entire life. In contrast, the months before Sasquatch were some of the worst in my life. My father and my grandmother had both died. I had been ill. Life had completely sucked for a long time. But I was trying to embrace life again, so here I was camping, drinking and gigging with a small group of festival friends.
I did my best to enjoy myself, but the sad distractions were always there. The Arctic Monkeys, Macklemore & Ryan Lewis, Sigur Ros, The xx, Bloc Party... all great, but none quite made it through the haze. On the third day, Edward Sharpe & The Magnetic Zeros briefly broke through with their song Home, exactly reflecting my feelings towards the world in that moment.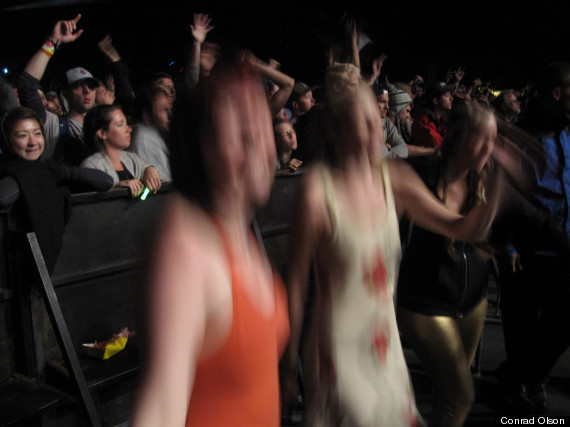 The author and a friend dancing to Mumford & Sons.
Then Mumford & Sons took to the stage. The reason we bought the ticket. The reason we had fought and won our way to the best position, close enough to the front and central to the singer, with an unobstructed view and plenty of room to dance. It's hard to describe what happened next. Mumford played their infectiously energetic but emotional melodies, while we danced bluegrass country jigs till we dropped.
An enormous wave of euphoria scooped us up and we rode it with abandon. This was crowdsurfing for the soul. By the time Dust Bowl Dance rolled around, we were completely ecstatic and exhausted. It was already one of my best gigs of all time.
But then came the encore. A cover of Fleetwood Mac's The Chain. Mumford & Sons, joined now by the Zeros, were inexplicably singing the one song that meant the most to me at that moment.
I didn't have a lot in common with my father. But as a teenager, I did, for a while, share his love of Formula 1 motor racing. We would watch the Grand Prix on the BBC together every week, cheering for Britain's Damon Hill, even though we secretly preferred Brazil's Ayrton Senna. And the theme tune of that Grand Prix show? The Chain by Fleetwood Mac.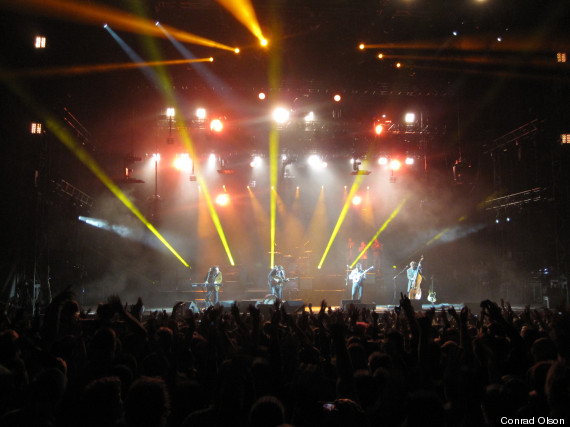 Mumford & Sons on stage at Sasquatch.
Fast forward to Sasquatch, and my feelings transcended the euphoria I had previously felt. Suddenly Mumford & Sons were speaking directly to me with this song. Lyrics about being separated from someone you love, despite the chain that binds you, took on a whole new meaning. The universe was speaking directly to me.
For the first time in months, I felt entirely, truly happy.
In the end, a gig can be so much more than just words and lyrics. It can transcend a mere entertainment experience. It can speak to you in ways you never imagined. And that's why we'll be getting a Queen ticket. Because having tasted that truly epic feeling, I know it exists and I have to hope there is more to come -- and this time, I intend to chase it.