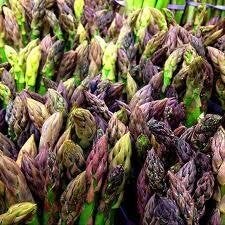 Even if my kids are asking for mac and cheese for dinner I always ensure I am serving at least one veggie on the side. From an early age they have been trained that veggies are simply part of the meal and have grown to love them (most of them that is...the odds are against eggplant!) In this post I'm going to share my tip for getting kids excited about veggies (go to the source!) and provide a family favourite recipe using springtime asparagus.
Every season I will select at lease one abundantly grown veggie and take my kids to our local farmer's market where, naturally curious, they love to talk to the farmers growing the plants and ask them all kinds of questions while taking in the kaleidoscope of color. Feeling included goes a long way in getting my kids excited to find our target veggie and we make a game of loading up on enough for soup, freezing, steaming -- your basic quick side dishes. My kids were surprised asparagus isn't just a green veggie but can also come in white and purple too!
We like asparagus best when lightly steamed, crisp and tender. Over cooking can turn to mush and produce a less than appealing experience. Crisp sticks can be used the same as carrot sticks, dipped in hummus and favorite dips.
Benefits: Good source of Vitamins A, C, K, Thiamin, Folic Acid and Riboflavin
When selecting: Look for asparagus with tight buds and smooth skin. Spears should not be withered, brown or limp. Smaller spears are especially tender and require slightly less cook time.
Storage and handling: Store asparagus upright with water at its base for two to three days. Rinse well before using.
Preparation: Snap the stems where they naturally break to remove the woody bottom portion. Cut into pieces or use whole spears. Steam (or cook in a little water) for approx. five minutes, until crisp yet tender.
Cream of Asparagus Soup with "Grilled Cheese Croutons" (My daughter Finley's favorite add-on)
3 leeks, white parts only, chopped
Sea salt and pepper to taste
Prep asparagus by snapping off the tough ends at the natural breaking point, discard. Wash remaining and chop into 2" pieces, set aside.
In a large pot over medium heat, sauté garlic and leeks in olive oil until soft, 2-3 minutes. Add asparagus, oats, milk, dill and enough water to just to cover asparagus. Bring to a boil and then reduce heat, cover and simmer until asparagus is soft, about 10 minutes. Remove from heat and cool slightly.
Puree soup using a hand held blender until smooth. Add milk if thinner consistency is desired. Season to taste with salt and pepper.
Grilled Cheese Croutons: Chop a grilled cheese sandwich into bite sized cubes and top soup.
My kids aren't huge fans of smooth soups most likely because they have eaten so much baby food in the past, so I chopped a smoked Gouda grilled cheese into cubes and topped their soup. They devoured it and asked for seconds.
Do you have a favorite seasonal veggie? I would love your recipe ideas, too!