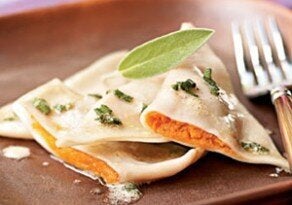 (Photo credit: Baby Gourmet blog)
I am on the "meatless Monday" bandwagon, so when it comes to finding delicious vegetarian meals I am always on the lookout. I love the simple elegance of a brown butter sauce and so do my kids! Kids love noodles and butter, well so do I when the pasta is good and the butter has been browned! I use wonton wrappers in place of homemade pasta, making this dish not only delicious but super fast!
Prep time: 10 minutes Total time: 45 minutes
1-1pd sweet potatoes/yams
1 tablespoons (1/4 stick) butter, room temperature
1 12-ounce package wonton wrappers
Fried shallots and butter sauce
2 large shallots, cut crosswise into this rings
3 tbsp butter (3/4 stick)
6 fresh sage leaves, thinly sliced
½ tsp dried crushed pepper
¼ cup pine nuts, toasted (optional)
2. Cut sweet potatoes in half lengthwise; place cut side down on a lines baking sheet. Roast until tender, about 30 mins, cool. Scoop potato pulp out of skins into a small bowl.
3. For BABY 6 months+: remove ¼ cup sweet potato pulp and puree with 3 tbsp water, cool and serve.
4. Mash sweet potato with butter and sugar, season with salt and pepper.
5. Place wonton wrappers on the work surface. Using pastry brush, brush wrapper with beaten egg. Place ½ tbsp sweet potato filling in center of each. Fold each wrapper diagonally over filling, forming triangles. Seal edges. Transfer to baking sheet. Let stand while making sauce.
6. Heat oil in a small skillet over medium-high heat. Working in 2 batches, fry shallots until crisp and dark brown, about 2 mints. Using slotted spoon, transfer to paper towel lined plate to drain. Cook butter in frying pan on medium head until beginning to brown, about 3 minutes. Remove from heat, add sage.
7. Meanwhile, cook ravioli in large pot of boiling salted water until tender, about 3 minutes. Drain well. Add ravioli to pot with butter sauce, toss to coat.
8. For BABY 10 months+: pulse 2 ravioli with 2 tbsp of water until desired consistency is reached. Serve.
9. For the rest of the FAMILY: Follow step 7, transfer to plates, drizzle with remaining sauce and top with shallots and pine nuts, serve immediately.
Tip for KIDS: Picky eaters may not be interested in the shallot and pine nut topping, so omit.