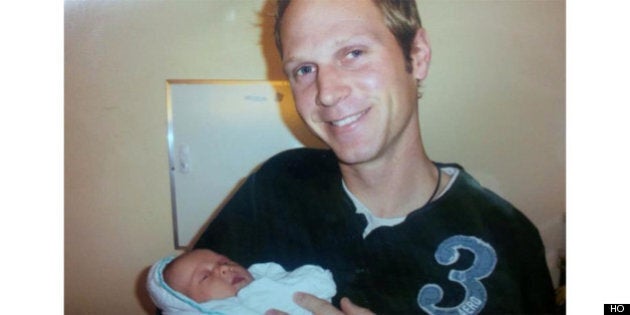 Excuse me for a second, while I ask a question.
What, in the name of all that is good, is wrong with people?
By now, most Ontario residents and probably many Canadians, are aware of the tragic discovery of Tim Bosma's burned body on a rural property in Kitchener, Ont. It's filled the news and Twitter feeds, as media pundits and ordinary folks struggle to make sense of a story that is seemingly incomprehensible: A young father tries to sell a truck online, disappears on what he thinks is a test drive and is found dead a little more than a week later. The young man charged has seemingly no connection to the victim and police have stated that the image of 32-year-old Bosma as an upstanding, church-going father and family man is spot-on.
In mere moments, Facebook was filled with the ubiquitous "R.I.P. insert name here" posts imploring us all to light a candle in our Facebook profile windows in loving memory, including the one sent out by the no doubt kind-hearted folks at Tiny Hearts 3D Ultrasound Studio in Oakville, Ont.
Which is where this rant begins.
Somehow, the thread turned from well-intentioned condolence messages to a post by one snarky lady who insisted the post had misspelled Bosma's name incorrectly (it hadn't) and the inevitable backlash against her which ensued.
Next up, the official Help Find Tim Bosma Facebook page, administered by family friend Peter Lowe: A member queried about a previous (apparently deleted) post by a woman who said she dreamed of Bosma being tied up in a barn. When last I checked, there were about 170 threads from people criticizing her for asking the question, criticizing the people who criticized her and calls from a whole raft of people to just shut up and/or delete the post so the thread would go away.
The once slow slide in civility in our society is accelerating faster than a kid on a Wet 'n Wild slicked with sunscreen. And living in a world where you can say what you want, to whomever you want, whenever you want, without ever having to look that person in the eye and face the consequences is, at least, partly to blame.
When I was younger, I had no filter. Words came into my head and out of my mouth at Mach One. If my mother had a dollar for every time she warned me "think before you speak," my parents would be millionaires today. I used to roll my eyes every time she would say it, but (as is so often the case as we get older), I can say with absolute certainty that my mother was right.
Social media can be a wonderful thing.
It allows us to share our collective grief for a mother living the nightmare of no parent should ever endure; a wife who lost her husband in unimaginable circumstances and a baby girl who will likely have only spotty memories of her daddy.
It allows us to reach out to families, a sort of online book of condolences from far and wide.
It allows us to share our experiences as consumers in an online world, where posting items for sale on Kijiji, Craigslist and other "Sell or Swap" groups is quickly replacing the hassle of a garage sale.
It allows people to dissect the case (as human nature is wont to do) and the opportunity to have spirited discussions about our justice system with a broader circle than our own.
But social media magnifies every online windbag's big mouth a thousand-fold by providing them with anonymity as effective as Harry Potter's invisibility cloak and a global audience with which to share their bile.
It provides a platform where angry people can debate minutia, derail threads and look for ways to make themselves look clever or important -- often while being spectacularly wrong, almost always at the expense of others.
Which brings me back to my mother's advice.
Sure, write your post. Then walk away. Read it, re-read it and (if you're not sure your actual intentions are getting across), have someone else read it. Maybe the act of typing out the words will allow you to vent your frustration enough that you don't actually have to hit the post button. If it doesn't, walk away again. Have a bath. Watch a sitcom to disengage the rage.
Then do yourself and the rest of us a huge favour. Go back and hit delete.