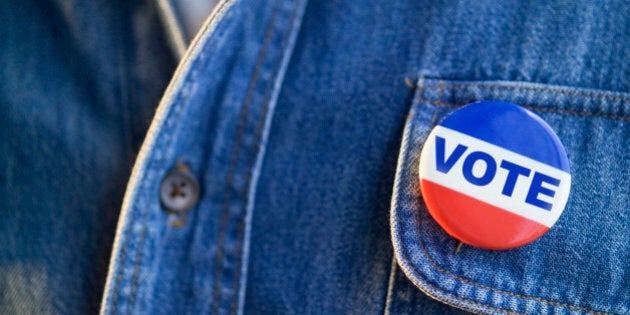 Lately, we've heard a lot about Americans who've been left behind. Sarah is one of them. She's just not sure how it happened. "I live paycheck to paycheck," she says. "I don't get it. I have a master's degree. I thought I did everything right. How did I get here?" A North Carolina teacher, Sarah's got a stable job. But, divorcing and adjusting to life as a single mom, she's falling behind financially and doesn't see that changing any time soon. "When the government and politicians talk about changing things to help our country and our economy, it doesn't really change for someone like me."
Frustrated with a system over which she has no control, Sarah is opting out. And she's not alone. According to the United States Elections Project, 231 million people were eligible to vote this year. About 135 million did. With the future of the Supreme Court, Obamacare and NAFTA all hanging in the balance, 95 million people -- three times the population of Canada -- didn't vote.
Why? Some blame a long, bruising campaign or the fundamental unlikeability of the Presidential candidates. But perhaps there was something more fundamental, and more worrying, at play.
I got the first hint of what this might be last fall when, as part of a project on democratic capitalism, we set out to understand more about the American experience. We spoke at length to two dozen working, middle-class Americans about their lives. We interviewed a yoga teacher from Louisiana, a Chicago truck driver, a communications director in Pennsylvania. We asked about them about their families, their work, the economy, government, and the state of the American Dream.
We heard a lot a pride -- an enduring sense that America is the greatest country in the world. Greg, an HR manager, told us: "I love America and am proud to be American. I think of George W. Bush throwing out the first pitch after 9/11. It was in the World Series at Yankee Stadium; he went out there and just threw a strike. I watched that YouTube video over and over. I still get goose bumps. It's hard not to cry at a moment like that." Watch the video; Greg's got a point.
We didn't hear much about international trade, America's GDP or globalization. Instead, people talked about making ends meet. Andrew, a production supervisor and staunch unionist said: "To me, it's about owning a house, being able to come home and feed your family a decent dinner. I'm not saying you're having prime rib every night. But, your kids don't want for a whole lot. You're able to clothe your kids without looking for financial help or support from anyone else."
When we asked about the role of government in their lives and their feelings about politics, most sheepishly admitted that they had disconnected entirely. "I'm not really into politics," said Julie, a hairdresser with two grown kids. "I should be more interested, I know. I don't feel very knowledgeable about politics. I'm kind of embarrassed to say that I don't get more involved, because I think people should be."
For some, there was a sense that nothing would change, no matter who was in charge. Ryan, a learning professional from Utah, said: "I have to admit that I'm not a fan of politics... debates seem to go on between individuals and nothing gets done... most of the time it's about politicking and the changes are of no benefit to the average citizen." Brett, dislocated by the financial crisis, agreed: "I think we've lost trust in politicians -- it doesn't really matter who you vote for, it's just going to be the same." As he spoke, Brett seemed not so much angry as resigned.
Again and again, people struggled to make any connection between government and their own lives. Although choices in Washington impact healthcare, education, public safety, civil rights and much more, most people we spoke to could not name a single way in which government policy affected them personally. Derek, a corporate communications director, said: "Government doesn't really touch me directly. Obviously, I'm not on Social Security because I'm not 65. There are certain people who are more affected by government, whether they're poor or they're veterans or they come from a different country and need help getting set up... But if you are more self-sufficient in society, government won't really touch your life." He went further: "Honestly, I don't think that our democracy works. I'm a big believer that if people don't understand the issues, they won't participate."
People won't participate in what they do not understand. This is the worrisome hint. Government has become impossible for people to understand. It is big, complex and broken. When, during the campaign, Mr. Trump and Secretary Clinton argued about trade deals, national defense and the politics of personality, they left behind voters who could not see themselves in these issues, lost in the important details of their own lives. They just don't see how voting would make any difference at all -- to the country, to their families or to the future. Americans we interviewed felt helpless to make a difference.
Like Kira. A college graduate, she's working as a server at a casino. Her interest in politics is limited "more because I feel like there's so much to the game that I'm just not aware of.... I don't want to know the ups and downs. I don't need to get that anxious about it." But she does care. "The only political campaign that I've ever actually felt interested in was Planned Parenthood. It really irked me [that Congress was seeking to defund it] and I started donating to them. I set up an automatic debit from my account for $10 a month. I changed my Facebook profile to show [my support]; I don't really know what else to do."
To re-engage those non-voters, we need to demonstrate what else there is to do.
Follow HuffPost Canada Blogs on Facebook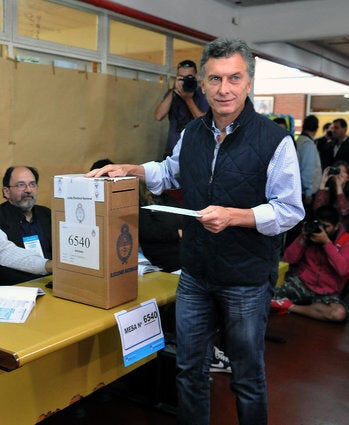 Countries With Under-18 Voting Age